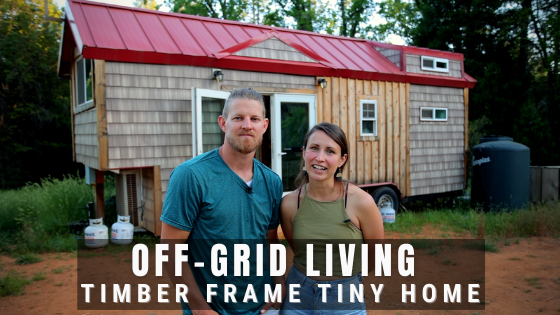 Off-Grid Tiny House Homestead for Wild Adventures
Meet Clara and Edwin. They live on an off-grid tiny house homestead in their gorgeous self-built tiny home on wheels. It's a dream come true for this tough young couple who love being outdoors for wild adventures, like rock climbing and bungee jumping. Their tiny journey began with a desire to live in the woods to pursue an alternative lifestyle as close to nature as possible.
"So the idea of living in way like we were backpacking, like camping, what if we were out in the woods and living like backpacking without the pain of actual camping. What if you could eliminate that inconvenience and be in a very comfortable, safe feeling setting yet still surrounded by the thing we love the most, which is the outdoors. So that's what motivated us."

-Edwin, Tiny Home Wild Adventures
After deciding to leave their unfulfilling city life to embrace a simpler way of life, they spent three years helping family friends rebuild their timber frame cabin homestead, previously devasted by a wildfire. During that time, Clara and Edwin learned how to work together as a team, mill trees, and all about timber frame construction.
Now they build timber frame tiny homes for others!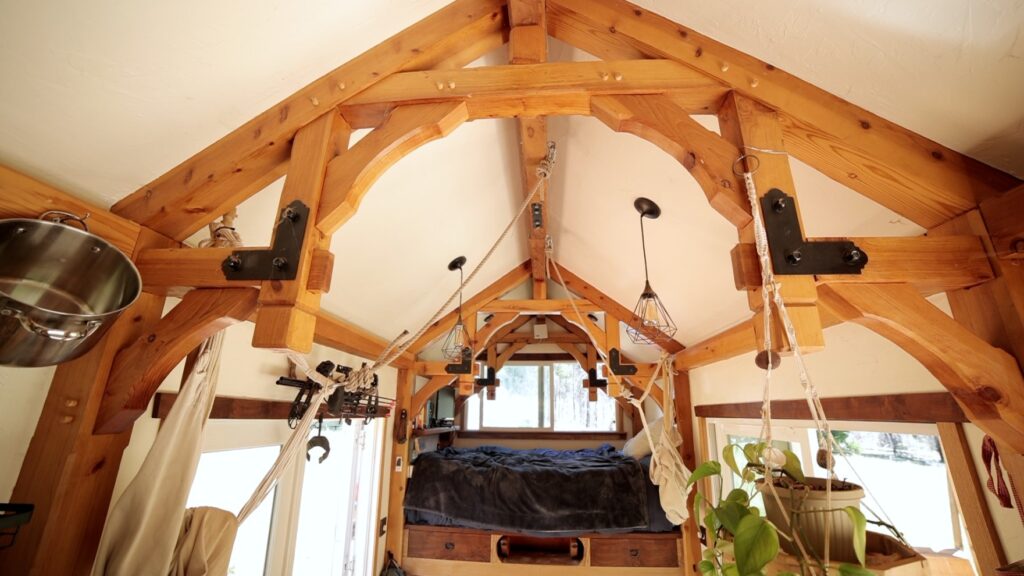 Helping their friends also led them to acquire a heavenly tiny house parking spot on 20 acres in the Sierra Nevada Mountains. Clara and Edwin are building an incredible off-grid tiny house homestead with much sweat equity and respect for the environment. Importantly, they are learning a lot about doing it right while developing a deep appreciation of their minimal resource consumption.
"The opportunity just came about that there's this property that has a meadow, has a forest, and here's a flat spot for your tiny house. And we're like sweet! No sewer, no septic, no water, no electricity, and here we are.

We had to figure out systems on the fly; we wanted to move in right away. So we were just kind of piecing together all the amnenites we would need to be comfortable. Our systems are not ideal, they're not perferct. If we had more money, we'd put in more solar. But they work; they're functional, and it's just kind of a lifestyle now.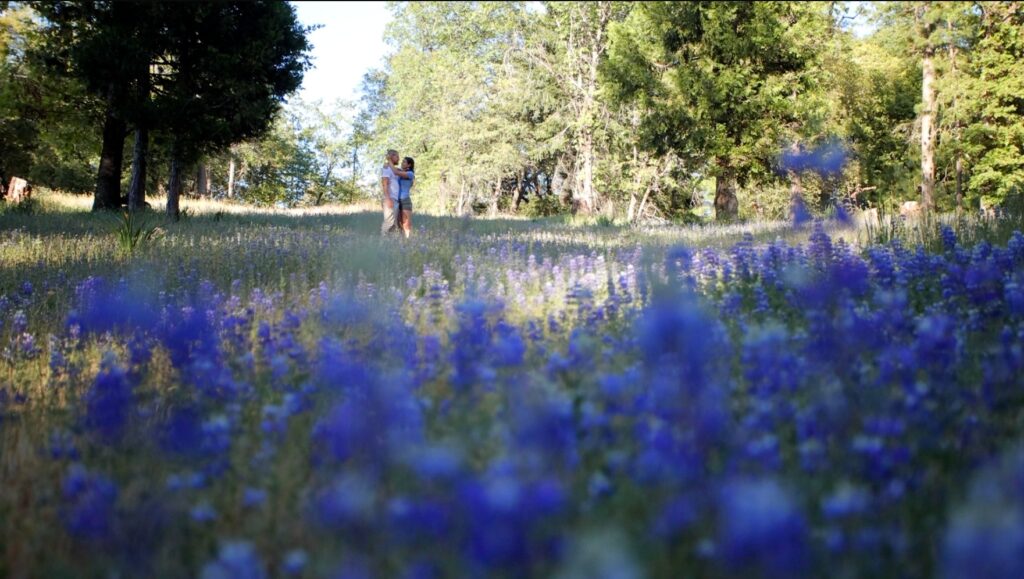 "So what I would want people to know about living off-grid is that it's not easy to supplement your power. Power is a big thing that we don't realize how much we consume, especially things like an induction cooktop.

We tap into our solar batteries a lot, so we've actually depleted them to point where its kind of hard to bring them back now. We'll have  to get a new set.

Learning more about how to consume off-grid power, and how to set it up before you start using it, and just being realistic about your needs too. It's a learning curve for sure."

-Clara, Tiny Home Wild Adventures
Inside Their Timberframe Tiny House on Wheels
Clara and Edwin's DIY timber frame tiny home on wheels is 8.5-feet by 24-feet, so approximately 264 square feet of living space. It's built using timber frame construction techniques creating a striking appearance with intricately carved beams.
Timber framing has a long history as a traditional building practice throughout the world. As the Timber Framers Guild explains, one of the most defining timber frame elements is its unique joinery. Heavy timber is joined together via mortises and tenons carved out of the ends of the timbers, so they perfectly fit together like puzzle pieces.
What also makes their tiny house so spectacular is their multifunctional sleeping area. The elevated unique bedroom utilizes a couple of extra feet that are cantilevered over the trailer tongue. It's accessed through a sturdy pull-out ladder, and underneath is a clothing and utility closet. Additionally, two 6-foot long drawers are on either side of the bed platform.
Just in front of the bed is a huge open floor space, situated between their two sets of double doors. This originally came about from their desire to have a yoga space. Dedicating 8'x8' of open space is a big ask in a tiny home, but they're so happy they did for the open feeling it provides. They lounge in two hanging chairs that easily tuck away when not in use in lieu of a couch. See this transforming space in action in the tour video above!
Follow Clara & Edwin's adventures and off-grid tiny house homestead life on Instagram, @tinyhomewildadventures.
Interested in commissioning Tiny Home Wild Adventures for a solar power trailer or timber frame THOW? DM them!
Exclusive Content
Monthly LIVE tiny living discussions with extended Q&A, plus BONUS content, like behind-the-scenes filmmaking and tiny home life insights.
Early Access
See new videos first, get first dibs on new online courses and more!
Exclusive Giveaways & Discounts
Win tiny living festivals passes, and more!
Join today!