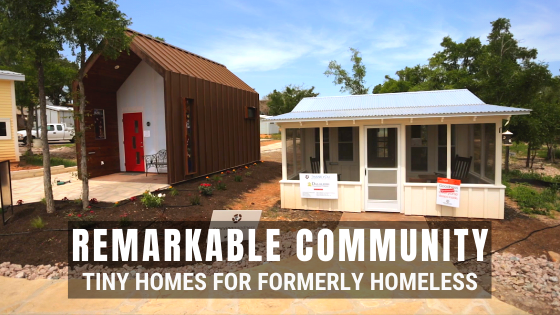 Remarkable Tiny Home Village for Formerly Homeless in Austin
In this week's video, we share a look inside Community First Village in Austin, Texas.
It's a beautiful 51-acre master-planned tiny home village providing affordable housing in a supportive community for the disabled and previously chronically homeless.
Community First is currently home to 200 individuals in tiny houses and RVs. Also, a missional community lives and works on-site.
As a way to invite the outside community in, for support and to build relationships with their residents, they offer many engaging programs. For example, this includes volunteer opportunities, special events, and bed and breakfast featuring classic trailers & tiny houses on wheels.
"Mobile Loaves & Fishes desires to empower the community around us into a lifestyle of service with the homeless. We achieve this vision through Community First! Village by taking a relational approach for connecting with our homeless brothers and sisters, instead of a transactional approach."
Tiny Home Village Features:
130 Tiny Homes and 100 RV/Park Models (Phase 2 in-development now with 310 more homes and more community facilities planned)
5 Laundry/Restroom/Shower Facilities and 5 Outdoor Kitchens
Capital Metro Bus Stop
Topfer Family Health Resource Center
Micro-Enterprise Business Opportunities: Art House, Screen Printing, Car Care, Forge, Organic Farming, Woodworking Shop, Concessions & Catering
Community Cinema, outdoor movie theater by Alamo Drafthouse
Community Inn, tiny house BnB
Community Market
Memorial Garden with Prayer Labyrinth and Walking Trails
Learn more about the community, volunteer opportunities, and other ways to support Mobile Loaves & Fishes work in Central Texas here.
Exclusive Content
Monthly LIVE tiny living discussions with extended Q&A, plus BONUS content, like behind-the-scenes filmmaking and tiny home life insights.
Early Access
See new videos first, get first dibs on new online courses and more!
Exclusive Giveaways & Discounts
Win tiny living festivals passes, and more!
Join today!