How Much Are Tiny Houses?
How much are tiny houses? Tiny houses can be quite affordable! Some tiny houses are $10,000, while other homeowners spend $60,000+! It all depends on you!
Tiny houses are a trend that continues to sweep the nation. Across the United States, and in a few other countries as well, people are exchanging the two-bathroom, two-car garage dream of the past for the simplicity of smaller spaces.
Unlike many trends, tiny houses don't just appeal to young people. Nearly half of all tiny house owners are 50 years old or older.
This raises the question of why so many people are interested in tiny houses. One of the biggest benefits is the price and affordability compared to traditional housing options.
One of the essential rules of the housing market is that you definitely pay for space, so less space equals less cost. This is true to a point, as many small homes and apartments can still be quite expensive in many many cities. Whereas, movable tiny houses tend to be significantly below-market-rate housing.
How much are tiny houses, though, exactly? We'll talk more about that below.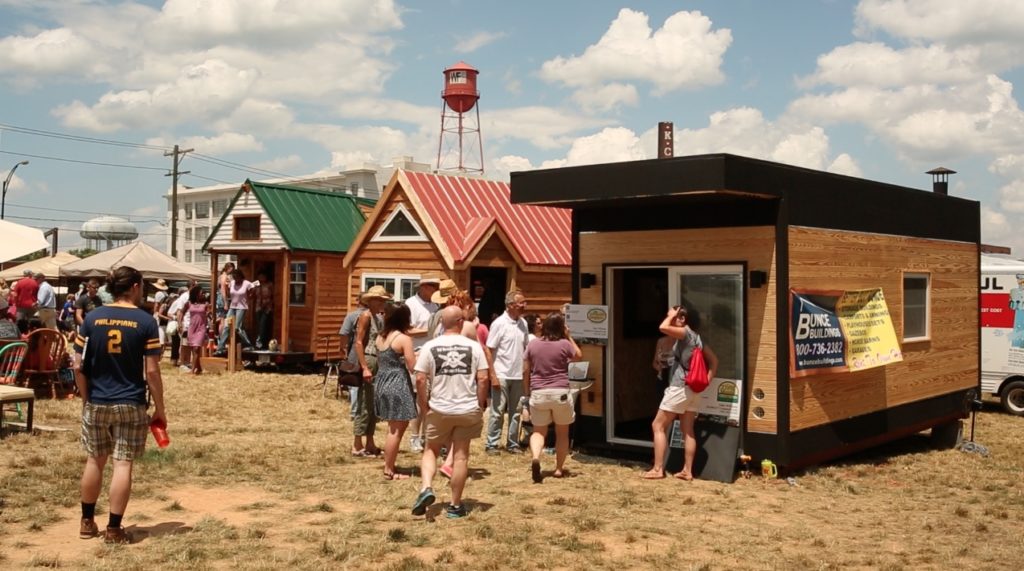 Building Your Own
The cost of a tiny house will mostly be decided by who builds it. The most affordable method is to build your own, if you can.
Building anything, especially an entire home, takes a lot of handcrafting skills that most of us simply don't have. Other barriers include lack of a place to build, less available free time, and upfront materials costs.
For those who do have some construction skills or time to learn them, building a tiny house is a unique opportunity that could save you thousands of dollars.
You can cut several thousand off of this price by building your own. Some claim that you can build a tiny house for less than $10,000, but this would likely be very difficult. For tips on how to save on your tiny house build, see this post.
A typical DIY tiny house build costs approximately $15,000-$50,000.
The good news is that if you want a tiny house, and happen to be an Australian, you might be able to get a first home builder grant. This grant allows you to receive up to $25,000 to build a home, provided you meet specific requirements.
Hiring a Builder
You can hire professionals to build a tiny home for you, but this is more costly than building it yourself or buying it a pre-built model or pre-owned home. However, hiring a builder offers a few advantages that doing it yourself, and buying it off the market don't have.
Because you hired professional builders, there's a far lower risk of significant code violations or building flaws. Plus, since you'll be the first owner, you don't have to worry about the home's history and whether it was well-maintained.
In total, the cost of having a tiny house built for you is about $45,000-$90,000.
Even at this price, a tiny house costs only a fraction of what a typical house would in this economy.
This price goes even higher if you decide on a luxury tiny house. Luxury tiny homes are a type of tiny house where the appliances are often full-sized or specialized, and the design is usually a little more upscale and customized.
These houses can cost as much as $150,000, although there are bound to be more affordable luxury models out there.
The good news for those looking to buy a tiny house from a builder, but struggle to afford a 20% down payment, is that Operation Tiny Home offers a grant program to help with this.
"We've joined together with Sutter Home Family Vineyards and Wells Fargo to assist individuals struggling with hardships due to the COVID-19 pandemic, wildfire, hurricane, or other natural disasters, to provide affordable high-quality custom housing solutions through a down payment assistance match grant. This grant will provide qualified applicants with the financial boost they need to secure a stable home and create the foundation needed to overcome adversity."

-Operation Tiny Home
Utilities
How much are tiny houses may be the wrong question to ask. The process doesn't stop with just buying or building a tiny house.
You also have to consider the expenses involved with living there, like utilities and placement.
For instance, you're going to need to figure out water, power, and sewage disposal access, if you haven't already. If the house is placed in a tiny home community, this has likely already been taken care of.
This is especially challenging if you're planning to live on your own undeveloped land and 'off the grid.' This isolated lifestyle means that you won't have access to public utilities, so you'll need to find your own sources, like wells, septic tanks, and solar panels.
Solar panels alone cost hundreds or even thousands of dollars. If cost is a major concern, living off the grid is not recommended.
Fortunately, monthly utility expenses for tiny homes are a fraction of traditional larger housing.
Furniture and Appliances
Furnishing a tiny house can be challenging, since the dimensions of the house limit what you can realistically have. Luxury models prove that it is possible to put in fully-custom or even full-sized appliances and furniture, but this cuts down on space quite a bit.
Also, somehow small space appliances cost as much or more than full-size counterparts!
Instead, you may need to opt for smaller appliances and furniture pieces so that your home is both safe and practical. The good news is that the need for practicality has led to a lot of clever ideas.
For instance, many tiny houses feature Murphy beds, trundle beds, or pull-out couches. Lofts are a prominent feature because they utilize vertical space to turn one room into two.
Pull-out sofas often cost about the same as beds, and they're much more affordable than buying sofas and beds separately.
Land & Parking
Obviously, you're going to need a place to put your tiny house, and that's where one of the most significant expenses comes in. There are a lot of ordinances and zoning laws that dictate where you can and can't put a tiny house.
This has left people with some potentially tricky choices to make.
Some choose to live in RV parks, but that can cost over $1,000 per month. Others have created tiny house communities, many of which cost only about as much to live in as you'd pay in rent for an apartment.
Though, once your tiny home is paid off, the lot rental becomes more affordable. Also, cost varies greatly from community to community. Check out SearchTinyHouseVillages.com for a directory of options.
The most affordable placement options are often in ADU (accessory dwelling unit) situations, in backyards or on farms.
For more guidance, on finding parking and what makes a good spot, see our page dedicated to the topic.
How Much are Tiny Houses? A Guide
How much are tiny houses? It's a hard question to answer, simply because of all the factors involved. The simple answer is that it's usually not as expensive as a traditional house or apartment. Despite all the separate costs, living in a tiny house is still more affordable than your other options.
Overall, the cost of tiny houses varies considerably based on size, materials used, and level of customization. Of course, labor is also a significant factor. If you can do-it-yourself, you can save up to 30-50% of the overall cost.
Keep in mind, while the savings can be huge, building your own tiny house will require months, or even years, of your life to complete. On the other hand, for many, building your own home is incredibly fulfilling, both in the life learning experience and priceless satisfaction of living in a space built with your bare hands.
We've gone over some of the potential costs in the paragraphs above, but feel free to look around and see what else you can find. Also, we encourage you to research the costs of buying a tiny house, including additional costs of living.
Looking for articles on related topics? Check out some of our other blog posts!
The Ultimate Tiny House Design/Build/Transition Workshop
Sign-up for this acclaimed 16+ hour Digital Tiny House Workshop to learn how to build a tiny house, the legalities to be aware, how to make the transition to living tiny, and more!
INCLUDED with the DIGITAL WORKSHOP:
54 bite-sized, engaging episodes
Downloadable follow-along booklet for note-taking
Over $300 in FREE bonuses, from tiny house plans to more how to's
Digital Diploma upon full completion of the course