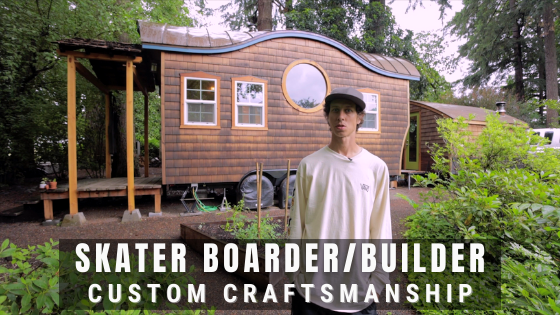 Skateboarder's Handcrafted Tiny Home & Mobile Sauna
From skateboarding to architecture studies, a passion for creative craftsman arose!
Meet Jeremy Tuffli, a talented builder and skateboarder.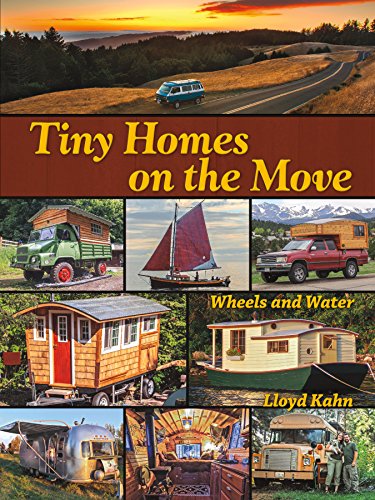 He handcrafted a whimsical truck camper for nomadic living and later an exceptional curved roof tiny house and mobile sauna. Not surprisingly, his early design inspiration came from Lloyd Khan's books, like Home Work: Handbuilt Shelter and Tiny Homes on the Move. Those books feature numerous historic and unconventional house styles and shapes.
By infusing organic shapes into his builds, Jeremy transforms a boxy THOW shape into a character-rich, soothing environment. He did this for his personal home and as part of his design/build business, Tufflibuilt. Additionally, with his partner, pro skateboarder Joey Pepper, they build enchanting mobile saunas as a side hustle event business. 
"I have a background in design; I studied architecture in school. And I like designing and building with curves and playing with symmetry. I spent a lot of time in the design, research, planning phases of different projects. And I also like working with reclaimed materials and working cedar and redwood and fir.

There are a lot of tiny houses out there that are pretty cookie-cutter. It's kinda hard to get really creative when you're starting with a rectangular trailer frame. So incorporating curves into the roofline or doing some cantilever...I think with the tiny house at least, or any structure on the trailer, is where you can put some energy and creativity."

-Jeremy Tuffli, Tufflibuilt
Inside his Handcrafted Tiny Home & Mobile Sauna
Jeremy's 145 square feet handcrafted tiny home is built on an 18-foot trailer. It's also cantilevered over the tongue-end one foot. The standing seam copper curved roof is the real show stopper of his design. As a result of the compound curve, he gained easier access to the loft with greater headroom. The loft floor beams also make a big difference—strong yet lean 1-inch by 2-inch steel tubes. For the flooring, Jeremy salvaged redwood from a partially burnt-down house.
"The tiny house costs me around $35,000 in materials to build. I did the large majority of the labor myself and so was able to keep costs down that way. Working with reclaimed materials too is also helpful in keeping costs down."
Importantly, Jeremy's THOW parking spot is on a one-acre residential property next to the Willamette River. His low-cost monthly expenses, including lot rent, enable him to maintain a fulfilling work/life balance. Working for himself is also key. This gives him the flexibility to take off for skateboarding road trips—one of his passions.
Jeremy keeps one of his mobile saunas parked behind his handcrafted tiny home for personal use and shares it with his hosts. Like his tiny house, the sauna features a curved copper roof. The siding is a combination of cedar shingles and Shou Sugi Ban siding. Inside there are two rooms: the changing room and the traditional Finnish wood-burning sauna hot room. After a good sweat, step outside and enjoy a cool rinse in the portable outdoor shower next to the fold-up porch.
Connect with Jeremy & See More of His Handcrafted Tiny Home Build Process:
Skateboarding footage by Jeremy McNamara
Have you ordered our book yet?
Learn the history of the modern movement, get a breakdown of tiny home styles, and meet the passionate tiny community. The Beginner's Guide to Tiny Houses also discusses the pros and cons of micro-living―is a tiny house right for you, right now?
What people are saying:
"Most books about tiny homes are really just about the fantasy, with beautiful pictures in far-off places, but they don't tell you how to get from point A to point B. That's where this book comes in and fills in all the gaps!"