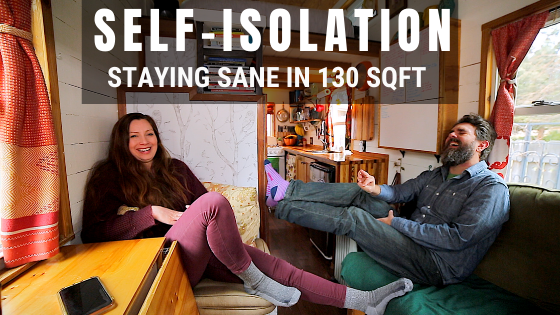 Tiny House Self-Isolation Update: Trying to Stay Sane in 130 SQFT
Self-isolation
tiny house edition: week 3! 
We're sharing how we are staying sane in our 130 sqft tiny home. Initial observations: we're getting weirder. Also, maintaining a morning routine is helping us create a sense of normalcy in this strange time.
We do miss our regular little trips to the gym and coffee shop, which typically gives us such a refreshing change of scenery. For now, daily walks with our dog are vital to our overall happiness. It's also been a great way to interact with neighbors, safely. Even a brief smile and wave, makes us feel like the world is normal for a heartwarming moment.
Our Entertainment and Self-Care Activities:
Walks like streaming in real-life. Ha! With the world slowing down so much, we're finding the sights and sounds of our walks more entertaining.
We take two 20-minute walks each day and 2-hour walks at least once per week. Fortunately, a forested river trail system is just a 20-minute walk from our tiny house parking spot.
What we love about crafting right now is that it takes all your focus. So, your brain is too busy to think about what's going on in the world.
Christian's needle felting has gone to a whole new level of awesome. He's been making little creatures from his imagination, including a "cutie cootie-monster."
Fun fact: Vice TV just featured us in a crafting segment of their new show Vice Quarantine Hour!
Check out his favorite how-to needle felt YouTube channel, Lincolnshire Fenn Crafts.
While I've been enjoying meditative adult-coloring and my new adorable embroidery kits (a thoughtful birthday gift from Christian). Learning the stitches feels like a brain puzzle. Also, I find the tactile and repetitive nature of embroidering, so satisfying and relaxing.
Video Calls via FaceTime, Skype, and Zoom
Shelter in place has been a perfect opportunity to catch up with friends we haven't talked to in far too long. Video calls are the best way to do that because it feels like you're hanging out in the same room.
By far, my favorite video hangs have been with my son, Garrett. It's been especially tough being away from him right now. Though, he's currently safe and happy with his dad and grandpa in North Carolina.
So far, we enjoyed multiple Skype movie nights.
This how it works: set a time to call, make stovetop popcorn "together," queue the movie, countdown in sync, then hit play, and of course, enjoy and get silly together.
Additionally, Garrett gave us a live video presentation of a homeschool project. Not only did he do a great job, but we actually had a lively chat about what he learned.
Parents know how rare that can be; the most common response to how your kids' school day went is "fine."
Like just about everyone else's, we're enjoying an extra dose of streaming and YouTubing. When you got nowhere to go, how can you not watch three episodes in a row of Tiger King?!
Our List of Shows & YouTube Channels to Enjoy While Self-Isolating:
Tiger King (duh! Netflix)
Making the Cut (Amazon Prime)
WheezyWaiter (YouTube)
Ozzy Man Reviews (YouTube)
Wes Tanks (YouTube)
Missy Elliot music videos
Dave (Hulu)
Devs (Hulu)
Ozark (Netflix)
The Outsider (HBO Now)
Fantastic Fungi (Vimeo)
Vice Quarantine Hour (Vice on TV - on cable and smart TV app)

Doing Nothing
Sometimes you just need to be still, most especially if you're feeling anxious or overwhelmed. We've each had short bouts of anxiety, probably like countless others right now.
From concern about vulnerable loved ones, not doing enough to the unease about the state of the world, we've found that the best to combat the feeling is to take it easy.
This is not the time for unrealistic expectations about what you should or shouldn't be doing. Giving ourselves permission to do less is challenging, but worthwhile endeavor to ground ourselves.
What are you doing to pass the time, or to create a sense of normalcy? Let us know in the comments below.
P.S. We've also been dreaming up new tiny house vinyl stickers designs to print.
P.P.S. For official Coronavirus information for protecting yourself and others, visit this site.
Watch to See How We Prepped for Lock-Down:
Exclusive Content
Monthly LIVE tiny living discussions with extended Q&A, plus BONUS content, like behind-the-scenes filmmaking and tiny home life insights.
Early Access
See new videos first, get first dibs on new online courses and more!
Exclusive Giveaways & Discounts
Win tiny living festivals passes, and more!
Join today!