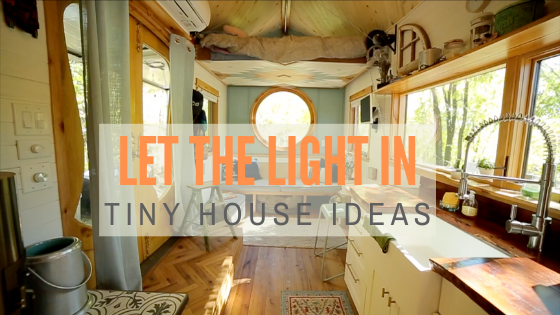 How To Get More Light Into Your Tiny Home
The more light, the merrier is tiny home design.
Choosing to live in a tiny home is more than just moving into a smaller space. It is about letting go of things that no longer serve your purpose.
As such, it is pretty understandable why most of the people joining the tiny house revolution are looking for ways to make their simple abode cozy and livable.
To avoid any cramped feeling, it's critical to incorporate getting as much light as possible into your tiny home.
Here are some tips on how to achieve this.
Install a Skylight
Of course, one of the best ways to get more light into your tiny home is to have as much natural lighting as possible. One of the best ways to do this is to install a skylight.
Aside from showering your house with as much natural light as possible, you also benefit from saving on your energy costs. No power is needed, electric or solar/gas generator, to light up your home in the morning to mid-afternoon, depending on placement.
At night, a bright full moon can also serve as your night light as you sleep. Also, if placed in the loft, it provides an excellent, stargazing opportunity!
Use Many Glass Windows and Doors
Another, perhaps obvious, option to get more natural light into your tiny home is to install glass windows and doors. You can have a professional installer of commercial glass do an assessment to see how much of your tiny house can reasonably have glass windows to maximize the amount of natural light in the space.
Just because your space is small doesn't mean your windows should be or that you need overly limit the number used. Though, you'll want to be strategic in placement so you have enough wall space for storage.
In our 130 square foot tiny house, we have a whopping 12 windows and a glass door.
We feel that if we had any less than that, our living space would feel dark and cramped. The natural light feels so refreshing and makes us feel connected to our surroundings.
If you have concerns about privacy, you can always put up blinds or curtains where you need to, or opt for frosted glass or privacy window film in places like the bathroom.
We love our glass door because of how much light it lets into our living area throughout the day—it definitely makes our space feel bigger.
Strategic Lighting Placement
One of the things that you have to remember when putting lighting in your home is to place it strategically.
Ceiling lights should be able to cover as much of the space as possible but aren't great for adding ambiance.
Also, adding a bulky floor lamp will make the space in your tiny home seem even smaller. So go for lighting options that can be installed on the wall or hung from the ceiling. If you have space, consider a compact tabletop lamp.
Here are some suggestions for the different areas on your tiny home:
For the Kitchen:
The best approach is to install under-cabinet lighting to maximize lighting in your kitchen area. It can serve as a task light when you need to work in the kitchen, such as preparing ingredients for cooking.
You can also choose to install recessed pot lights in the ceiling to give your kitchen a cozy glow. We highly recommend putting these on a dimmer to create more ambiance, especially at night.
For the Living Room:
In tiny homes, living rooms are typically part of a multi-purpose area because of the limited space. As such, creativity in installing the needed lighting is crucial. Ideally, you can put in accent lighting by hanging lamps, as well as using wall sconces, with the option to install underneath a wall-mounted shelf.
Accent lighting creates a homey environment, while overhead lighting is more functional. In our opinion, some builders over-do the number of recessed lights and often they're all on the same switch, making feel like interrogation lighting.
The more control over the amount of lighting used at any particular time gives you more flexibility for a comfortable feel, better functionality for the task at hand, and energy savings.
Love Accent Lighting in The Backroads or Bust Tiny Home!
For the Bedroom:
Most of the time, in a compact tiny home, the bedroom is the place where you might just sleep. But if you're an avid nighttime reader, appropriate lighting is crucial here.
Instead of ceiling lights, you can also install valance lighting if you have a window beside your bed. Wall sconces are also ideal for mood lighting, and they don't take up any floor space.
For the Bathroom:
Since tiny houses have small bathrooms as well, their options for lighting can be limited as well. The best way to get more light in this room is to have mirror lights. These mirror lights are a great addition when you need to shave or put on makeup.
It would also be beneficial to have a mirror strategically angled close to your lighting fixtures to help spread as much light into your home.
Additionally, magnetic LED light rails, like this, can be helpful for lighting awkward spaces and are easy to install almost anywhere. We use one to add more light in our shower because the mirror light is blocked when the curtain is shut.
Use Light-Colored Paint or Wallpaper
When painting your walls and floors, it is best to stick to light colors to allow more light to reflect and make your home seem bigger than it is. Just because the square footage is small doesn't mean your tiny home needs to look cramped and crowded.
When you are transitioning to tiny home living, don't forget about the importance of lighting to make your space feel open and airy!
Cover photo of Rocky Mountain Tiny Houses' San Juan design - watch the tour here.
Digital Magazine Dedicated to Micro, Tiny & Small Home Living
Do you have more time at home? Enjoy some inspirational reading from Tiny House Magazine!
Discover different types of tiny houses from liveaboard boats to Alaskan yurts, converted school buses to high wall tents.
Try recipes from a tiny house kitchen. Each month we feature a recipe from the Tiny House Foodie. Learn to make it work and still cook like a pro.
Hear from those living with kids in a tiny house. What happens when you build for two but end up with four? Can it really be done?
Read excerpts from books on tiny houses, downsizing, and a host of other related topics.
Each month brings new topics and new, exciting articles!