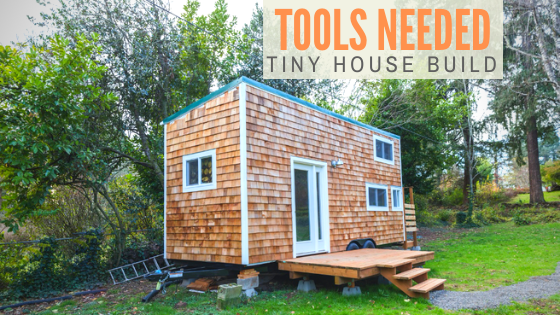 What Tools Do You Need to Build a Tiny House?
Key tools needed to build a tiny house - plan to borrow, rent or buy
Are you thinking of building a tiny little house for yourself this year? We get it! A DIY build is the most cost-effective way to save 50% compared to a professionally built model. Also, 68% of people who live in tiny homes own it mortgage-free, but (according to the same source) 55% of them also have more savings than the average individual in the US.
Clearly, this is a great route to go down if you're looking for greater financial stability! However, you'll need some tools to make it happen.
Keep reading to find out precisely what you'll need to build a tiny house.
Nail Gun
No matter how teeny your tiny house will be, you can guarantee you'll be doing a lot of nailing for your framing and siding! Sure, you could do it the old-fashioned way- with a hammer. But that takes ten times as long and requires infinitely more effort than a nail gun.
Try to buy a cordless one with lithium-ion batteries (i.e., a round-up of the best power tool batteries available) that'll discharge hundreds of nails in a single charge. They provide oodles of power and mean you don't have to worry about air compressors and CO2 cartridges.
Circular Saw
A circular saw is another power tool that'll make your life countless times easier when you build a tiny house. Unlike a standard handsaw, there's no elbow grease required! Better still, you'll get straight cuts every time.
Be careful, though. Circular saws can be dangerous! Consider asking someone who knows what they're doing for help if you're unsure how to use it safely.
Power Drill
Anyone embarking on a DIY construction job like this needs a power drill at their disposal! It's the quickest, simplest, and most effective way to cut holes and screw materials together. Furthermore, they can perform tasks that would simply be impossible with ordinary hand tools.
Like the nail gun above, the best power drills are cordless and have rechargeable lithium-ion batteries. They cost more, but they pay for themselves in terms of convenience and versatility.
Orbit Sander
Are you going to build your tiny house using wood? Well, make sure you invest in an orbital sander. The alternative is using a sanding block, which is time-consuming, hard work, and more than a little bit demoralizing!
Electric sanders will leave any wood that you use super smooth in seconds (and with minimal fuss). Trust us; you won't regret buying it- especially if it has a dust bag attached to the side for keeping everything dust-free while you work.
Time to Build a Tiny House
More people than ever are deciding to downsize their homes and build a tiny houses instead. Given the financial incentives involved, it makes sense too!
If you're going to jump on the bandwagon, though, be sure to get your hands on the right tiny house tools first. The options on this list (as well as many others we didn't get a chance to mention) will make the building process faster, smoother, and more enjoyable from start to finish.
Tiny House Build Tip: check your area for local makerspaces. Many offer build site rental space with access to tools and moral support from other DIYers!
For more in-depth building guidance, visit our sister site TinyHouseBuild.com.
The Ultimate Tiny House Workshop
A 16+ hour Digital Tiny House Workshop is your guide to a safe, fun, and fulfilling tiny house build and smooth lifestyle transition. Plus, you get $300 worth of FREE bonuses!!
Developed by Andrew and Gabriella Morrison, illustrious tiny house builders, designers, and educators. Further, this course breaks down important tiny living considerations so you don't have to spend countless hours in research.