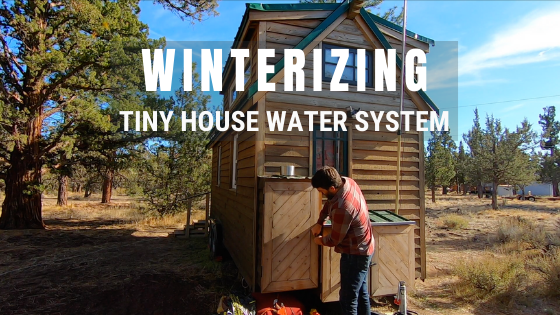 Winterizing Our Tiny House Water System – Surviving the Cold
At the beginning of October, we returned from a trip to Hawaii to find a frozen instant propane water heater
—

eek! Time for emergency tiny house winterizing!

Fortunately, we were able to thaw it out just in time to move to a new backyard parking spot. There we did a fresh set-up of our tiny house utilities, including proper winterizing our water system in preparation for snowy eastern central Oregon.

A bit of silliness ensues because you can't take yourself too seriously when winterizing things like a pee house.
Watch the above video to see tips for surviving the winter in a tiny house on wheels.
Of note, we did install a French drain for our greywater run-off. Stay tuned for a future video about that! Additionally, did you know you can apply for a greywater permit in some states, like Oregon? This applies to reuse and disposal.
Learn more about the benefits of greywater here.
Our Tiny House Water System Winterizing Gear:
Comprehensive Tiny House Design/Build/Transition Workshop
Sign-up for this acclaimed 16+ hour Digital Tiny House Workshop to learn how to build a tiny house, the legalities to be aware, how to make the transition to living tiny, and more!
INCLUDED with the DIGITAL WORKSHOP:
54 bite-sized, engaging episodes
Downloadable follow-along booklet for note-taking
Over $300 in FREE bonuses, from THOW plans to more how to's
Digital Diploma upon full completion of the course