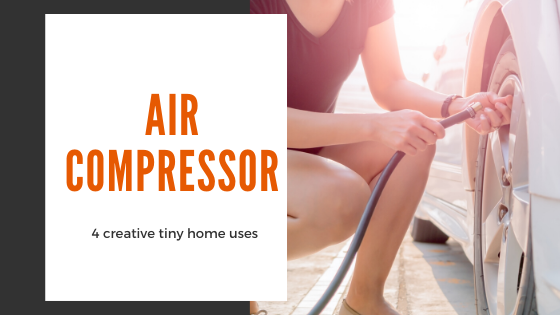 4 Clever Ways to Use Air Compressor All Around Your Tiny House
Tiny house living embraces creativity. In that spirit, we share 4 ways to use an air compressor, from helpful tips to fun crafts.
Air compressors aren't only used to power pneumatic tools or fill gas cylinders at gas stations or automotive shops. They can also be employed in many household applications, ranging from cleaning to interior designing.
When it comes to your tiny house, all you have to do is think outside the box!
Whether you're pumping up your car's tires or sandblasting your house's siding, there are many ways to use an air compressor inside a small space.
We've rounded up more air compressor ideas for your tiny house below.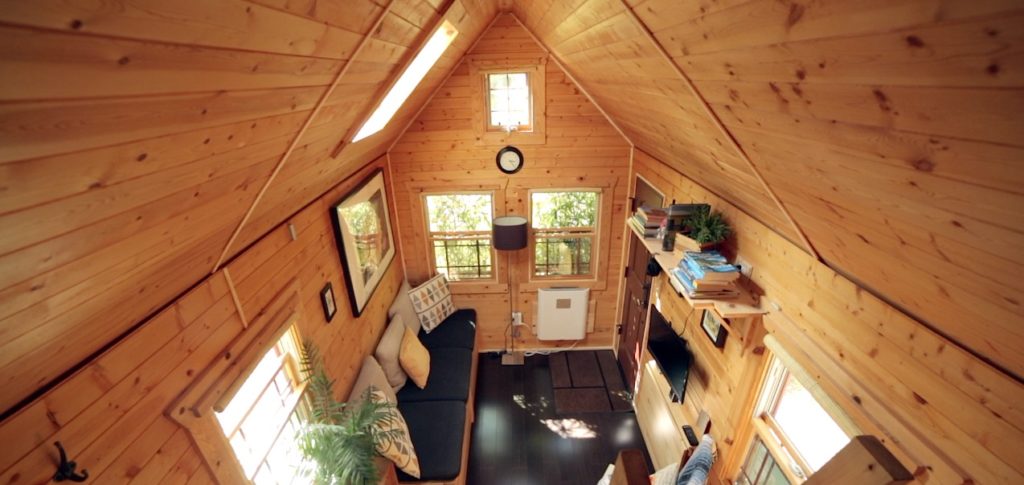 Dislodge Settling Dust Efficiently
A well-thought-out cleaning regimen includes a must-do dusting. Any grime can be unsightly and can cause allergy attacks if left undusted. It seems to get worse if a tiny house—your space is obviously smaller, so any dust can be easily seen and breathe in. Also, it can settle in extra hard to get to nooks and crannies.
While running a dusting wand, mitt, or microfiber over your knick-knacks and furniture is pretty much easy and helpful, it's way easier if you can blow the dust away in one go, right?
That can happen with an air compressor. DON'T use the big one, though! A short burst from it would surely get rid of any part in your home and make everything into a mess.
A smaller air compressor will do. It can easily shoot out any debris that has been settling on intricate objects and unreachable corners in your house.
It's not only used to dislodge any dust. It's especially recommended when you have a small dirty garage, weeds that need to be whacked, or clippings from the driveway that need to be cleared, as well.
If you don't have an air compressor, you can opt for a hairdryer. Be sure to use it in a cooler setting. There are portable air compressors that you can buy online, too. They're used to blowing up tires at home.
Either way, they can lend you a hand in getting rid of any dirt.
Crank Up the Heat Quickly
Compared to rubbing sticks, concentrating sunlight with glasses, and other pre-industrial fire-starting mediums, nothing beats the convenience of the Southeast Asian fire pistons! The science behind fire pistons is as follows.
When compressed, almost every gas heats up. The faster and harder the compression, the hotter any gas becomes. As a result, it can ignite a fire to any flammable materials. This can be applied when you occasionally forgot to light up coals on your charcoal grill, or jump-start a fire in your tiny woodstove.
Why waste your time in using lighter fluid when you can instantly stoke a fire with a handy air compressor? Now you know that you can start a roaring fire in no time with an air compressor.
Just don't fail to turn down the pressure regulator; otherwise, you'll put the fire out completely.
Paint Your Tiny Home like a Pro
Powering spray guns is a useful artistic use of air compressors. You can do the airbrushing yourself or ask a professional. Like dusting off, small models of air compressors can do this sort of job already.
As a beginner, you can spray a hot rod flame detailing on any sheet material, like your kid's bicycle, your motorcycle, or in the front of your riding mower. But first, try out this killer flame on a scrap piece of cardboard before spraying it on any sheet metal.
What's more, with the right kind of designs, you can come up with amazing detailing for your home interior!
But if you think you're not artsy at all, just keep practicing. These air compressors allow you to earn creative progress that you may not achieve with spray cans. Keep trying!
Do-It-Yourself Snowmaker
No snow? No problem! Have a winter fun with this DIY air snowmaker using an air compressor!
This is a super fun dreary winter day craft for your tiny house family.
As a heads-up, you need storage bins, commercial-grade garden hose, electric heat gun, or hairdryer. They're all can be bought from any local hardware store.
Of course, don't forget your air compressor. If you're around Australia, check some samples here https://www.elitecompressedair.com.au/. It's better if you'll have an air dryer on the air compressor outlet, as well.
You also need other basic home or car repair tools like various kinds of pliers, adjustable wrenches, and socket sets. For a more detailed and specific guide, check these Free Home Snowmaking Machine Plans and Tips and Tricks for Snowmaking.
The steps you should follow are typically no-brainer since any snowmaking system works well with water alongside with the freezing air during cold seasons. But, you still want to follow specific steps to ensure success and prevent tools from being frozen solid.
Takeaway
Apart from these creative ideas, you can use an air compressor as a nail gun, a tool to inflate your tires and many more! Its functionality says how much it is a must-have in any garage. The best part is that it's relatively harmless more often than not.
For more tiny house ideas and helpful gear, browse our blog!
Find a Tiny Living Event Near You!
Stay informed about upcoming community events all over the country and world. 
Our comprehensive event calendar features tiny home festivals, documentary showings, advocacy meetings, workshops & MORE!