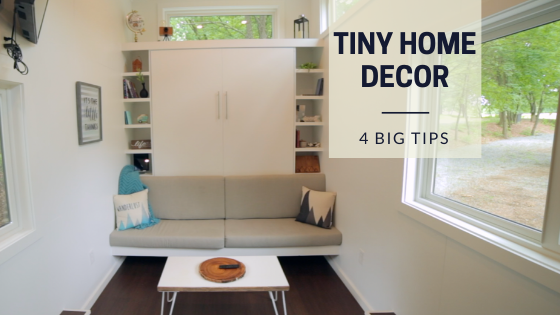 4 Things Nobody Tells You About Decorating a Small Space
If you live in a small space of any kind, you know the challenge of decorating tiny rooms and limited available space.
There are specific home decorating ideas and tips that will make decorating less of a challenge in these small or tiny homes.
One of the biggest challenges is decorating a small space without making it look cluttered, especially for those of you trying to fit larger furniture into smallish rooms. Built-in furniture can be better suited for the tricky dimensions of tiny homes, providing more control of the layout of your space.
You can also diminish a cluttered look by minimizing the number of art pieces on the walls and keeping the walls all one color.
Other clutter-free decor techniques include: using blinds rather than drapes, moving all photos to a gallery section over the stairs, and ensuring good color coordination with adjoining spaces.
After living in our 130 square foot tiny home for a few years, we updated our living space by painting the front half of our ceiling white, leaving our sleeping loft with a natural wood look.
This update made the spaces feel distinct and instantly made the living space feel brighter and larger—the power of a little paint.
Keep scrolling for four top decorating tips for a tiny house or small space compiled in collaborating with our friends over at Land of Rugs.
1. Coloring Design
Home decorating tips for multipurpose rooms (an entire tiny house can be a multipurpose room) include using the same color scheme throughout the room. By painting walls that you want as a focal point in an accent color also helps to separate the room.
Instead of paint, you can consider an accent reclaimed wood wall, tin tiles, or an alternative material— get creative!
Make sure you develop a plan before starting. Using the graduated paint colors found on card samples at paint stores will help you coordinate the colors and make the job easier.
Use accessories and throws in the accent colors to bring the whole space together or emphasize the color scheme in one area of the room.
2. Multitask Furniture
Most people have too much "stuff" that is overflowing from their existing, possibly lacking home storage space. For tiny space dwellers, a challenging issue is creating enough storage space for their paired down possessions. Everything needs a place.
A home decorating idea to use in any space is to invest in furniture that can serve a dual purpose.
For example, a coffee table with shelves or a lid that opens for storage, an ottoman that opens up for storage, or even a chair with a seat cushion that opens for storage are all available on the market today!
Additionally, choose dining room tables with leaves that can be expanded so you can keep it small when you don't need the extra space—like the must-have Ikea table for many tiny houses.
Custom-built furniture can be made to fit your home's limiting dimensions and can offer an added accent through the use of material selected to best suit your space.
Perhaps, a live edge slab of wood. Consider adding chalkboard paint to the backside of a cabinet door, charming and functional. When decorating small spaces, keep these ideas in mind!
3. Create a Social Conversation Area
In trying to gain open space in a living room, furniture is often moved to the edges of the room.
In this decor technique, place a sofa and a smaller chair, along with a little coffee table, together in the middle or toward one end of the room. This creates a conversation area that provides warmth and comfort for the entire space.
Also, it gives a focal point for the room, which is just as important when decorating all spaces.
While this technique can be challenging to manage in many tiny house interiors, it can be achieved by utilizing indoor/outdoor living space, like in the Sol Haus.
Most importantly, when designing a tiny house on wheels, don't forget the lounge space! A place to relax and to enjoy the company of guest or two (or three).
Remember, any open floor space you can create in a tiny home will make the space look and feel larger and airier.
4. Use Arranged Shelves
Another way to get stuff off the floor in small rooms is to make use of attractively arranged shelves.
A good place to start is to put small objects in a small decorative box or basket and place it on a shelf. See how you like it and go from there with additional shelves.
There are more opportunities for shelves than you might think, especially high shelves. You can display decorative items as well as use the space for storage.
Vertical space is a great storage solution for small rooms and tiny spaces. It can be attractive as well as functional.
Consider utilizing shelving (freestanding or wall-mounted), armoires, tall dressers, or other interesting furniture pieces that will exploit the vertical space in the room.
Small Space Decor Ideas for Stylish, Comfy Living
By incorporating these simple home decorating ideas, living in a tiny or small home can be very comfortable, and you can still enjoy the style that you desire.
Find Your Perfect Plans for Your Dream Tiny House!
Browse this amazing, growing directory of tiny house plans—all on sale for a 5% lower price than other places on the web.
Plus, every plan comes with over $200 in FREE bonuses, including a comprehensive how-to build a tiny house digital workshop!