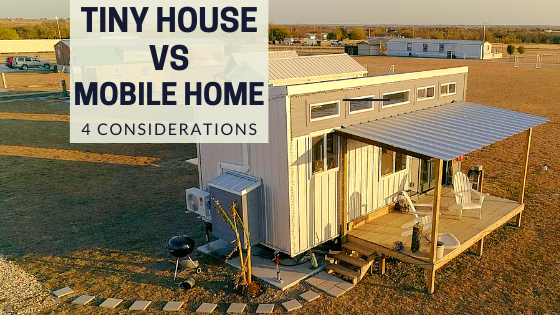 4 Things To Think About When Choosing Between a Tiny House and a Mobile Home
Tiny houses and mobile homes are often compared, but which is better option for you.
The recovery from the COVID-19 pandemic has a long way to go with some sources even suggesting that we are never going back to normal. As a result, many of us are looking for ways to downsize and simplify our life, liberating ourselves from unnecessary luxuries.
One of the obvious areas to look for reducing costs is your house – often the single highest expense you will ever have.
While the dream of a mansion with an indoor pool and a master bedroom with a walk-in closet lives on in the minds of many people, it is being progressively replaced with the concept of a Tiny House or a Mobile Home. Financial freedom, easy maintenance, and reconnecting with nature are just a few examples of the appeal of simplified living.
But what is a Tiny House or a Mobile House and how to choose which one is the right for you?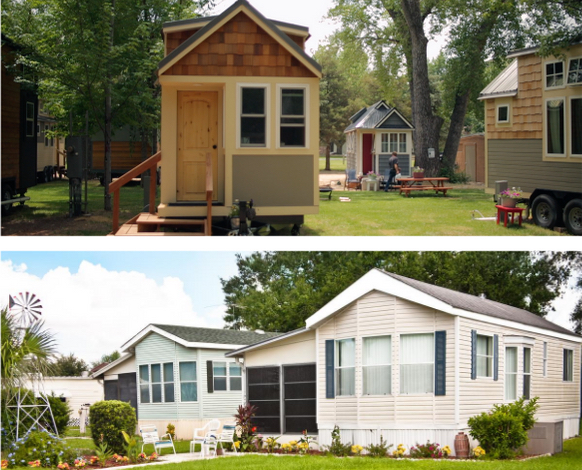 Tiny House
As the name suggests, a tiny house is a dwelling with a significantly smaller square footage than an average residential house. Most often, a tiny is anywhere between 100 and 400 square feet, while an average American home is approximately 2,600 square feet.
Tiny houses come in many different shapes and forms and can be purchased, rented, built from scratch, or assembled from a kit.
Mobile Home
Mobile homes are often called manufactured homes (modern terminology). They get built in a factory and placed on a trailer chassis to allow them to be moved.
When you purchase a mobile home, you have the freedom to live in a wide variety of locales, including a mobile home park or on leased land. In this case, you own the mobile home structure and have an option to lease the land on which it stands.
Not too different than movable tiny houses.
So what should you consider when choosing between either a Tiny House or a Mobile Home?
Costs
Cost is probably the most crucial factor when deciding which home is the right option for you (after all, we are downsizing for a reason). Even though the price you pay for your mobile home varies significantly, they are usually more economical than tiny houses.
A used, single-wide mobile home with 600 to 1,300 square feet will cost you between $10,000 to $25,000, while the median cost for a U.S. tiny house on wheels is approximately $60,000.
Environmental impact
Because they are small, tiny houses require less electricity, water, heat, and other resources, making them a very eco-friendly option. One study even found that following a move to a tiny home, its residents reduced their energy consumption on average by 45 percent.
Especially in U.S. states with an energy mix dominated by solar and wind energy, many tiny houses come equipped with solar panels or even a small wind turbine.
Mobile homes, on the other hand, were traditionally seen as more of mobile vacation houses and were not designed with energy-efficiency in mind. They tend to rely heavily on gas to power the appliances, making them a less green option than a tiny house.
Though this has been improved dramatically in newer models.
Safety
Being parked on a piece of land, tiny houses and mobile homes are generally more susceptible to Mother Nature's whims than a traditional dwelling.
The structural safety of a tiny house will depend on how it's built and who built it. Find a reputable, certified builder to ensure adherence to the highest safety standards.
Mobile homes also need to adhere to strict building codes. In most states (non-hurricane-prone areas), they are built to withstand sustained winds in the range of 70 miles-per-hour.
A study from the University of Michigan even found that mobile homes have a lower rate of fires than traditional homes.
For emergency evacuation, due to an incoming hurricane or wildfires, a tiny house on wheels has the potential to be rapidly relocated to safety by the owner or professional mover.
Family Life
The best part about living in a home designed to move around is that you can see the world. Multiple studies show that family travels help improve communications, reduce the possibility of divorce, strengthen family bonds, and increase the happiness of children.
RVs are a lot better equipped to move than tiny houses, but it can be done. Though THOWs can be more expensive to move per mile than RVs, based on weight and wind resistance.
But on average, tiny houses cost significantly less to relocate than a mobile home.
Further, there are reports of mobile home communities raising rates, leaving some homeowners in a bind if they can want to move but can't afford the $5,000-$12,000 costs.
Another thing to keep in mind is the width of the house–anything over 10-foot wide needs a permit for moving. Also, it is not recommended to travel more than once a year.
A tiny house on wheels provides the most flexibility to easily relocate as desired to try somewhere new or for significant life changes. Though they offer less living space than many mobile homes, making them less suitable for families of four or more.
Tiny House or a Mobile Home?
At the end of the day, both options can help you live more simply, reduce costs, and bring you and your family closer together.
However, if you place a lot of importance on green, minimalistic living, a tiny house might be the best choice for you.
Additionally, if you are looking for an adventure and some quality bonding with your family on the road, you consider opting for a home on wheels—from THOW to school bus conversion or traditional RV.
Guest Post by Alexandra Pavelekova
Want to live in a tiny home, and enjoy more experiences?
Learn how drastically downsizing can lead you to a life of fulfillment and adventure. In this e-course, you'll receive the tools you need to kickstart your BIG journey to upgrade your life.
What to Expect:
Downsizing, budgeting, build or buy decision-making tools
Proven techniques and worksheets for identifying priorities & goals
An action plan for creating the tiny home life of your dreams