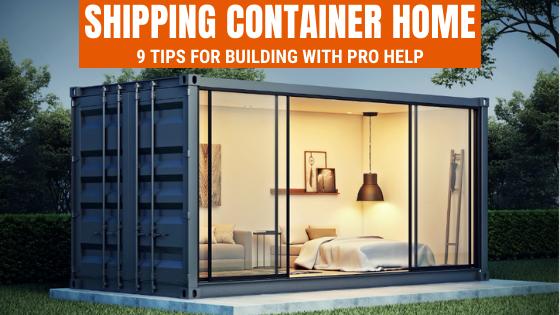 Build the Perfect Shipping Container Home with these 9 Tips
Want to build a shipping container home? Ready to DIY, or do you need pro help?
For many homebuyers, the size used to mean everything. However, in today's economic climate, people are (understandably) seeking alternatives, like tiny houses and container homes.
This has started the "tiny home" revolution, where you can build a shipping container home that is just as beautiful at a fraction of the cost. The basic run-of-mill single-family home can yield 30 years of debt or more, while the average cost of building a shipping container home can be far less. For those seeking a lifestyle without all the square footage and mortgage payments, shipping containers present a very real alternative.
The global market for shipping container homes is expected to top $70 million by the year 2025. These homes are simple, compact, affordable, and a much greener choice for the modern homebuyer.
Looking to build a shipping container home of your very own? There are a few things you should know before starting your plans.
Keep reading to learn the best tips for building a shipping container home.
1) Be Sure You're Prepared to Build a Shipping Container Home
Before you invest any money into it, you should be sure you understand everything it takes to build a shipping container home. You should know when and where you'll be building it, as well as how you're going to handle each building task.
On top of that, you should consult with contractors and electricians before choosing a shipping container for the conversion. Have a solid plan in place, so you know what to expect. That way, you won't end up wasting money if you aren't able to complete the project.
2) Choose the Right Flooring
When you build a tiny or small shipping container home, you won't have much square footage to work with. This means that your floor is much more likely to be heavily used and wear away quicker.
Before selecting the flooring for your container home, you should take this into consideration. Discuss your options with your contractor and pick the flooring the best suits your needs. For example, if you don't want to replace it after a few years, a durable hardwood or laminate might work better than carpeting.
3) Find a Great Contractor for your Container Home
Not all contractors will be able to build a shipping container home the way you want it. If you're not careful, you could end up spending time and money on someone who isn't up to the task.
You should ensure that your contractor can handle all the needed steps to building a shipping container home. Taking on a home conversion like this is quite a task, and you won't want to spend time coordinating multiple jobs between separate contractors.
When selecting a contractor, be sure you have a conversation about how to build a shipping container home. It's a relatively new building concept, and your contractor should ideally be experienced with it. At the very least, they should be well-rehearsed in how to pull it off.
4) Don't Purchase "Sight Unseen"
Choosing a home or a place to rent shouldn't happen before seeing the actual property in person. When purchasing used shipping containers, the same idea applies.
It's important to remember that most of the containers for sale will be heavily used, often seeing many shipping trips before being recycled. They may be dented, rusted, corroded, or otherwise damaged in a way that puts a damper on your building plans.
If you aren't able to see the container in person, then request that the seller sends you detailed photographs of both the inside and the outside of the container. That way, you can note any damages beforehand and avoid any unpleasant surprises once the container arrives.
5) Know the Building Regulations in the Area
Depending on where you're trying to live, different places will have different building regulations and zoning restrictions to follow. Before you begin your plans to build a shipping container home, you should be sure you know any legal constraints involved. This will help avoid any hiccups or legal issues down the road.
You should also be sure you can afford the extra expenses required to be in compliance. For example, most rural areas might require you to install a septic tank beforehand. By doing your homework first, via the local building department, you can know everything to expect.
6) Have an Insulation Plan
When making your budget plans, you should include insulation with the cost of building a shipping container home. After all, it's just like a traditional home and will need floor-to-ceiling insulation. Otherwise, it will likely end up sweltering in the summer and frigid in the winter.
Depending on what you're looking for, there are several different options for insulation. Research your options beforehand, so you know what to expect cost-wise.
7) Pre-Plan Your Plumbing and Electricity
You want to build a shipping container home around your plumbing and electricity, not the other way around. Before you start installing walls or flooring, be sure you know where everything will be hooked up—even when working with contractors. If it helps, create a checklist of all your electronics and appliances, ensuring you account for everything beforehand.
8) Avoid Cutting and Welding Whenever Possible
On its own, a shipping container is structurally sound and extremely durable. However, once you start cutting, you can compromise the structural integrity. If you plan on stacking multiple containers or making the containers "load-bearing" in your building plans, then this is an important point to consider.
As for welding, while it can create an air-tight seal to bind multiple containers together, it's often costly. If possible, you should avoid this if you're looking to save money.
9) Beware of Toxic Materials
Shipping containers were initially meant for shipping freight, meaning they might have some residual substances that aren't healthy to breathe in. To ensure your container is free of toxic paint chemicals, pesticides, and other harmful substances, inspect it beforehand and replace structural components as needed.
You can also lookup the shipping container serial number to find out what has been transported in it.
Building Your Shipping Container Home
If you're up for the challenge, converting a shipping container into a tiny home can save you big. Now that you know the best tips for planning, you'll be ready to build a shipping container home that is perfect for you and your family.
For more tiny house articles, from downsizing to design, check out our blog.
Digital Magazine Dedicated to Tiny Home & Alternative Living
Do you have more time at home? Enjoy some inspirational reading from Tiny House Magazine!
Discover different types of tiny homes from liveaboard boats to Alaskan yurts, converted school buses, and more.
Try recipes from a tiny house kitchen. Each month we feature a recipe from the Tiny House Foodie. Learn to make it work and still cook like a pro.
Read excerpts from books on tiny houses, downsizing, and a host of other related topics.
Each month brings new topics and new, exciting articles!