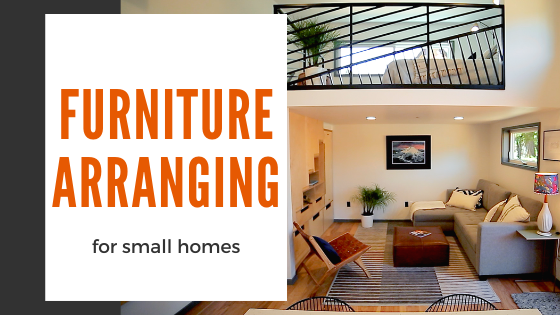 Complete Guide to Arranging Furniture in Small Homes
Arranging furniture in small homes can feel like a puzzle. Here are 5 tips to help create a functional, cozy space.
Small homes have many advantages. They save on energy costs, encourage you to be smart with how much stuff you own, and are more affordable than a bigger house at the start. However, cozier size houses do have their downsides, especially when it comes to furnishing them.
Those in smaller homes need to plan their furniture arrangement carefully. Fortunately, with some planning and thought, it's not as hard as you might think.
We share a helpful guide to arranging furniture in small homes.
Plan Big First for Arranging Furniture in Small Homes
When working with small living spaces, it's important to plan for the bigger pieces first. The sofa in the living room, dining room table, and the beds are all excellent examples of this. You want to do it that way because the bigger pieces need the most planning. Part of living in small spaces is taking advantage of the room you have, and that means making sure the big stuff actually has room. Nothing is more aggravating than buying a couch and not having a place to fit it in the room. Bulky, sturdy pieces like Amish chairs and solid wood dressing tables have this potential issue as well, so plan accordingly.
Multitasking Furniture
When you have limited living space, you need to make the most of the room you have. That means also making the most of the furniture you have. In this respect, pieces that can multitask isn't a bad idea. For example, an ottoman coffee table can be used as both a table and a seat if you buy the right one. having extra seats in smaller rooms can be a challenge, especially if you live alone and don't plan to have company over, but it shows up somehow anyway.
Coffee tables or beds with built in storage are another good option, depending on your needs. a lot of people shove stuff under their bed for storing all ready, and having proper storage to do it in will help keep stuff organized. As for coffee tables, it never hurts to have an extra place to put coasters, candlestick holders, and spare reading material.



Make Rooms Look Bigger
Even with strategic furniture placement and use, a properly furnished home on the smaller side can still look a little cramped once everything is in place. To help counter this, you can employ a couple old tricks of the trade to help rooms seem bigger than they are. The most obvious method is the use of mirrors, and though it's an old trick, it can help. Keeping the blinds open, or at least tilted toward the outside world, can also help a room seem more open.
Leg Room
This is very important when planning any room's layout, but make sure you remember walking spaces and leg room in between pieces. This can be tricky in smaller homes, but that's why planning layouts beforehand is so important. Generally, you want to place seating spaces in a layout that allows people to sit and move about as needed. This is true for beds, too, because nothing makes a day start off worse than hitting a part of your body against a table or headdress when you roll out of bed.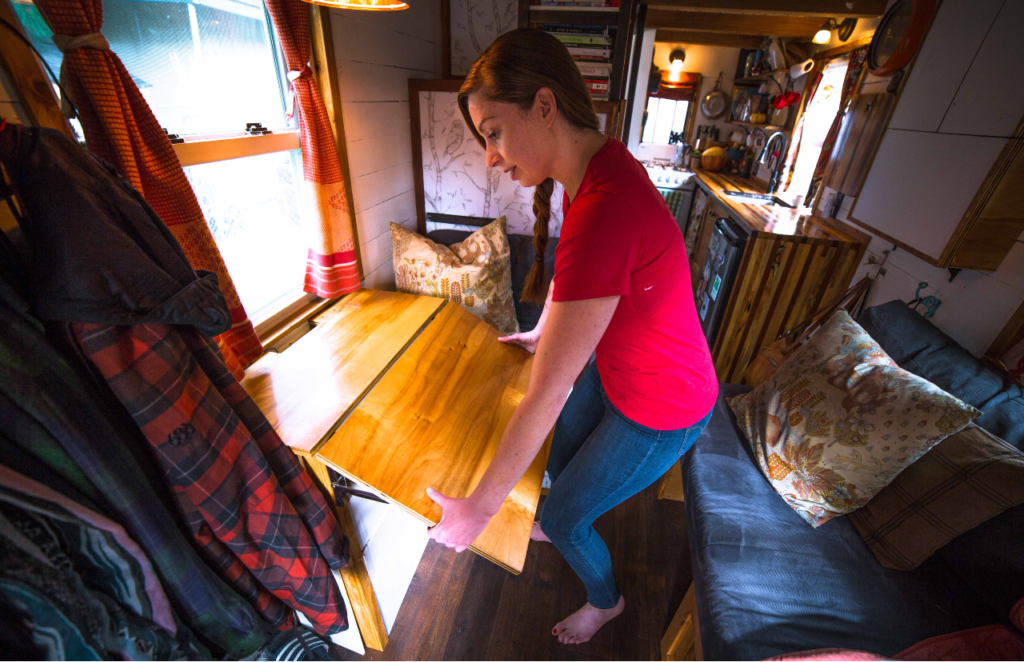 Less is More
Although you obviously need some furniture in a home regardless of size, with smaller homes you need to make sure every piece counts. Multitasking furniture can help a lot with that, but the true key is to take a close look at your furniture needs and decide what pieces you absolutely must have, and to do without the accessory pieces for the sake of saving space. Obviously, you need beds and a couch at the very least. The question, then, is what you don't need. If you've managed to multitask your furniture and take advantage of storage options, this question becomes a bit easier.
You probably don't need or have room for a bunch of chairs around your couch, for example. You might, however, need a full dining set, even if you don't have a dedicated dining room. the needs for your home and it's furniture depend on you as much as the home itself, and that's one more reason planning is so important.
No matter how small your home, you want it to be comfortable. To do that, you need some furniture. How much furniture you need will vary based on how much company you have over, how big your family is, and where your friends like to sit. To balance all of that, you need to have a plan when placing furniture in a small home. Space counts, whether that home is a single apartment, a starter home, or a cozy place to call for you and yours. While you need some furniture, how much depends a lot on personal needs.
Just make sure to make the most of every piece count when selecting and arranging furniture in small homes.
Digital Magazine Dedicated to Tiny Home Living
Do you have more time at home? Enjoy some inspirational reading from Tiny House Magazine!
Discover different types of tiny homes from liveaboard boats to Alaskan yurts, converted school buses, and more.
Try recipes from a tiny house kitchen. Each month we feature a recipe from the Tiny House Foodie. Learn to make it work and still cook like a pro.
Read excerpts from books on tiny houses, downsizing, and a host of other related topics.
Each month brings new topics and new, exciting articles!