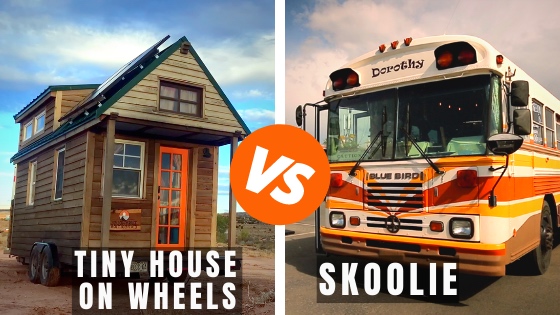 Tiny House on Wheels vs Skoolie: A Comparison
Which is the best home on wheels for you? We share a comparison of a tiny house on wheels vs a skoolie (school bus conversion), sharing similarities as well as pros & cons.
Both homes on wheels have a lot to offer for a freeing way of life, whether you embrace full-time nomadic living or want to stay put for long periods of time. We've now done both with our personal tiny home on wheels. Over 4.5 years, we lived as full-time nomads, crisscrossing the US. We encountered countless bus dwellers and fell in love with many bus conversions during our travels. Further, in many ways, our traveling home experiences were similar to common bus life realities like having to budget for fuel fill-ups carefully.
Tiny House on Wheels vs Skoolie
Tiny House Pro: you can easily add lofts to increase livable space.
Skoolie Con: you can raise the roof to create more interior height, but it's a pricey upgrade. Raising on the roof on a bus conversion is a labor-intensive process that requires knowledge of welding. For a professional job, it can cost $8,000-$10,000.
Skoolie Pro: well-suited for full-time nomadic life with tow vehicle built-in.
Tiny House Con: because it's not attached to an engine, it means you need a tow vehicle for moves—hire a mover, rent a truck, or you need your own.
For more pros & cons, watch our comparison video!
Which is a THOW, and which is a skoolie?
One of Our Favorite School Bus Conversions!
Exclusive Content
Monthly LIVE tiny living discussions with extended Q&A, plus BONUS content, like behind-the-scenes filmmaking and tiny home life insights.
Early Access
See new videos first, get first dibs on new online courses and more!
Exclusive Giveaways & Discounts
Win tiny living festivals passes, and more!
Join today!