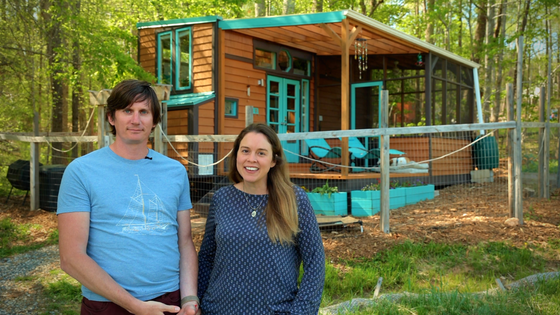 Couple Built an Impressive Custom Tiny House
Meet Callie and Nathan, Cranmore Meadows founders who built a truly impressive custom tiny house name Polaris. They dreamed about it for years, but when Nathan got laid off in 2015, they saw it as an opportunity to kickstart the build. It took two years, in part because they paid for it as they went.
"I found an email from 2009 that I wrote to a friend that was some random Tumbleweed model, "had you seen these; this is awesome!" We hadn't met since 2012. So at least three years, I had been kind of thinking about it.

You always used to tell me that when you first told me you were into tiny houses, and I was like, "oh yeah, that's really cool; I'd be into that." Because I had lived in Ghana in small spaces on and off for six years, and so he said it was love at first sight when he told me. Oh, it was meant to be. As soon as she was open to the idea, I knew she was a winner."

-Nathan & Callie, DIY tiny housers & Cranmore Meadows founders
Inside Their Custom Tiny House
Callie & Nathan's lovely custom tiny house lives large. While it's 20-feet long and 178 square feet (271 sqft with the lofts), they doubled their living space with a detachable deck and screened-in porch. The two parts feel seamlessly connected, creating an incredible indoor/outdoor lifestyle feel.
Though they bought Tumbleweed plans, like us, they discarded them and went a fully custom route. Callie took the lead. She came up with an exceptionally efficient, comfortable design. It's packed with clever features like a little laundry room built on the trailer tongue. Additionally, the section sofa transforms into a day bed and dining space.
Build your own version! Their Polaris tiny house plans are now available for purchase here.
Watch the tour above of their custom tiny house, and keep scrolling to tour their tiny home community!
Thanks to our video sponsor, Picnic! ​ Take the quiz and get personalized allergy relief today. Use our link for 50% off your first order; the offer is valid for the first 100 orders: https://picnic.mobi/TinyHouse.
Their Tiny House Community, Cranmore Meadows