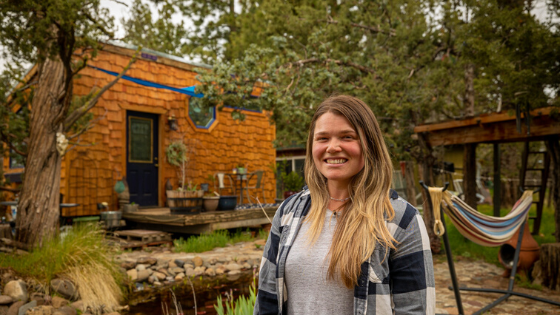 Her $25k Tiny House and Outdoor Paradise
Meet Danielle, a DIY builder who built an enchanting $25k tiny house using 70% repurposed materials. She's been living in it for almost seven years. During that time, it's given her much freedom financially and for personal growth. Danielle now spends more time doing what makes her happy—exploring nature, crafting, and creating a magical outdoor living space.
"I love the idea of just smaller spaces, not necessarily a tiny house on wheels, just people living with less. For me, I would rather have more property and a smaller home that I live in than a big house on a small lot. That aesthetically is more pleasing to me; I love spending time outside. I think everyone could learn to live with less and more simply and find it beneficial.

Whether that means going from a 4000 square foot house and downsizing to a 15oo square foot house, that is huge for somebody. I just hope people continue to go in that direction, living with less and not consuming as much, especially with climate change, and we're seeing the effects in central Oregon with all the wildfires. I hope that is really starting to open people's eyes to different alternative ways to live.

I talk to people in the area who are just struggling finding housing and paying insane amounts of money for rent. All I want to say is I'm so grateful that I have the housing situation that I have. When Covid hit, and people went on unemployment and were unsure if they could pay their rent, I just felt so much gratitude that I had this safe, comfortable place to live. It's huge.

That's my hope for society is that everybody can have, whatever it looks like, a safe, comfortable place to live. It means everything."

-Danielle, @danielle_outside
Inside Her $25k Tiny House & Outdoor Paradise
Danielle's tiny house on wheels is 20 feet long and 8.5-feet wide. She achieved her low-cost $26 home by using reclaimed materials. Further, what she found directly influenced her layout and rustic boho-style interior design. For example, she found a large angled window that dictated the slope of her roof.
Even though her living space is only about 200 square feet, including the loft, it feels pretty open. Because of this, Danielle created much flexibility in the living room area. This enables her to move around her furniture from time to time and make it work for her current hobbies.
Danielle thrives outside, so her outdoor paradise is ideal for expanding her living space. She parked on her artist uncle's property. Importantly, he helped her with the build and inspired her creative outdoor living space. Like his magical gardens, Danielle created a charmingly organic pond outside her home with goldfish, winding stone paths, and a treehouse. Ultimately, she crafted a mini eco-system that attracts birds and other wildlife.
Follow Danielle on Instagram: @danielle_outside
Thanks to our video sponsor, Blinds.com!
We love our Light Filtering Cellular Shades that allow us to control the amount of light & privacy—a perfect choice for tiny homes.