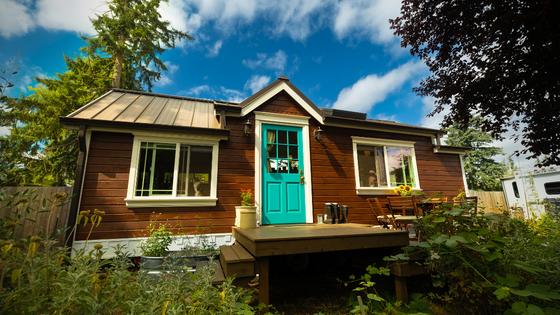 Victorian Farmhouse Tiny Home in Urban Homestead
Meet Sarah and Kevin, who built a fantastic Victorian farmhouse tiny home in their own backyard with help from family and friends. They also created a lush half-acre urban homestead village with permaculture principles. Importantly, they first bought a small home in Portland, Oregon. Then they transformed their barren backyard into a fertile growing space and prepared a spot for their future tiny house.
Kevin and Sarah also created a pad for another tiny home with plans to add a second parking spot. Further, the main house is rented out to a family. All residents enjoy affordable housing, communal spaces with few rules, and landscaped private nooks for each home. It's a true win-win for all involved.
Their property is laid out as a permaculture food forest. Between Kevin and Sarah's Victorian farmhouse tiny home and the driveway at the front is a huge garden and orchard area. Additionally, they have a large chicken area and a shop. One of the reasons for situating their house in the back is so when they come home every day, they have to walk through the grow spaces and can easily check on them.
"Everything the tiny house is surrounded by is edible, pretty much. We've kind of focused on edible things. But also, there's a lot of stuff here with a dual purpose. Like this row of kiwi berries is acting as a visual break between the next lot. So if we have another tiny house that moves over here, we have a bit of privacy from them.

There are a lot of benefits to living together in a space in that we can divide up the cost of the mortgage or the property and the utilities and everything. So I think everyone's cost of living here is incredibly low compared to neighbors. We rent the main house for well under market rent and don't intend to raise it.

I think it just works better for us not having to have too many meetings and micromanage things and just having more, like, if you use a space, you are a part of taking care of it. If you want to take things out of the garden, you have to put time into the garden. If you want to spend time in the woodshop, you have to go through safety training & help clean it."

-Sarah & Kevin, @futurehomestead
Inside their Victorian Farmhouse Tiny Home
Kevin and Sarah's 295-square-foot tiny home offers spacious single-floor living with its 10-foot width. They captured their love for Victorian houses and farmhouses throughout their design. The rustic charm with practical features for accessibility provides that farm home feel. For instance, the extra deep kitchen counters give them space to have things along the back and still have a full workspace.
While the complex roof pitches firmly root the tiny house in the Victorian style. Also, Kevin & Sarah's choice of vintage hardware and furniture adds to this. Their entry closet is a great example:
"This was a vanity mirror from the Eastlake period. It's built in the early 1900s. So this top part was surrounding a mirror that we bought in a vintage shop. We took the whole thing apart, changed the size, put it all back together, and then built this closet around it to make it feel like a vintage piece of furniture, even though it's actually built in a very specific size to the tiny house. So it's this part, and then there are some details as well on the bottom too, sort of tie the whole thing together."
Kevin & Sarah's entry closet acts as the tiny house version of a mudroom. They really wanted to have a place to put coats and shoes away right as you walked in because of how much it rains in Portland. Additionally, it hides one of the wheel wells.
There are many great examples of clever furniture in their main level bedroom that maximize the limited floor space. Their custom Murphy bed is a prime example. Kevin & Sarah bought the hardware and the plans.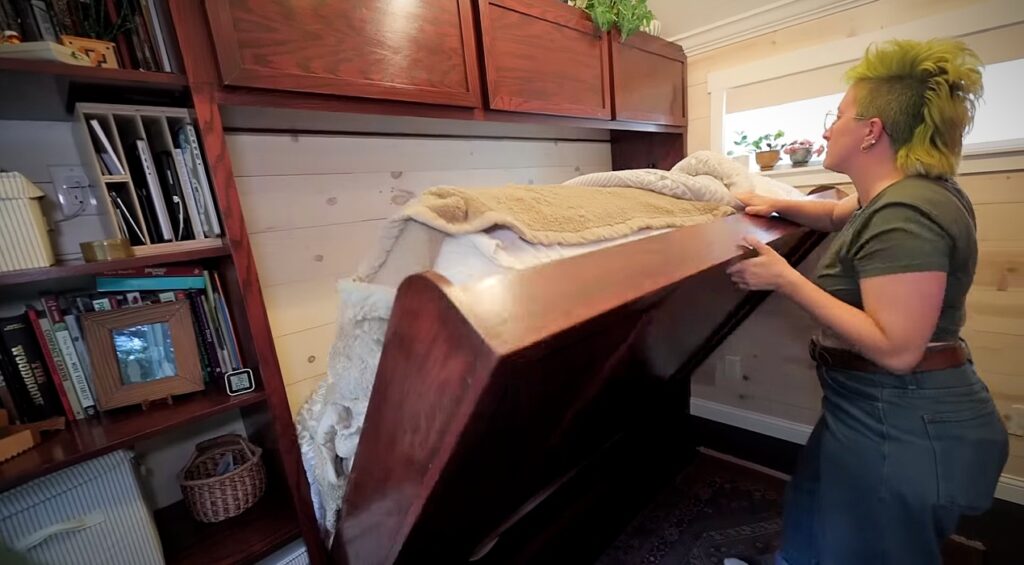 Then they built the actual structure to fit in the specific area. As a result, they could add custom cabinets and a bookshelf. The one above the bed holds their pillows. When the bed is folded out of the way, Sarah and Kevin can use the space as an office, workout space, or dining room.
Watch the tour above to see more of their Victorian farmhouse tiny home!
Thanks to our sponsor, Upside! Download the FREE Upside App: https://upside.app.link/tinyhouse to get $5 or more cash back on your first purchase of $10 or more.