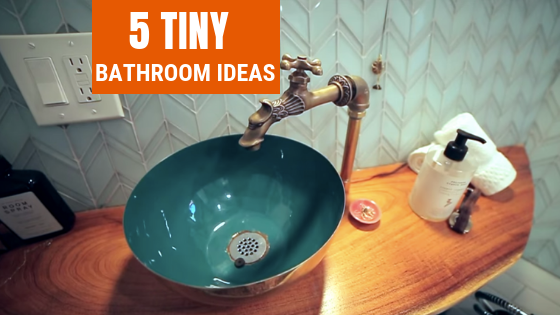 Small Bathroom Inspo: 5 Fabulous Tiny House Bathroom Ideas
A tiny house bathroom needs to do a lot with little space. Take a look at these fabulous tiny house bathroom ideas that will inspire you!
Did you know that the demand for tiny houses is growing fast?
The surge in popularity is no surprise, given that these pint-sized homes offer affordability, novelty, and the chance to change your lifestyle for the better.
If you're thinking of building your own tiny home, you're probably wondering how to practically incorporate essential rooms like the kitchen and bathroom.
Will you have room for a proper sink? What kind of shower should you go for?
There are loads of smart ways to approach your tiny house bathroom design, so keep reading for five inspiring ideas.
Combine Bathroom and Laundry Room
Want to kill two birds with one stone?
Combining your bathroom and laundry room makes a lot of sense, especially when you're creating a tiny house.
You'll typically be taking off your clothes in the bathroom, so having the washing machine right there to throw them into is really handy and removes the need for a bulky washing basket.
You'll also be able to keep all the plumbing in one place, which should cut down on costs.
Many tiny homes feature a washing machine beneath the bathroom counter, making use of what would otherwise be dead space.
Create a Walk-In Shower
When you don't have much space to play with, it makes no sense for your shower to be in a whole separate cubicle. Instead, create a walk-in shower that opens up the room and makes it feel larger.
If you want to go a step further, turn the entire bathroom into a wet room.
Don't want to have your sink and toilet splashed with water while you shower? There are ways around this - you just need to position the showerhead cleverly.
Squeeze in a Small Floating Sink
Don't have room for a full-size sink?
Opt for a narrow, floating sink instead, and slot it into any space you can find. All you really need is room for a tap and a small drain, so the actual sink can be tiny.
Just be ready to aim well when you brush your teeth!
Go for a Rustic Look with Wooden Walls
Many tiny homes are designed to feel as cozy as possible.
Extend the rustic vibes to your bathroom by securing wooden planks to the walls, then sealing properly to prevent water damage.
Your bathroom doesn't have to be a cold, white room!
Choose Stainless Steel Sinks and Accessories
There's a reason that stainless steel is used for outdoor fixtures like bollards — it's incredibly durable and resistant to water damage.
Choosing stainless steel for your sink and accessories helps create a cohesive look that makes the room feel less cluttered.
When you're working with a small space, it makes sense to keep the range of colors and materials small, or the room will look chaotic.
Stainless steel is classic, timeless, and practical, so it's an ideal choice.
How to Design Your Tiny House Bathroom
To design the perfect tiny house bathroom for your family, make a list of your top priorities.
Do you care about a large sink at all, or could you skip bathroom sink all together? A fancy shower? Or just a cool aesthetic?
Be ready to compromise and stay focused on what's important to you, and you'll soon have your dream bathroom.
Need more top tips on home design and building? Check out the rest of our blog today.