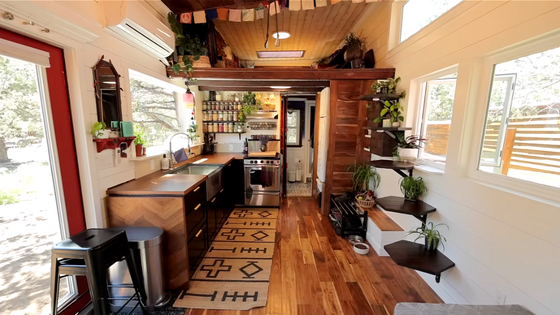 Improvements That Will Make Your Tiny Home More Luxurious
Choosing a tiny house is an excellent decision for minimalists. Still, some people may hesitate due to the impression that there isn't enough space to accommodate the luxuries of a normal-sized house. However, the compact design of tiny homes doesn't imply you can't enjoy comfort, style, or even lavish living.
Check out the following strategic improvements to make your small space more luxurious.
Use Attractive Rugs and Hang Your Curtains High
Textiles can bring any space to life. Further, the right rugs or curtains can take any tiny home from lackluster to luxurious. Simple ways to do that are with accent pillows, a throw blanket, and a textured rug.
A plain floor may be a good idea, especially when your hardwood flooring has a new finish. However, adding statement rugs can give your tiny home a lavish touch. Ideally, bold-colored or luxury patterned rugs can make your space feel stylish, modern, and homey. The open living area in a tiny house is a great option for rug placement. Place a complementary one in the kitchen for a unified design aesthetic.
Side note, floor, and structural integrity will only stand the test of time when you have proper erosion protection, specifically for fixed tiny homes.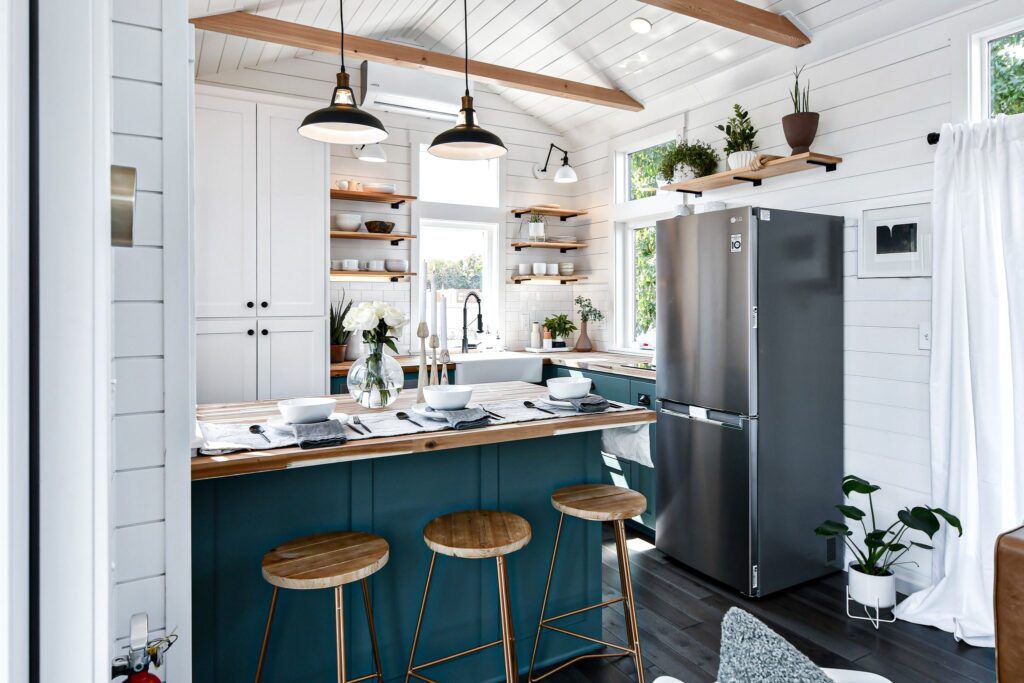 TruForm Tiny knows luxury - click to watch a tour with insights into the building process
Panel curtains make any room look more spacious when you mount the curtain rods slightly below the ceiling. Elegant, floor-length curtains attract the eyes towards the length of your curtains, creating the perfect illusion of height. Also, when the curtain rod is mounted close to the ceiling instead of the window frames, it will help make the room more spacious and elegant.
Choosing sleek but simple designs can add unique texture and airiness to the room. Large prints or heavily-colored horizontal patterns can create an illusion of less space. When selecting your curtains, go for the same color as your walls to maintain aesthetic consistency.
Use Mirrors to Create a Spacious Illusion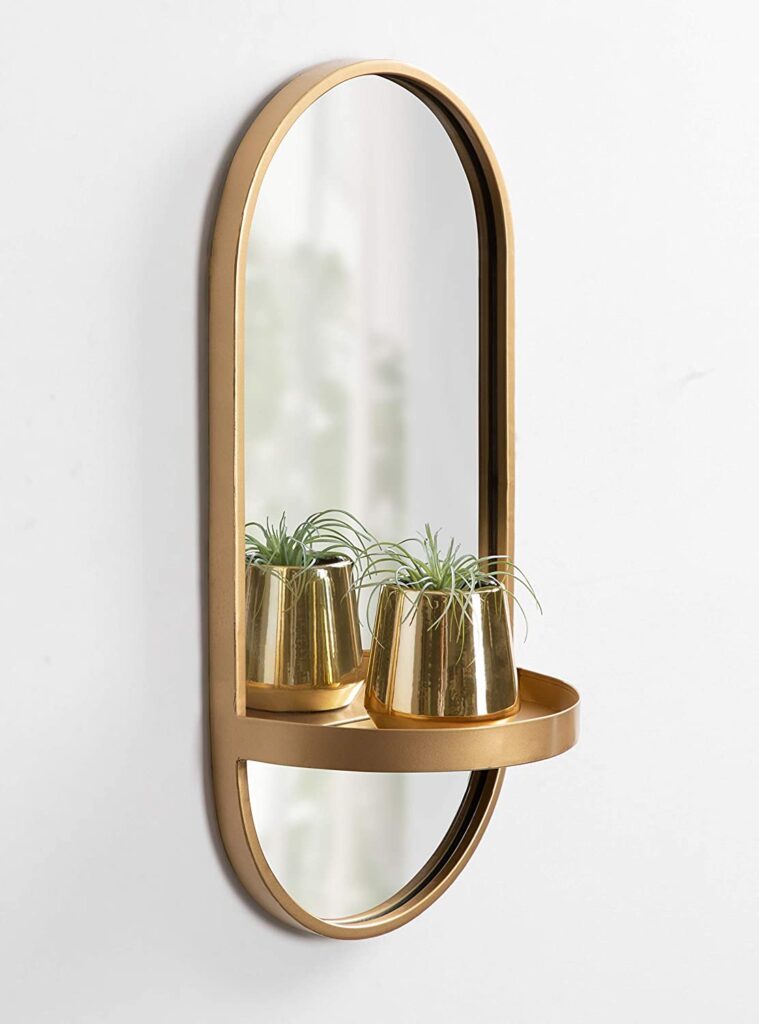 Adding mirrors is a reliable strategy for styling a small space, making them feel spacious. While this is a budget-friendly way to make any tiny house look more open & stylish, installing the mirrors at the right spot is important. Place the mirrors facing the window to reflect the outdoors, giving the impression that you have more windows in a room.
You can also hang several mirrors around the room to make the space appear airy and spacious. Regardless of the number or size of your mirrors, they can magnify the dimensions of your space.
Repaint the Walls and Add a Statement Wall
Never underestimate the power of repainting your walls to create an instant fresh feel in your tiny home. Not only does it brighten up your space and make your whole abode seem cleaner. A crisp and clean style works well for a luxurious minimalist home.
If you want to create dimension, consider a statement feature wall. This is when you have three walls painted in the same neutral color, and then the last wall is painted or wallpapered in a contrasting color or pattern so that it becomes a welcoming, stylish focal point.
Additionally, a statement light fixture in your tiny home living room can elevate the entire house.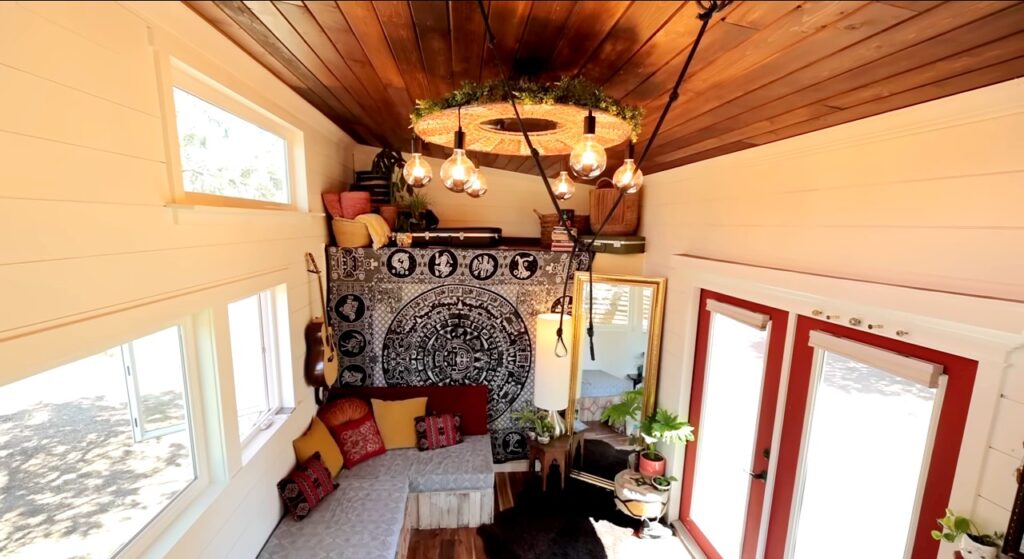 Shelby made a luxurious looking DIY accent light fixture
Install Multipurpose Furniture & Hide Your Storage
Furnishings plays a vital role in creating a luxurious feel in tiny homes, but it doesn't have to sacrifice function. Multipurpose furniture is an innovative strategy to deal with minimalist space in your home. The pieces are practical because they can be easily transformed at will, depending on your needs. You can get sofas, beds, and tables, which you can collapse and expand to make your spaces more functional and comfortable. For instance, a multipurpose dining table can double as a desk instead of having multiple pieces that clutter your limited space.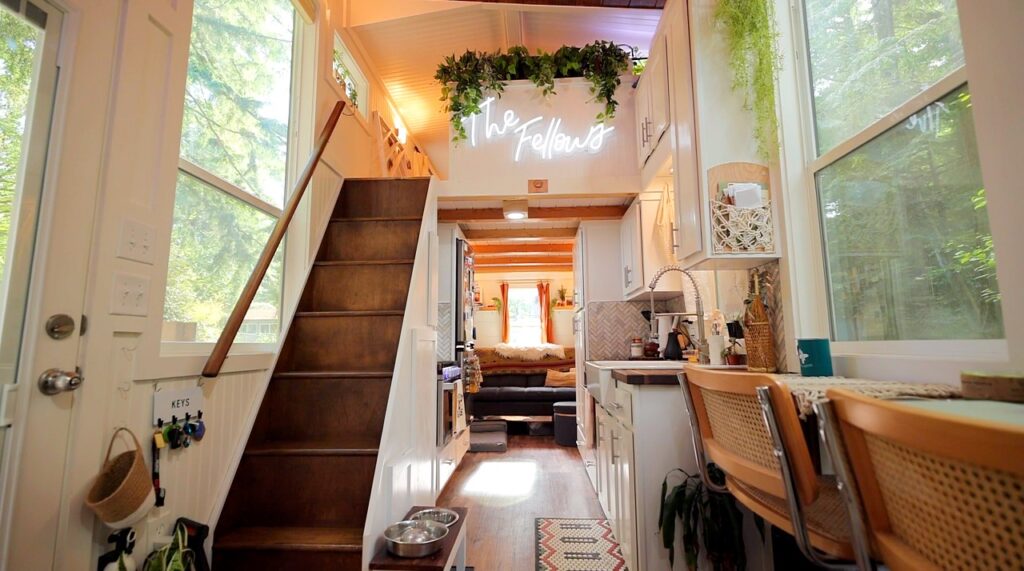 Maddy & Alec's tiny home is packed with hidden or attractive storage & multifunctional furniture
Styling the living area without adding clutter can be tough. You can use hanging and hidden storage fixtures to add more storage space. For example, you can create storage spots under the couch or wall-mounted in attractive baskets. This allows you to include more design elements in your home without compromising available space.
Tiny Home Luxury
Tiny houses are more popular, especially with the growing minimalism trend, but sprucing the interior can be challenging due to space limitations. Regardless, you can implement some strategies to make your rooms spacious and add statement pieces that give your tiny home a lavish touch.
Designing, Building & Decorating a Luxury Tiny Home
Have you ordered our book yet?
Learn the history of the modern movement, get a breakdown of tiny home styles, and meet the passionate tiny community. The Beginner's Guide to Tiny Houses also discusses the pros and cons of micro-living―is a tiny house right for you, right now?
What people are saying:
"Most books about tiny homes are really just about the fantasy, with beautiful pictures in far-off places, but they don't tell you how to get from point A to point B. That's where this book comes in and fills in all the gaps!"