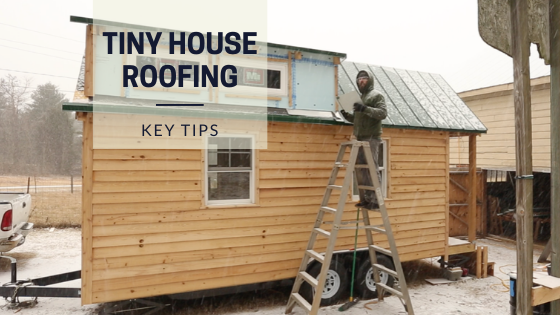 Keep Out the Rain with these Essential Tiny House Roofing Tips!
When building a tiny house, it's important to invest in quality roofing! We share roofing advice to make sure you're kept safe, dry in your tiny home for the long haul.
Your home is your haven. It's your safe space. It's where you can put your feet up and rest after a long day of work, where you can sit down and watch your favorite football team get another W, and where you can enjoy a meal with your significant other or hang with your pet best bud.
Suffice to say, your home is essential to your health and happiness. Nowadays, many folks have decided to downsize into a tiny house. Putting a roof on, however, isn't so simple. It took us a couple of months to install ours, through hot and freezing North Carolina weather.
To ensure that your tiny home stays a cozy, safe space, we've written up some simple tips on how to roof your tiny house in the best way possible.
Why a Tiny House?
Before we get started with our tiny house roofing tips, let's first take a moment to understand why so many people are opting for a tiny house. It seems that this craze has sprung up out of nowhere in recent years.
The tiny house trend is a part of the larger minimalism trend. It's a reasonably self-explanatory philosophy. It's all about minimizing the clutter in your life to reduce stress and create more space for what really matters to you. Quality of quantity is also central to this way of life.
It's about throwing away the extra clutter, donating the extra clothes, and (in the case of tiny houses) giving up the extra space. Someone who opts for a tiny house understands that they only need a small amount of space to live happily, and thus is more than satisfied with the limitations that a downsized home may place on their life because it gives so much back, from extra time to extra money.
The value of not having much is that you become more appreciative of what you do have. You become less materialistic, instead of focusing on the more important things in life: happiness, health, and relationships.
Essential Tiny House Roofing Tips
Let's make sure that your tiny house roof keeps you dry this rainy and snowy season, and will stand the test of time. Choosing your roofing set-up and proper installation are critical aspects of your build, the longevity of your roof, and your entire tiny house.
First things first: you have to choose the right roofing material. Whether metal or wood (like cedar shakes), you need to decide which one is best for your climate. If you live somewhere exposed to a lot of rain, then a metal roof may rust quickly.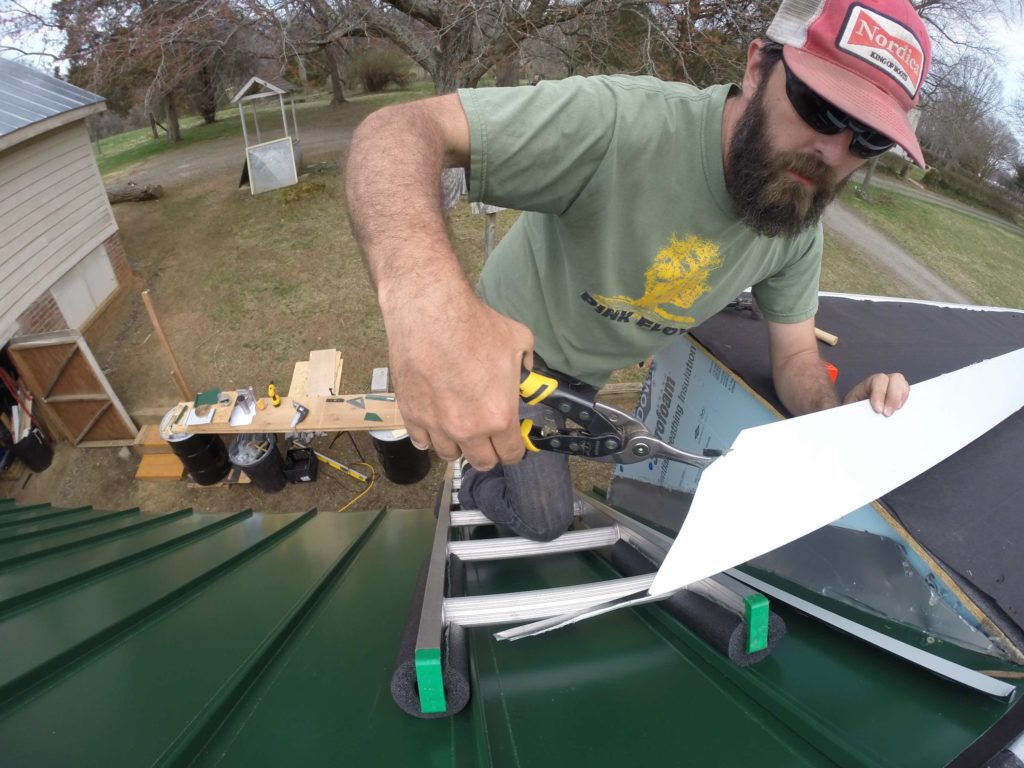 Corrugated roofing is generally the best way to go, as it balances doing the best job of keeping water out while also providing a neat aesthetic. Though it is more expensive than other options, like shingles and more labor-intensive to install.
Our tiny house corrugated metal roof has held up beautifully, after 55,000 miles worth of travel with hurricane-force winds on the road and in a wide variety of climates.
Another option worth looking into is composition shingles, like Onduvilla. They offer a traditional European roof aesthetic without the weight. Also, they're engineered to withstand 150 miles winds as well as harsh weather, like hail. Our metal roof has several pockmarks from crazy hail storm we got caught in while parked in central Oregon (abnormal for the area).
Both composition shingles and metal roofing, of all kinds, come in many colors.
Finally, make sure that you use the proper waterproof roof underlayment. Also, if there are any gaps or incorrect placement of roofing pieces, it could cause slow but destructive leaks.
Ultimately, roof installation is just as important as the material used. Don't rush this process. Research how-tos, available on YouTube, in books and workshops. When in doubt, ask someone with roofing or building experience for help.
Your Tiny House Roof, Made Simple
There you have it — tips for your tiny house roof in a simple nutshell. Though for an in-depth tutorial, sign-up for our digital tiny house building workshop presented by an experienced builder and tiny house hero, Andrew Morrison.
Now 25% OFF with Code: HoHoHo
Sign-up for this acclaimed 16+ hour Digital Tiny House Workshop to learn how to build a tiny house, the legalities to be aware, how to make the transition to living tiny, and more!
INCLUDED with the DIGITAL WORKSHOP:
54 bite-sized, engaging episodes
Downloadable follow-along booklet for note-taking
Over $300 in FREE bonuses, from tiny house plans to more how to's
Digital Diploma upon full completion of the course