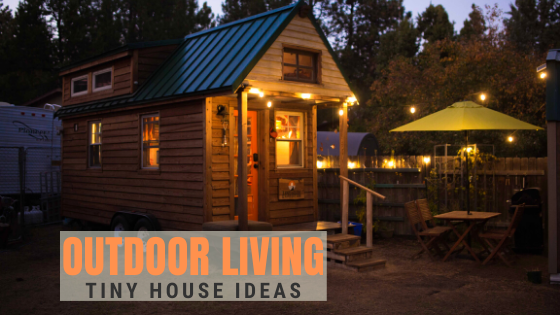 Luxury Tiny House Outdoor Living Space Designs
With limited indoor square footage, creating tiny house outdoor living space helps you live large!
Having a small home or a limited backyard space can't stop you from having a beautiful and luxurious outdoor living space. Despite what most people think, you also don't need to spend your entire savings to achieve this. With a few tolls, a little imagination, proper planning, and some of these helpful designs, you can have the best outdoor living space.
Keep scrolling for five tiny house outdoor living space design ideas!
5 Tiny House Outdoor Living Space Design Ideas
1) Rustic and Natural
One of the best designs for a tiny house outdoor living space is having rustic and nature-like aesthetics. For this, your main attraction would be a wood-like deck. Of course, you can use traditional wooden decking.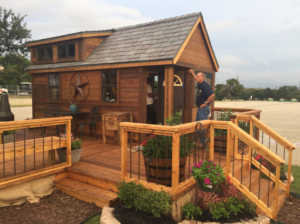 However, due to the many disadvantages and issues with using wood, some use other alternatives.
One of the most popular today is composite decking. Unlike other plastic decks, composite decks have a natural and wood-like appearance. Top-quality decking boards also have grains that add to the overall beauty of composite decking.
Aside from the deck, you'll want to use complementing rustic and neutral colors for your walls, decorations, and furniture. For the base color, browns, whites, and grey shades work perfectly, while earthy tones of green and dark red work great for decorations and other fixtures.
2) Mirrored Outdoor Space 
Having a small space can be hard to deal with, especially when it comes to backyards. One of the best tricks in design is by using large mirrors and proper lighting. Mirrors can create the illusion of a bigger space, which is perfect for small houses. They also work well as excellent pieces of decorations.
Lighting can also have a similar effect on tiny house outdoor living space.
One of the few things proper lighting can do is emphasize specific areas in your backyard or what the designers call the focal points.
Since a small outdoor living space can often be tight-spaced, it gets easy to over decorate. But with a little help of lighting, you can direct people's attention to some interesting spots in your outdoor living space.
3) A Splash of Water
Nothing is more luxurious than outdoor water features. But with limited space, is it possible to have one? Of course. Though, more complicated creations are best for more permanent tiny house placement.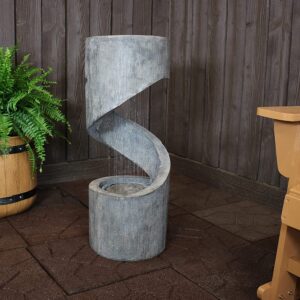 It doesn't have to be huge. Instead of focusing on size, pay attention to details, uniqueness, and creativity. Just the soothing sound itself will get people's attention, whether it's a small pond, a mini fountain, or a miniature waterfall.
You also don't need to spend, as you can find many DIY projects to make a beautiful and luxurious looking water feature for your tiny house outdoor living space.
4) Go Minimal
Since it's easy to cramp a small space, which can do more bad than good, why not consider a minimalistic design for your outdoor living space. For this, you'll want to focus on comfort and function above all else. Monochromatic color schemes work well with this style. Dark-colored decks, such as black or grey composite decking, can do wonders for this kind of design. You can also use two or three complementing colors to make a simple yet sophisticated color palette.
With a minimalist style, you also don't need to worry about spending money on decorations.
Most of the time, two or three pieces of thought-provoking and attention-catching pieces will work well for tiny house outdoor living spaces.
Importantly, since you don't need a lot of decorations, you can maximize the living spaces with furniture, grill, and portable fire pit, which is most useful for tiny homes, and these can often be used as a statement piece too.
5) Creative Color Palettes
If monochromatic designs and simple color palettes are not for you, you can instead use a pop of color to bring individuality and a sense of luxury. Have a specific theme in mind, and use contrasting but complimenting colors to emphasize that theme. For instance, you can go for an Asian or Eastern style, which uses neutral base colors such as browns with a pop of vibrant reds and greens. However, for these types of designs, a degree of careful planning is necessary to make sure all colors and themes will go well together.
Pinterest is always a great tool for getting design inspiration and can be used to look for color palette ideas.
Digital Magazine Dedicated to Tiny Home Living
Do you have more time at home? Enjoy some inspirational reading from Tiny House Magazine!
Discover different types of tiny homes from liveaboard boats to Alaskan yurts, converted school buses, and more.
Try recipes from a tiny house kitchen. Each month we feature a recipe from the Tiny House Foodie. Learn to make it work and still cook like a pro.
Read excerpts from books on tiny houses, downsizing, and a host of other related topics.
Each month brings new topics and new, exciting articles!