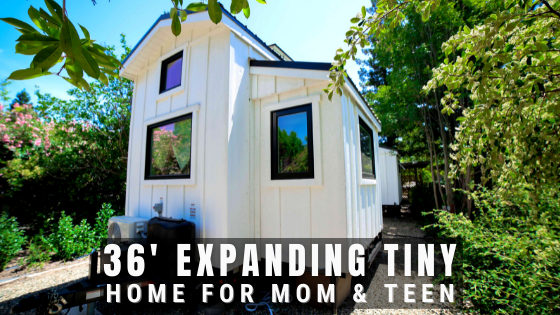 Permitted Expanding Tiny Home for Solo Mom
Meet solo mom Reggie who went tiny to help create a smooth transition out of divorce for herself and her teenage daughter while becoming a homeowner. Her expanding tiny home is a custom design built by Mint Tiny Homes. Impressively, this 36-foot long farmhouse-inspired tiny house features two bump-outs—one in the living room and one in the downstairs bedroom.
"The reality is that in any size home you need your own private space, and I think that's really important. And it probably becomes more difficult the more people you have in your home. To have two people in a home, and have our own places where we can go to and not be on top of each other is really important.

That was definitely the reason to go this route, because I had the ability through the homebuilder and the option to make private spaces for both of us. Even though, we may be in a small square footage, I don't hear her.

We really do feel that we can spend our time together. We love hanging out on the couch and watching TV together, but then we can also go to our own rooms. That was important for a teenage girl, and for her mom!"

-Reggie
Another way tiny house living helped Reggie and her daughter with their big transition was finding parking in the community they both lived their entire lives. Her home is legally permitted as a caretaker residence on her parent's property in Eldorado Hills, California. Importantly, this allows Reggie to help her elderly mom and dad with household chores and errands so they can age in place.
While she could have moved back in with them, each household values their private spaces. Reggie also wanted to minimize the number of changes for her daughter—an independent home felt more normal.
Inside Reggie's Expanding Tiny Home
Reggie's expanding tiny home is 36-feet long by 8.5-feet wide, which grows to 12-feet wide living space in two key areas. In the living room, the expansion creates a pocket for a full-size sofa, maintaining open floor space in front of it. Similarly, in the downstairs bedroom, the extra width provides room for walking space around a queen bed and closet wardrobe.
The downstairs bedroom is a true master suite with a separate entrance, opening to a dreamy patio space. Additionally, sliding doors open to the bathroom, which is also accessed through the kitchen.
Reggie's daughter enjoys her large bedroom loft with room for a queen bed, bean bag, and storage space. Privacy is achieved with a solid back wall (separating it from the master). In contrast, the front is semi-open. Storage cubbies serve as an attractive yet functional privacy screen between the loft and downstairs living spaces. Watch the tour above to get the full picture!
See more of Reggie's tiny home life on Instagram.
Thanks to
our video sponsor, Mercari!
Download Mercari, a new way to declutter and earn extra cash.
Exclusive Content
Monthly LIVE tiny living discussions with extended Q&A, plus BONUS content, like behind-the-scenes filmmaking and tiny home life insights.
Early Access
See new videos first, get first dibs on new online courses and more!
Exclusive Giveaways & Discounts
Win tiny living festivals passes, and more!
Join today!