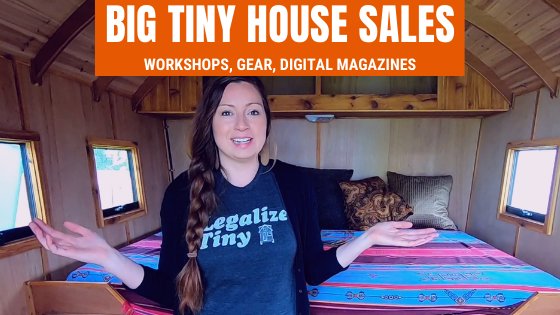 Shop Small: BIG Tiny House Discounts to Inspire & Help You Achieve Your Goals
Do you love tiny houses? Check out these special offers!
Consumerism isn't our thing. The fact is we drastically downsized 4.5 years ago into a 130 square foot tiny house on wheels. Through this experience, our appreciation for simple living and minimalism has deepened. We're not what we call "spartan minimalists"—utilitarian style living with just two plates and two pairs of pants. If this describes you, more power to you. Seriously.
For us, we focus on curating our home and belongings around what we most love and most need. With that, when we bring something new into our lives, it's a very thoughtful practice Read more about our "intentional shopping" practice here.
With all that said, we want to share a few incredible deals with you that could help you achieve your tiny house goals and express your appreciation for tiny living.
Keep scrolling for details on tiny house sales now through 12/2, offering inspiration, how-to's, or fun gear.
1) Tiny House Magazine Sale: 82 Issues for $49.99 ($409 Value)
Want to know a fun fact? We met Tiny House Magazine publisher, Kent Griswold, way back in 2015 at the very first Tiny House Jamboree-- definitely a fangirl moment! The connection was instant; we talked for hours throughout that incredible weekend. Since then, his on-going encouragement meant the world to us. 
Learn from real people living the tiny lifestyle; the good, the bad, and the WHY it's worth it.
It's chock full of practical how-to information, and high-quality content about living tiny. Learn about making the transition, figuring out how to do it with kids, cringe-worthy lessons from tiny house fails, and more. Learning from other people's successes and mistakes is always best.
Between now and December 2 at midnight EST, Tiny House Magazine is offering ALL 82 digital issues for just $49.99.
2) Tiny House Digital Workshop: $20 OFF this Ultimate How-to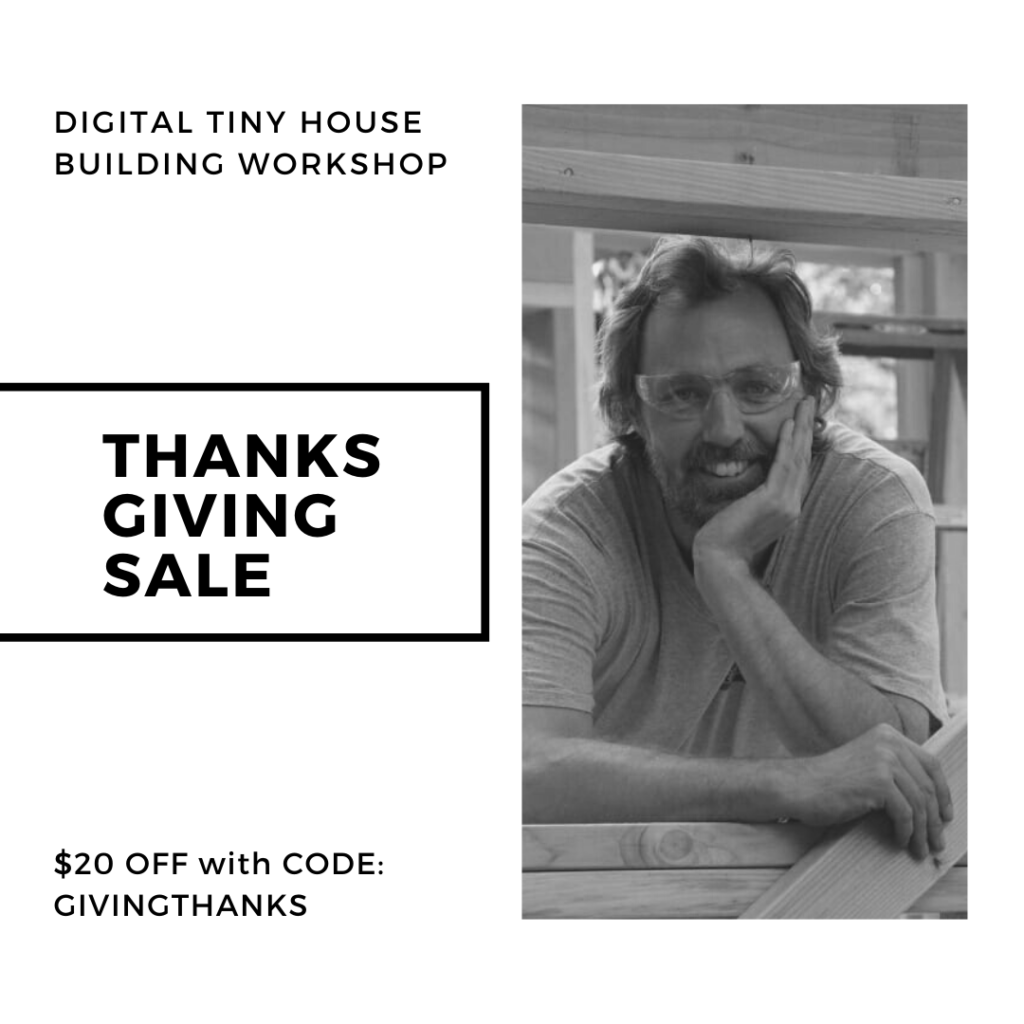 If you are looking to downsize and build a tiny house, then you absolutely don't want to miss this workshop created by Andrew and Gabriella Morrison. It's 16+ hours, broken down into 54 bite-sized, engaging episodes. Learn about a wide variety of important, practical topics, including:
Design and Engineering
Trailers and Road Restrictions
Building Codes and Zoning
Foundation Options
Framing Systems
Windows, Doors, and HVAC
Roofing Install
Plumbing, Electric, Gas
Composting Toilets
Financing and Insurance
Transitioning into a Tiny House
In addition to all these comprehensive guides, you'll get $300 in free bonuses (more how-to's and digital hOME tiny house plans). All now for only $79 with discount code: GIVINGTHANKS. Sign-up here.
3) Tiny House Expedition Store-Wide Sale, 25% OFF
We want to share our gratitude for all of you by offering this special discount. Thank you for following and supporting us! Also, hope you all had a wonderful Thanksgiving with those you love.
Whether you are looking to learn how to travel with a THOW, show your tiny house pride, or give a thoughtful gift for a kiddo in your life, our shop has you covered. Receive 25% off everything with code: THANKSGIVING.
4) Color Me Tiny:
A Tiny House Coloring Book for Adults of All Ages!


Looking for a fun gift for the tiny house enthusiast in your life? Don't miss this brand-new adorable tiny house coloring book for all ages. The introductory price is just $9.99 until December 13th, then it goes up to $14.99.
"The Color Me Tiny coloring book includes a variety of tiny houses on wheels and the beautiful nature that surrounds them. The images all come from real photos that highlight the broad range of tiny house shapes and sizes. Each featured home also includes an interior scene to show what it's like to live in a tiny house day after day."