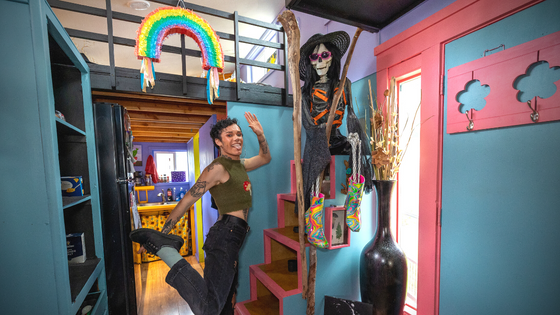 Smart Gen Z 1st Time Home Buyer Gets TINY HOUSE
Meet Derek, a Gen Z  first time home buyer in Portland, Oregon. He purchased an affordable preowned tiny house with his mother's life insurance money after she tragically passed. To honor her, Derek wisely invested in his future in a way that provides lasting housing security. Fortunately, his new home on wheels helped him tremendously during his college years. Now a graduate, Derek is not just surviving but beginning to thrive in the big city.
"I love this house and feel such an attachment to it. It doesn't remind me of my mom but makes me feel that same sort of comfort, kind of like an extension of her in a way."

-Derek, @halfthecity
Inside His Preowned Tiny House
The style was a tad bland when Derek purchased his 22-foot-long tiny house. That's definitely not his style. Derek also customized it to express himself creatively. So he painted bright, cheerful colors to liven it up, along with other delightful decor touches like Jackie, a stylish skeleton. Derek also customized his home to meet his needs and his pets better. First, he had a cat and built a cat bridge from loft to loft. Now, he created a dog bedroom inside simple storage stairs he made for his sweet pup, Penny.
Impressively, the vertical space in Derek's tiny house is completely maximized. It features three lofts, along with storage space above the pantry. Notably, the original owners had a family of five, so they planned multiple sleeping areas. The main loft is large enough for a king bed, but Derek currently uses it as his closet. Additionally, another smaller loft fits a queen bed, and below is another queen bed. This space is also utilized as a living room. Lastly, the third smallest loft is for storage.
All these lofts make it possible for Derek to have a roommate, which minimizes his monthly living expenses. They split the tiny house parking costs. Their monthly lot rent is $650, inclusive of all utilities. Talk about affordable big city living!
Follow Derek on Instagram: @halfthecity
Watch the tour to learn more about how this Gen Z first time home buyer found his tiny house!
Thanks to our video sponsor, Skillshare!
The first 1,000 folks to use our link will get a 1-month FREE trial: https://skl.sh/tinyhouseexpedition02221