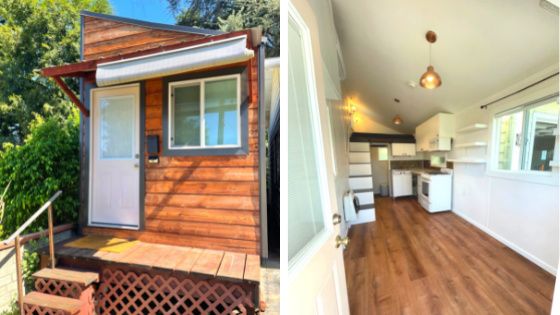 28-ft Tiny House for Sale in California
The one constant in life is change. So the time has come for seminary graduate Melissa Irene to put up her 28-ft tiny house for sale in California, Pasadena, to be precise. She built it and lived in it since 2019. But now it's time for the next housing adventure!
Keep scrolling for more details about this charming tiny house for sale in California.
Tiny House for Sale in California Details
Looking for a turn-key ready home on wheels? This 28-ft tiny house comes ready to function, simply needs to be plugged into a standard outlet for the electrical to operate, a potable hose for water intake, and a place for grey water to drain. Easy-peasy.
Additionally, the water heater, stove, oven, and heater run on propane. All of these are connected to an outdoor hookup for a propane tank. It currently has a self-constructed composting toilet, but it could be easily upgraded to another kind.
Specs: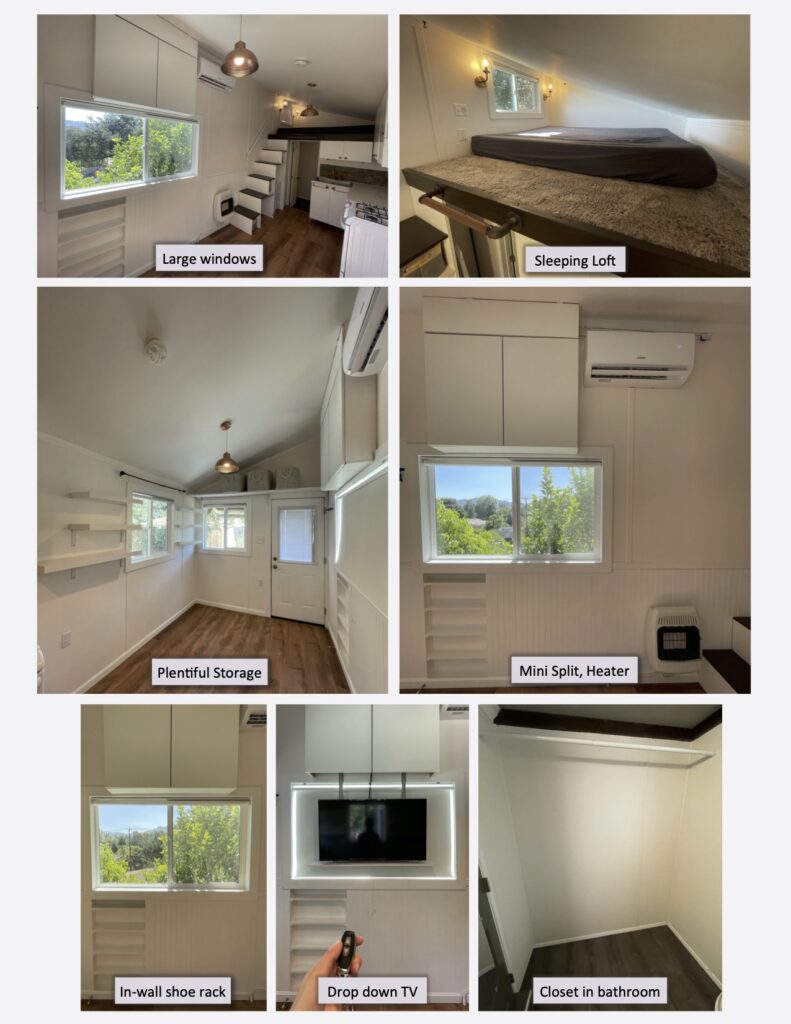 Exterior length of the trailer, including the tongue: 28'
Detachable porch adds an additional 5' of length
Exterior width: 8.5' wide
Interior width: 7'7" wide
Included:
Detachable porch
Propane oven/stove
Refrigerator
Microwave
Propane tankless water heater
Full-size bath/shower
Drop-down TV
Mini split (AC)
Propane heater
Propane tanks
Queen mattress
Pull down blinds
Relocation details from the owner:
"This structure has not been crafted to be mobile. The weight and trailer load limit have not been verified. Buyer would be responsible for transportation from current location, which is up a steep driveway on a property near the Rose Bowl in Pasadena, CA. Professional transportation is recommended. Trailer is not registered."
Did you love this 28-ft tiny house for sale in California?
Attend the open house on Saturday, July 23! Contact her at [email protected] to arrange an in-person viewing. Serious buyers only.
Asking Price: $60,000 or best offer
Have you ordered our book yet?
Learn the history of the modern movement, get a breakdown of tiny home styles, and meet the passionate tiny community. The Beginner's Guide to Tiny Houses also discusses the pros and cons of micro-living―is a tiny house right for you, right now?
What people are saying:
"Most books about tiny homes are really just about the fantasy, with beautiful pictures in far-off places, but they don't tell you how to get from point A to point B. That's where this book comes in and fills in all the gaps!"