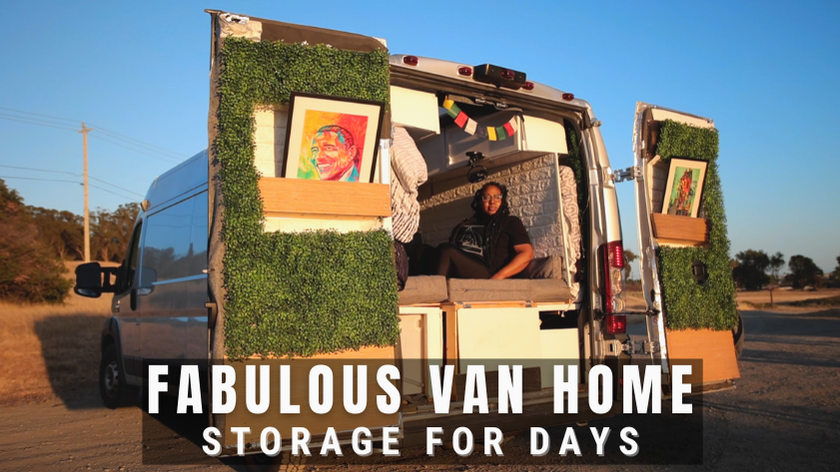 Solo Black Woman Van Life as Self Care
Meet Claudia, an amazingly resilient woman who designed and built an incredible van conversion as her traveling tiny home. She shares insights into her experience on the road as a solo Black female—from the troubling racist realities to inspiring side effects of living an off-grid, self-reliant way of life. While living life on the road has been challenging, van life has become the ultimate self-care for Claudia.
Her advice for pursuing van life, as a solo Black female or ANYBODY else:
"I think everyone could benefit from spending, even if we just 2 weeks one time, hitting the road where everything your doing is happening in this vehicle, and you full-on live. Even if you just do it one time, one summer. I think there's a lot people can gain from it. You'll learn a lot about yourself; that you'll feel a lot confidence in all the things you'll overcome that seemed huge before. And you realzied aren't so bad or you can figure it out.

And spending time by yourself or just with your family without the outside world having as much influence on your day-to-day schedule as much as it does in a sticks & bricks. I think is something everyone can benefit from. I would encourage people to try.

For another Black person, I would say, we're out here. You think that you're by yourself. We are out here. We're not necessarily all over social media, although it's trendy to be Black right now, so we might be on social media now. But we're out here, and we want to connect with each other.

And we do have to have certain level of safety that other even people of color don't have to have because of the United States. But in other countries it's not always the same way, although it can be. I would say find your tribe, and jsut do your research. Beware of your surroundings and plan ahead.

Maybe you won't be quite as spontaneous as everyone else is because of safety. But when you move through the world as Black person your always  that way, on high alert, van life is no different. You just have everything that is important to you with you. So do it.

Also, don't have the misconception that if you live in a van that means you have to be camped out in the woods all the time. That's an option. Be outdoors person; love it. But if you love to be in a center of the city, like your girl right here, do that too.

There's a version of van life for every kind of person, at any age, at any ability level, any background. It is for everyone; you just get to do it your own way.
-Claudia Morris-Barclay, Rolling Resilience
Inside Claudia's Fabulous DIY Van Conversion
Claudia's tiny home on wheels is a Ram ProMaster 3500 van. It's a high-top, which means a 6' 2" person can easily stand inside. Every extra inch makes a huge difference.
She used her experience in space design and professional organization to craft an exceptionally space-efficient space. Storage is completely maximized, too, for all things practical and fancy! Her van conversion features a full bathroom, a 'piano desk,' and an amazing 'walk-in closet' Claudia proves you can have a fabulous, extensive wardrobe even in the tiniest of homes.
Additionally, she created an inventive two-sided Murphy bed that enables her to have a comfy living room and a ready-made bed that easily folds down. Watch the video above to see it in action!
Follow Claudia and her incredible van on Instagram: @rolling_resilience
Thanks to our video sponsor, Policygenius!
To start comparing quotes & simplify insurance-buying, check out Policygenius here.
Exclusive Content
Monthly LIVE tiny living discussions with extended Q&A, plus BONUS content, like behind-the-scenes filmmaking and tiny home life insights.
Early Access
See new videos first, get first dibs on new online courses and more!
Exclusive Giveaways & Discounts
Win tiny living festivals passes, and more!
Join today!