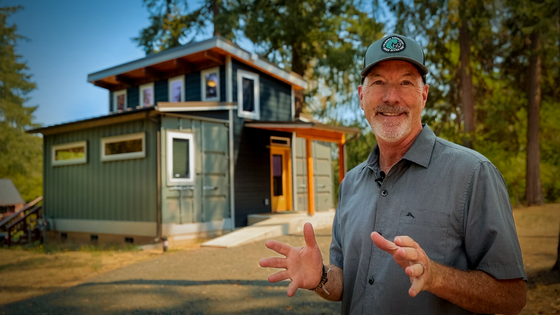 Their Small Container Home with Site-Built "Bridge"
Meet retired couple Bob and Mary, who own a modern small container home with a site-built "bridge." They couldn't be happier with this charming, comfy, efficient guest house. It's 586 square feet, built from two 20-foot shipping containers and a 10-foot extension in the middle. This allows for a standing-height loft as well as a downstairs bedroom.
"Mary and I, and our family, and extended family, are now a really big fan of a container home. I wasn't sure, but I'm a huge fan. The efficiency of these homes are incredible. If you were to compare it to our house and air conditioning or electricity or whatever, it's just an incredibly efficient lifestyle, which we really appreciate and value.

And I would also add they're very quiet, very peaceful inside. And you don't hear the noises as you do in some homes, especially in our case, an older home. And so that entire, complete set of efficiencies we love. And then your ability to transform it by way of decorating, it's not that significant of a project. So we can change the look and feel over time. We've not done anything as of yet. But over time, we can change the look and feel to continue to make it ours. So that's also enjoyable."

-Bob Coen
Inside their Small Container Home with Site-Built "Bridge"
Bob and Mary's permitted accessory dwelling unit is called the De Lux 20. While there are a growing number of examples of this design—a shipping container home with a site-built bridge—not all can hold up to strict engineering standards for structural integrity. With that said, Relevant Buildings developed a model that exceeds all the necessary standards in creating a flexible, functional, and comfy layout. They offer the De Lux in multiple sizes using 20 or 40-foot containers.
As you might guess, the De Lux 20 is made from two 20-foot containers, plus a 10-foot wide "bridge." This stick frame build-out connects the containers together to create a 26-foot-wide living space. It is 586 square feet total, including 517 sqft downstairs and a 69 sqft standing loft. Relevant Buildings delivers the completely finished two shipping container elements. One side includes the main bedroom and a living room. Then on the opposite side, in the other container, an entire kitchen and the bathroom are fully built-out, inclusive of flooring, appliances, cabinetry, etc.
The De Lux 20 Floorplan: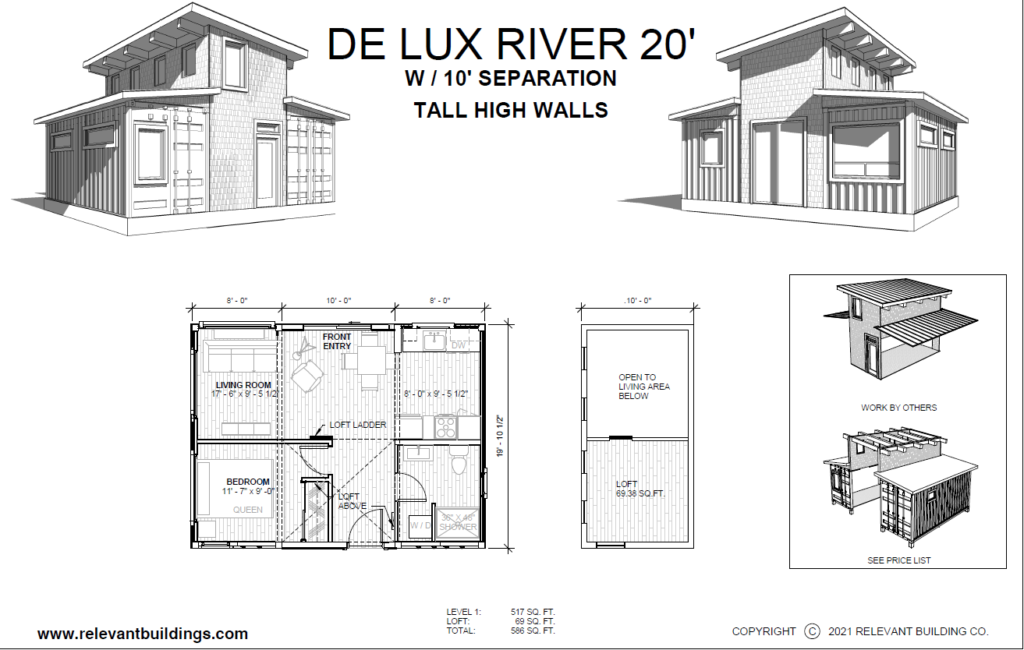 From there, the bridge is constructed on-site by a local contractor/builder. Another required site work component is the pouring of a foundation. The De Lux 20 could be put slab, crawlspace, or full underground foundation. Retired couple Bob and Mary purchased one to use as a guest house. They went for the underground option to have all the utility connectivity tidy—power, water, and sewer lines that ran to their main house.
The site-built extension makes the interior feel much more spacious. Bob and Mary also love the feel of the high ceilings the "bridge" provides. This 12-foot space allows for the standing-height loft. While they opted for a small-footprint metal ladder, a spiral staircase is another excellent option for maintaining an open feel in the primary living area.
The Cost of their Small Shipping Container Home
"The cost of this structure was a lot less expensive than it would be if I built an additional home, or if I did a reconstructive project next to my main house here. Its price was preset based upon the design. We didn't make one change, so we had no change orders with the container folks.

It was to be a three-payment installment—a down payment of $50,000, another payment of $50,000, and one more payment upon completion and satisfaction of $50,000. And it's exactly what it was, and exactly as it was proposed, contracted, and completed.

Our next level of build-out, which was that 8 feet between the 20-foot containers, that was bid but with an unknowing of what that pricing was ultimately going to be. Plus, we were in the middle of COVID. That created some challenges for us from a pricing standpoint. And we spent more money than was anticipated, even though it was not contractual. It was a moving target because our local builder hadn't done it before.

And then the additional build-out was approximately $40,000. And so I think we are all in on this space for $200,000. And while on the one hand, it's a lot of money. On the other hand, it's a very complete home. And the efficiency associated, the cost of supporting the home, is much lower than our other houses."
Watch the small container home tour above to see more!
Thanks to our sponsor, Ada! It's a FREE smart & accurate way to manage your health & better understand what may be causing your symptoms. Take control of your health today by downloading Ada: https://app.adjust.com/dnn1x2o