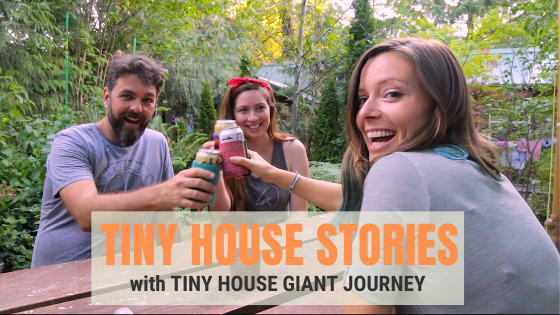 Tiny House Stories and Beers with Jenna of Tiny House Giant Journey
Throwback to two years ago, when we parked our traveling tiny home next to Jenna of Tiny House Giant Journey at the Mt. Hood Tiny House Village. In short, we had a blast.  Connecting in-person with someone we admire was a treat too.
Both of us have two of the world's most traveled tiny houses on wheels in the world. That comes with many, many lessons learned, as well as a deep appreciation of alternative lifestyles.
Over beers, we swapped stories from our nomadic THOW travels, some insightful and some silly. Additionally, we offer advice for tiny newbies and share reflections on the tiny house movement.
From 2014-2015, Jenna visited more than 30 US States and 5 Canadian Provinces with her tiny house. She and her former partner, Guillaume clocked 25,000 miles' worth of epic adventures. In 2015, we kicked off our tiny house travels. After 4 years of crisscrossing North America, our tiny home has now traveled 55,000 miles.
We all agree; it was worth every penny! Experiences over things, always.
For more about Jenna's tiny house and giant journey, watch our recent tour video.