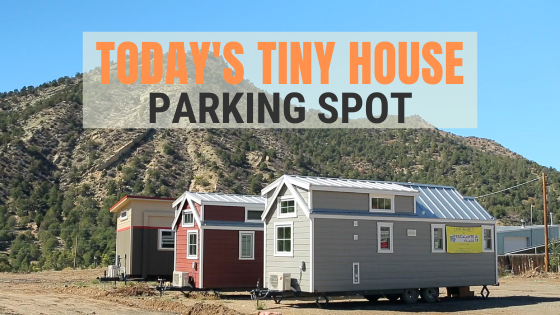 Today's Tiny House Parking Spot: Durango Communities
Today's Tiny House Parking Spot:
Tiny Home Communities of Durango, Colorado
In this episode of Today's Tiny House Parking Spot, we visit beautiful Durango.
It's an outdoor enthusiast's paradise in southwestern Colorado, where the high desert meets the mountains. It's also becoming a tiny house dweller's dream—various legal parking options within city limits.
Our big reason for visiting was to document the newly approved Escalante Village for the third installment of Living Tiny Legally. Since our visit, it's now open! The Village is one the very first tiny house on wheels communities within the city limit.
It features 24 long-term tiny house rentals and parking spots in a prime location, walking distance to shops, a 5-minute drive to downtown, and right off the Animas River Trail.
During our visit to Durango, we connected with local tiny housers, enjoyed the bike trails, and explored the stunning landscape. One of the benefits of our tiny house travels is the ability to scout places to call home for an extended period in the future.
Though there are so many places that we have enjoyed, we do have a shortlist of our favorite cities. Durango has definitely made the shortlist.
It's a small city with a lot going on, from cultural events, places to go out to diverse outdoor activities. The Animas River that runs through the heart of town offers kayaking, paddleboarding, and tubing opportunities.
There is a wide selection of biking/hiking trails and hot springs. The Purgatory Ski Resort is about 25 minutes away. Additionally, the fascinating ancient Mesa Verde National Park is only 40 minutes away.
Watch the above episode of Today's Tiny House Parking Spot to see for yourself!
We stayed with the talented builders at Rocky Mountain Tiny Houses. They are a 100% custom builder that is fond of salvaged materials and organic shapes, like curvy roof lines. Their style is exemplified in Greg, RMTH CEO, and Stephanie's new gorgeous tiny home, the San Juan.
Also, during our visit, we met up with tiny house dwellers, Claire and Seth, and their baby boy, Asa. Just a few months prior, they were evicted from a Durango backyard, before the approval of Escalante Village.
Fortunately, they found a new property out in the tiny house friendly, La Plata County, where Durango is located. We learned that the Durango Planning Department would like to find an affordable, legal pathway for tiny houses on wheels to be used as accessory dwellings.
Though there are tiny house folks currently doing it within the city, they are still at risk of eviction if a complaint is received.
Featured in this vlog episode:
Interested in more tiny house parking spots? Check our webpage dedicated to the subject!
Exclusive Content
Monthly LIVE tiny living discussions with extended Q&A, plus BONUS content, like behind-the-scenes filmmaking and tiny home life insights.
Early Access
See new videos first, get first dibs on new online courses and more!
Exclusive Giveaways & Discounts
Win tiny living festivals passes, and more!
Join today!