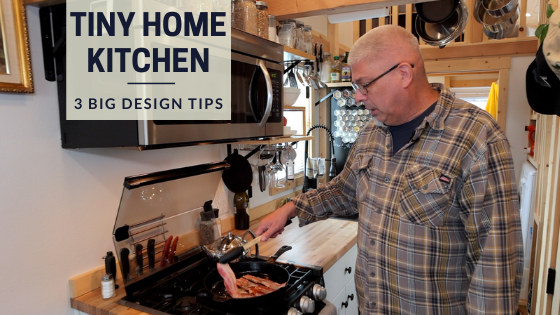 Ultimate Guide to Designing Your Tiny House Kitchen
Follow 3 Steps to Create Your Dream Tiny House Kitchen
Living in a tiny house is a goal many people have for themselves. It can be much more affordable than traditional living in many cases and provides a simpler way of life. While living with a smaller-than-normal bedroom or living area might not be a big deal, many people may run into problems when it comes to the kitchen.
Kitchens in many traditional houses are often large spaces, full of a lot of gear. So how can a functional cooking space fit in an area that is only a fraction of the size? Well, thankfully, it can not only be done but done well.
With that in mind, this blog post serves as the ultimate guide for designing a tiny house kitchen by following three simple but essential steps.
Start with a Floor Plan
The first step in any kitchen design (whether in a traditional or a tiny house) is, to begin with, a floor plan. It will act as a blueprint for the space and ensure everything works out before you actually build or create anything.
This will look at everything from the kind of RTA cabinets (ready-to-assemble) you want in the space, where the sink will go, where storage will be, and so much more. Mapping this out holistically and mathematically accurately is crucial to make sure everything will fit. Before any money is spent on appliances or countertops, you'll find out if there are any problems due to the overall size and dimensions of each item you want. You can use DIY-friendly tools like Sketchup.
Further once, you determine the layout based on accurate measurements, try taping it out to see how the floor space will feel. For example, you might find that a refrigerator may fit just fine right to left just, but the depth could eat up too much of the available walking room. Then you'll know to get hunting for a more suitable fridge.
You need to make sure the space is not only functional but will also look good. While not always reflected in a floor plan, it is important to think about the color scheme in your tiny house kitchen and the home as a whole. There are many great kitchen colors. You could have it the same color as the rest of the tiny home or give it a unique color to help make it feel like a distinct, separate room. It is your choice to pick what you love and what goes with your desired decor and appliances.
Ultimately, a floor plan takes time and some trial and error, but it is undoubtedly an excellent idea to ensure everything goes smoothly. Looking for a shortcut? Purchase ready-made plans with a tiny house kitchen design that speaks to you. If you don't like the rest of the layout, work with a designer to customize or create entirely custom plans.
Cut Out Unnecessary Things!
While using all your available space is a good idea, if you have too much stuff, you'll have visually cluttered space that legit cause stress. The goal is to create an efficient tiny house kitchen to feels refreshing and inspires you to get cooking.
If you want to live in a small space and make it work, you need to become a master at decluttering. This goes for not only your living area and bedroom but also the kitchen. If you want your tiny house kitchen to look good, despite its size limitations, it is crucial to cut out things that you don't need.
How many appliances do you really need? There are all kinds of incredible multifunctional items out there, packing as many as ten functions in one.
Thankfully, there are dozens of things in your kitchen you can get rid of right now that can save a ton of space. This can include lidless Tupperware, scratched pots and pans, extra cups and plates you don't use, and frivolous accessories you only use once a year. These can be thrown out, but consider donating or selling them if possible.
Use All the Wall Space You Can
Even with an intelligent design, your tiny house kitchen will be small. But there are plenty of small spaces better utilized than large rooms. That's where wall space comes in handy. Plan to use as much as possible.
You can add more shelving, create recessed vertical storage in a non-structural wall just deep enough for can or Mason jars, or add a hanging rack or even just hang some hooks to allow storage of some pots and pans above you. Don't forget about using an open side of your fridge! Consider a magnetic space rack or simple magnetic spice tins.
Tiny houses may have limited floor space, but don't let vertical space goes unused. Of course, you don't want walls to be so full of items that it is cluttered. But there's a happy medium that will allow you to cook gourmet meals with all the necessary food storage, appliances, and cookware.
In conclusion, we hope that the three steps laid out in this article help you design the tiny house kitchen of your dreams.
Have you ordered our book yet?
Learn the history of the modern movement, get a breakdown of tiny home styles, and meet the passionate tiny community. The Beginner's Guide to Tiny Houses also discusses the pros and cons of micro-living―is a tiny house right for you, right now?
What people are saying:
"Most books about tiny homes are really just about the fantasy, with beautiful pictures in far-off places, but they don't tell you how to get from point A to point B. That's where this book comes in and fills in all the gaps!"
Allen's Maximized Tiny House Kitchen