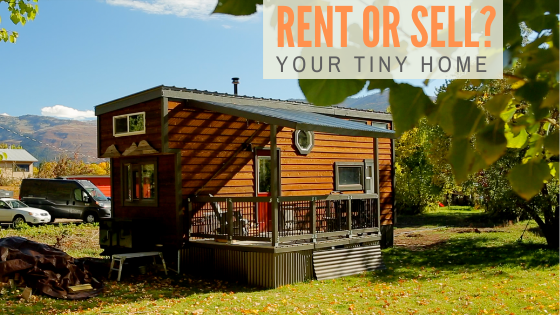 Factors to Consider for Selling or Renting Your Tiny Home
Time for the next chapter? Is it best to sell or rent your tiny home?
As the popularity of tiny homes continues to grow, an increasing number of people are realizing the benefits of living simply. Whether you're looking to sell or rent out your tiny home, it's important to know the factors that will affect the value of your property and the terms of the rental contract or sale agreement.
The question of "should I sell or rent my house?" is common and sometimes hard to answer.
Below we'll walk you through some essential factors to view when selling or renting a tiny home.
1) Demand for Sale vs. Rent for Tiny Houses on Wheels
While many tiny house lovers seek homeownership, others seek short-term solutions. Trying out vacation rentals is an excellent way for many to determine what design is right for them. For some, long-term rentals bridge the gap between wanting to live tiny and the need to save up for a tiny home of their own.
If you're trying to decide between selling and renting a tiny home, it's essential to consider what people want. Finding out what tiny lovers in your area are most likely to do will help you decide whether it's worth the effort to rent your tiny home long-term. To gauge interest, try posting in local tiny house Facebook groups, reach out to any Meetup groups nearby, and you can even make put up an inquiry on Craigslist and NextDoor.
We like the idea of renting to an enthusiast with a deep appreciation for tiny houses because they seem more likely to be a good tenant. Providing housing to someone at a reasonable rent also feels very rewarding. You gain a little profit and still get to maintain ownership of your beloved tiny home.
When considering selling your tiny house, browse listing sites to see how many homes have sold in your area lately and for how much. This will provide insight into what you can reasonably expect for resale profit, as well as average time on the market.
2) Is Your Tiny House Ready for Showings?
Whether you're selling your tiny home or renting it out for long-term use, you should prepare it so that buyers or renters can envision themselves living there.
This means tidying up common areas, improving the decor, making sure that all appliances are in working order and there aren't any leaking pipes. Leaks can lead to mold growth and other issues with indoor air quality. It may be time to address any underlying plumbing or electrical issues. Scrub down surfaces, remove excess clutter, and create an inviting curb appeal for showings.
3) Are You Ready for the Selling Process or Rental Management?
Before you decide on whether you want to sell your tiny home, it's important to determine if you have time for that extra step in your life. Selling a home can be pretty time-consuming—there's an initial period of fielding inquiries. Be prepared to field numerous messages, including many "tire-kickers"—common in the tiny house world.
Then there's setting up showings (virtual and in-person). Next, once someone submits an offer, legal documents, inspections, and more require your time. For people who are already busy with work and other obligations, selling may not be a practical option. However, you can work with your builder to handle the tiny house resale process in some cases. This saves you a tremendous amount of time, but you'll also lose a significant percentage of the profit.
If you want to rent your tiny home for the long term, you should consider whether or not you have time and energy to find tenants and manage your rental property—think appliance maintenance and unexpected repairs. Also, where your tiny house is located is a factor, especially for homes on wheels. Will you host a renter in your backyard? You'll need to establish communication guidelines and property rules, like who's job it is to take out the trash, etc.
For a short-term vacation rental, the daily communication with potential visitors and renters is high. You'll need a cleaning plan for how to reset between guests, which could be as much as every other day. Of course, you can hire someone to manage it all for you, but again your profit will take a big hit.
If you're not ready to manage your property on a day-to-day basis or deal with interpersonal communications with a long-term tenant, selling is probably your best option.
4) Consider Selling Laws vs. Renting Laws
Before you decide whether to sell your tiny home or rent it out, it's best to understand what laws apply in your area. Regulations vary by state regarding renting versus selling homes, so you'll want to check your local municipality before listing your property. Typically, most homeowners sell their house with few restrictions; you can choose your buyers and negotiate your desired selling price. Look into any capital gains tax that might apply for your tiny house sale.
However, if you rent out your tiny home, you may have certain restrictions on short-term vs. long-term. Some municipalities require vacation rentals to be registered; fees apply. For long-term renters, look into any local landlord-tenant laws that dictate each party's rights. This is especially important for foundation-based tiny houses and permitted homes on wheels.
Selling or Renting a Tiny Home Conclusion
If you're thinking about selling or renting your tiny home, there are many factors to consider. This could be the location and whether you'll be doing it independently or with assistance from professionals like realtors or property managers. Remember, each option has its benefits and drawbacks, so be sure to weigh them carefully before making your decision.
Digital Magazine Dedicated to Tiny Home Living
Do you have more time at home? Enjoy some inspirational reading from Tiny House Magazine!
Discover different types of tiny homes from liveaboard boats to Alaskan yurts, converted school buses, and more.
Try recipes from a tiny house kitchen. Each month we feature a recipe from the Tiny House Foodie. Learn to make it work and still cook like a pro.
Read excerpts from books on tiny houses, downsizing, and a host of other related topics.
Each month brings new topics and new, exciting articles!