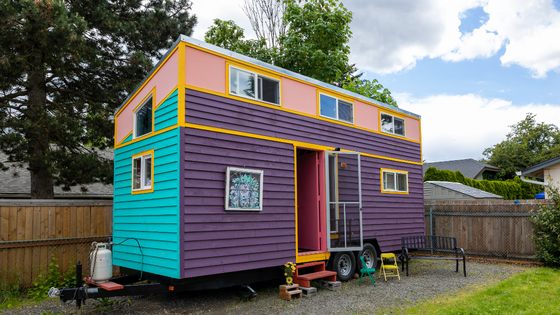 Tiny House Living for College Students, Pros & Cons
Tiny house living for college students is becoming more appealing. It's definitely gaining popularity for those who've graduated or are in their late 20s and wish to move out of their parent's house to start a new chapter of their lives. It offers benefits like lower living costs, mobility options, and more.
However, one thing you should remember is that a tiny house is not for everyone or affordable for all. If you or your child is considering a tiny house living in college, here are some pros and cons to help your decision-making process.
The pros of tiny house living for college students
Reduced expenses
Unless one is financially well off, it is hard to afford any house these days. Further, rentals in many places are becoming outreach for young people unless there they have multiple roommates. Dorm rates are also exceptionally high, requiring more school loan money for most.
A tiny house on wheels is an accessible homeownership opportunity. However, to buy one will require a 10-20% downpayment ($4,000-$20,000) and a good credit score for a loan. A parent co-signer will likely be needed. With working minimum-wage summer jobs through high school, coming up with the downpayment is achievable.
Options can work for some with more resources:
Building a DIY tiny house is the best way to save on the overall cost. You need more funds upfront, at least one year to build, and learning resources (many great free ones!).
Buying a preowned tiny home on wheels can have a lower price tag. Just make sure you can secure financing, but sometimes it's available through the seller.
Use scholarship money to buy a tiny house outright.
After purchasing a tiny house, the monthly loan payments and lot lease will be less than most college dormitory fees. It's also an asset you can take with you after graduation. If you have two bedrooms, you could consider having a roommate during college. It would be like a dorm experience, and the best part is rent will be cut in too!
As opposed to bigger rental homes that generate huge utility bills, tiny houses reduce expenses to a great extent. The majority of college students already have debts and need to keep living expenses to a minimum.
Apart from running short of money, it gets difficult for students to get enough given the plethora of assignments and deadlines. That's where keeping your living space simple can help, as well as online resources for students who can get essay samples to help boost their skills & save time. Life hacks, like tiny homes, can really give young adults a big leg up in the long run.
Mobility and customization
If one thing makes a tiny home on wheels stand out from the other housing options, it is that can relatively be relocated. If you're not sure where you'll end up after college, no problem. Additionally, It not just provides you with the option of relocating but has an added bonus of easy customization. Even if you buy a ready-made or preowned tiny home, you can effectively customize a tiny house according to your needs, as they evolve.
Derek lived in a tiny hosue with a roommate in college:
The cons of tiny house living for college students
Less space
Well, the term tiny suggests that a small house will have less space than a traditional home. If you are wondering why less space can be a bummer, here are some reasons:
The living area is limited, and so is storage space. So you'll have to plan carefully for your school materials.
You may not have the luxury of having as many furniture items as you want. But upside you'll save money.
You will have to make smart decisions and sacrifices to avoid clutter.
It will be hard to have a large group of friends or family over. That could help you stay focused in school.
If you are a student who finds yourself productive only in the designated workspace area of your home, a tiny house may not be the right fit for you. However, it's not really different than a desk in a dorm room. Moreover, these days, as online learning has taken over traditional education, many students need a proper setup for online classes, which involves having a space devoid of disturbance and a study table to house their laptops and other devices. This is where having a roommate in your tiny home could be challenging.
Parking
Tiny house parking is one of the biggest challenges for anyone embracing this lifestyle. It's not legal everywhere. So with this in mind, the best option is to look where is it already allowed. Are there any tiny home communities or RV parks near your college? The full hookups these places offer is the most convenient, and other amenities include on-site laundry.
If there's no park close by, you'll need to investigate parking on someone else's property. Think backyards. Check out this parking guide to have a clear understanding of the risks and how to find this kind of tiny house parking. While these can be more tenous than an established community, the monthly rent can be significantly less.
Tiny House Living for College Students Conclusion
Tiny houses offer a smart living option to college students. Additionally, they can also be a fun and flexible living option, saving you tremendously on your monthly expenses. However, living in a tiny home does come with its set of challenges. So it may not be the perfect match for everyone. Definitely consider the pros as mentioned earlier and cons before making your decision to move to a tiny house.
by Joanne Elliot
Joanne Elliot is a professional writer with a special focus on writing blog posts and articles about education, lifestyle, and travel. She is also passionate about teaching students the art of writing. Additionally, she loves to paint and dabbles in design.
Tilly's tiny house parked in a village by her college: