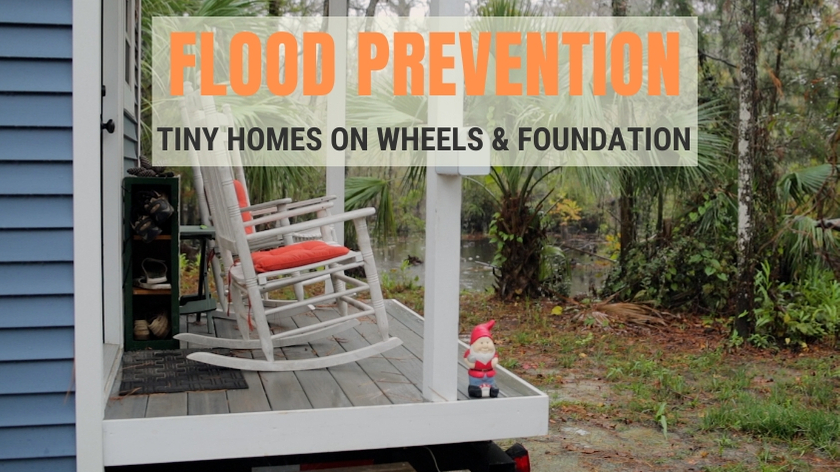 5 Flooding Preventions You Can Put in Place for Your Tiny House
How can you storm-proof your tiny house? Learn a handful of flooding preventions you can put in place to keep your tiny home from turning into a swamp.
Did you know that more than half of Americans are considering moving into a tiny home?
If you've already built a tiny home, great. You know first-hand the benefits of living small. There's significant savings, less to clean, it's easier to renovate or decorate, and so on.
Now, if you're still in the building phase, it's even better. You can still make changes to your tiny house plan to better accommodate your needs, make it feel bigger and more comfortable to live in.
Either way, it's not too late to implement flooding preventions to ensure it can stand up to storms and floods. With so much TLC poured into your new downsized home, you want to make sure it can hold up to whatever mother nature throws your way, whether you have a movable tiny house or a tiny house on a fixed foundation.
Keeping reading for five ideas that will help keep your small home safe from floods.
Watch the below video to learn about Bradley's tiny house flooding experience due to a Florida hurricane, and what he plans to do differently in the future.
Plan Ahead: Location, Rules, Evacuation Plan
One of the advantages of tiny homes is their potential mobility. If you want to move to a less flood-prone area, just hitch your tiny house on wheels to a truck and drive it to a new location.
Though, many existing parking spots in mobile home subdivisions, RV parks, and tiny home communities are located in floodplains.
No matter where your THOW is placed, you should create an emergency evacuation plan. For this, consider tow vehicle access, house packing prep, and temporary parking options, like in RV park in another area.
Also, collect a list of vetted professional mover contacts. See our Resource Directory for options.
However, if you're planning to build your tiny home a bit more traditionally, you'll need to look for the ideal spot and prepare it right, even before you plan the foundation. The general rule of thumb is to build your house above the floodplain.
Read this post for top tips on finding land.
If you're not sure how high you should be building your small home, consider getting in touch with your local building department and local floodplain administrator.
Consider Building a Berm
One of the ways flooding homes can reduce their risk of damage is to construct a berm. What it does is act like a dam, or a wall, to divert surface water runoff away from your house.
The good thing about berms is you don't need to build it too high. In fact, it should be no higher than two feet, but you should take into account its length. You want it to gently slope into your yard.
Look Into the Best Flooding Preventions Used Around the World
An example would be the flood barriers produced by Flood Ark USA. Designed to protect homes, businesses, and public facilities, these products can be used for windows, doors, and drive-thru openings.
Other products you can use are coatings and sealants, once your home is built. Make sure to apply these to your walls, windows, foundation, and doorways to keep floodwaters from entering your home through cracks.
It's easier to raise your home on stilts or piers when it's still in the construction phase. Now, if you're not so sure about stilts or piers, try to consult a tiny home builder or local general contractor.
Aside from piers, your contractor might also recommend grading, as well as putting in footers and a block foundation.
Get Yourself Covered
A tiny home may be able to withstand most storms, but not all of them despite your best efforts. To protect your home, check out your tiny house insurance options.
It may be challenging, and it's always best to consult an expert before you buy or build your tiny home. This way, you can ensure you don't end up with an uninsurable and flood-damaged home.
Want to Know More About Tiny Houses?
Now that you know more about the flooding preventions you can put in place before you build your tiny house don't stop there.
Learn more about living tiny by browsing our other articles.
The Ultimate Tiny House Design/Build/Transition Workshop
Sign-up for this acclaimed 16+ hour Digital Tiny House Workshop to learn how to build a tiny house, the legalities to be aware, how to make the transition to living tiny, and more!
INCLUDED with the DIGITAL WORKSHOP:
54 bite-sized, engaging episodes
Downloadable follow-along booklet for note-taking
Over $300 in FREE bonuses, from tiny house plans to more how to's
Digital Diploma upon full completion of the course