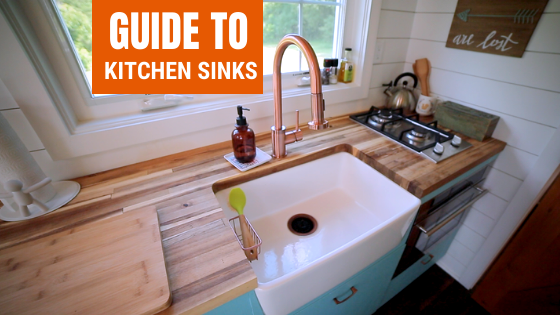 How to Choose a Kitchen Sink for Your Tiny Home
Go small or big when choosing a kitchen sink for your tiny home, but review these top considerations!
Do your kitchen sinks work well with your limited space in your tiny home?  Yes,  but you need to strategize your interior space to fit everything you need and most desire, from furniture to kitchen materials.
A kitchen sink plays an integral role in your tiny home. It's where you wash your hands, get water, and prepare food. You can design around an itty-bitty or substantial sized option, but keep carefully review the variety of available styles and materials.
How will you find the right type of kitchen sink for your home? Read on to learn more on how to choose a kitchen sink for your tiny home.
Consider the Material
The first thing you should know on how to choose a kitchen sink is the material. Be realistic about how many times you'll use and clean the sink you choose. For example our tiny home, we use our kitchen sink every day, all day. It's our everything sink. Also, we cook at home daily.
Here are some of the most common kitchen sink materials to make the most of your tiny space.
Stainless Steel Sinks
This type of sink is the choice of many homeowners due to its durability and longevity. Stainless steel sinks come in 16 to 22-gauge, but getting an 18-gauge is the best choice.
One of the disadvantages of stainless steel is that it's sensitive to scratches and dents. It also needs regular cleaning to maintain its look and shine.
Porcelain-Enameled Cast Iron Sinks
Cast iron sinks are another durable material with a glossy finish and a wide range of colors. You can expect this type of material to last for at least 30 years. Porcelain enamel needs a certain degree of maintenance, care, and cleaning.
Avoid using abrasive cleaners to prevent scratches and chipping. For those prone to throwing or leaving their kitchenware, this may be the best choice for you.
Acrylic Sinks
Acrylic is a sink made up of fiberglass, resin, and plastic, making them resistant to stains. This type of material is a cost-efficient choice with various designs and colors. They are lightweight, making them great as a countertop material and retrofits.
Fireclay Sinks
The fireclay sink is a type of ceramic white bowl sink with different sizes. This type of sink is great for extra temperatures, but not from weight or force. It doesn't work well with garbage disposals since they can crack due to the vibrations.
Copper Sinks
Copper sinks have the benefit of having antimicrobial properties and being anti-rust. Bacteria don't stay for more than a few hours on copper surfaces. If you want to keep your sink polished with fewer bacteria, copper sinks are the best choice.
Consider Size & Amount of Bowls
The bowl is your sink's main cavity where most cleaning tasks happen. Single bowls are the most common in the market, but there are also double and triple bowls. Single bowls are more convenient to use with a tiny home.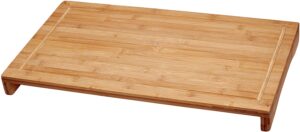 Double or triple bowls offer more versatile usage but take up much more counter real estate and are harder to maintain. The more bowls you have, the more people can simultaneously do a task. However, the best choice for your limited space is choosing a kitchen sink with single bowls.
Use a cutting board sink cover to maximize your usable counter space—great for single and double bowl sizes.
Remember Your Budget
Make sure you set a budget before choosing a particular kitchen sink. The cost of a kitchen sink depends on the installation and material. Stainless steel sinks are the less costly among the materials.
Consider if you want to install the sink yourself or hire someone to help you. DIY installation is completely doable with the right prep, but just remember to measure twice before making any counter cuts! The sink's size also plays a factor in the sink's overall cost.
Choose from the Types of Kitchen Sinks
These types of kitchen sinks or kitchen designs are the best options for your small home. Here are some of the most common and most suitable for limited spaces.
Drop-In or Self-Rimming Sinks
This is a popular type of sink that usually needs a sink manufacturer template to fit your counter well. You cut a hole in your counter material and drop the sink onto it. The sink's weight gets carried by the rim, then caulked to the counter with silicone.
You don't need any special skills to install the sink, making it the best choice for small homes. They have a lip resting on the countertop for better stability and support.
Corner Sinks
Corner kitchen sinks sit at the corner of your countertop. This type of sink saves a lot of counter space, providing under-sink storage opportunities. Some of them have a wide enough space for a built-in drying area at the center section.
Drainboard Sinks
A drainboard sink is a smaller type of sink, great for limited spaces. It combines a basin on one side with a drainboard on the other. The drainboard has a lip around it, trapping the water and draining it back into the sink.
Bar, Island, or Prep Sinks
These are the types of kitchen sinks that are smaller than primary kitchen sinks. They are often for supplementary food preparation or bartending operation. Prep sinks have single basins with 15 inches diameter or square, making them suitable for small homes.
However, just because your home is tiny doesn't mean your kitchen sink has to be!
What Sinks Should You Avoid?
When shopping for kitchen sinks, you have to be mindful of the installation. You might want to steer clear of dual-mount, apron front, and under-mount sinks because they can be tough to install. However, you can always hire help.
They also take up a lot of space under the sink, which could be for storage instead. When you consider a tiny house kitchen sink, be sure to envision the entire space first. You need to place functionality and space before everything else.
Best Kitchen Sinks For Tiny Homes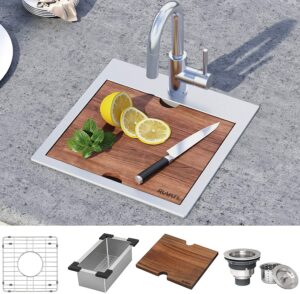 One of the most popular choices is the Ruvati 15x15 inch Workstation Drop-in Topmount Sink. It's a stainless steel sink, requiring little maintenance and space from the Tirana series. However, it only comes with a 15x15 inch sink, so you have to buy a separate faucet.
Another great choice is the KRAUS kitchen combo that takes 23 inches of your space. It comes with a pull-down faucet with a soap dispenser. However, this stainless steel kitchen sink is an under-mount sink, making it heavier to carry and harder to install.
That's How to Choose a Kitchen Sink For Your Tiny Home
Now that you know how to choose a kitchen sink for your tiny home, it's time to search the web and your local home improvement store. Don't forget building material reuse centers for deals! Keep our kitchen sink suggestions to save more space. Remember that you have to place functionality above all things.
Do you want to learn more about interior design? Check out the rest of our guides!
Tiny House Kitchen Design Ideas from 10 Unique Homes
Digital Magazine Dedicated to Tiny Home Living
Do you have more time at home? Enjoy some inspirational reading from Tiny House Magazine!
Discover different types of tiny homes from liveaboard boats to Alaskan yurts, converted school buses, and more.
Try recipes from a tiny house kitchen. Each month we feature a recipe from the Tiny House Foodie. Learn to make it work and still cook like a pro.
Read excerpts from books on tiny houses, downsizing, and a host of other related topics.
Each month brings new topics and new, exciting articles!