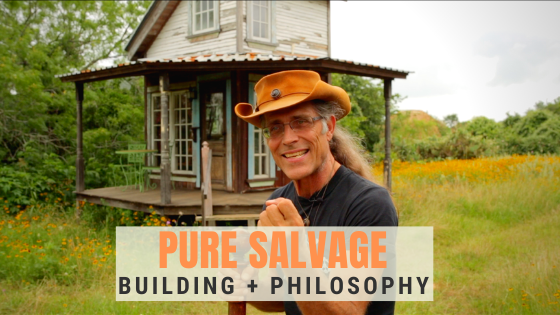 Tiny Houses Built with Salvaged Materials in Model Village
Enjoy a thought-provoking trip to Salvage, Texas in our latest short documentary.
Building tiny houses with salvaged materials is cost-effective, environmentally friendly, and can even lead to a new way of thinking. It certainly did for Tiny Texas Houses​ founder Brad Kittell. He shares his vision for creating hope from trash—his Pure Salvage Living philosophy:
"We hope to promote the use of salvaged and organic materials to create healthy tiny homes and to be used in a variety of applications. We believe we can create a drastic environmental, political, and social change by simply adopting the idea that salvage "saves."
Salvage, Texas - a Model Tiny House Village
Salvage, Texas, sits on 43 acres outside the small town of Luling. The property includes numerous tiny houses built with salvage materials, Miracle Mountain, The Mudd Cave, and The SalvageFaire outdoor market. It also includes the Tiny Texas Houses building site, "Manifestation Bay."
While no longer building Brad is no longer building houses to sell to the public, you can book a tour or stay or an appointment to shop his 6,000 square foot warehouse stuffed pull of high-quality salvage materials.
"What's trash for one person is treasure to another."

-Brad

Kittell, creator of Salvage Texas
All the wonderfully creative tiny houses, aka organic cottages, in the model village, are made almost entirely from salvaged and re-purposed materials from homes and barns throughout Texas, some as old as the early 1900s. Importantly, Brad points out that these items have all been carefully curated and expertly processed. He shares
how-to videos
on "salvage mining" to help others learn how to pull down the right materials and spot the ones to avoid.
Tiny Houses Built with Salvaged Materials
The Kidd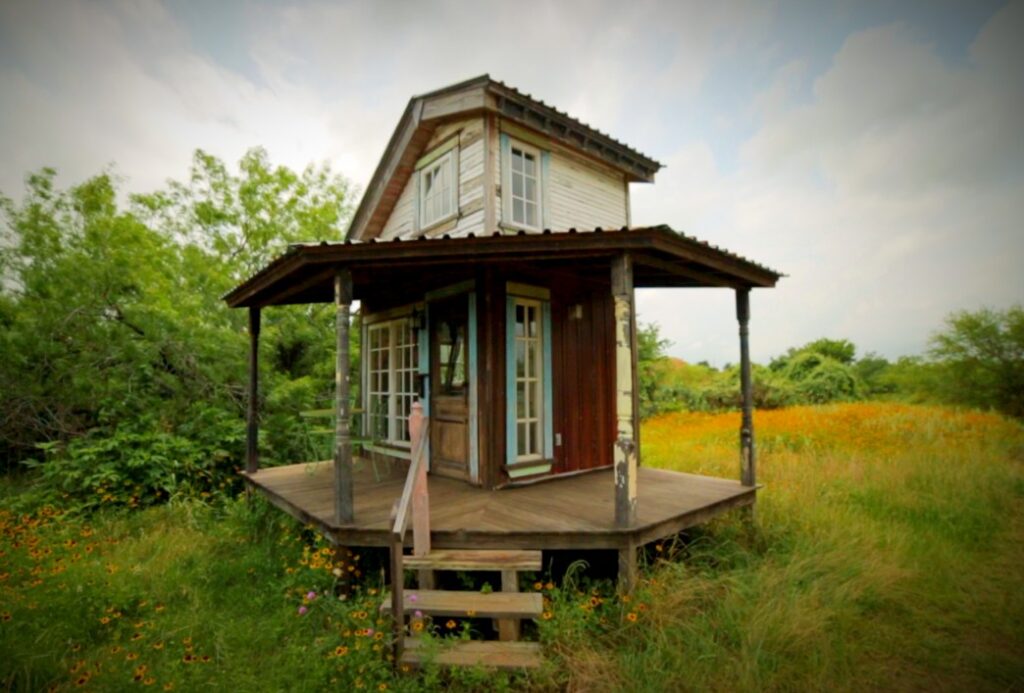 The Kidd
is simply darling
—a great example of organic design with salvaged materials can lead to intriguing shapes and clever use of space. It's just a
mere 68 square feet footprint downstairs with an additional 50 square feet in the loft. The ladder to the loft sits atop of a fold-down bench seat, which can all be stowed away when extra floor space is needed.
The Mascot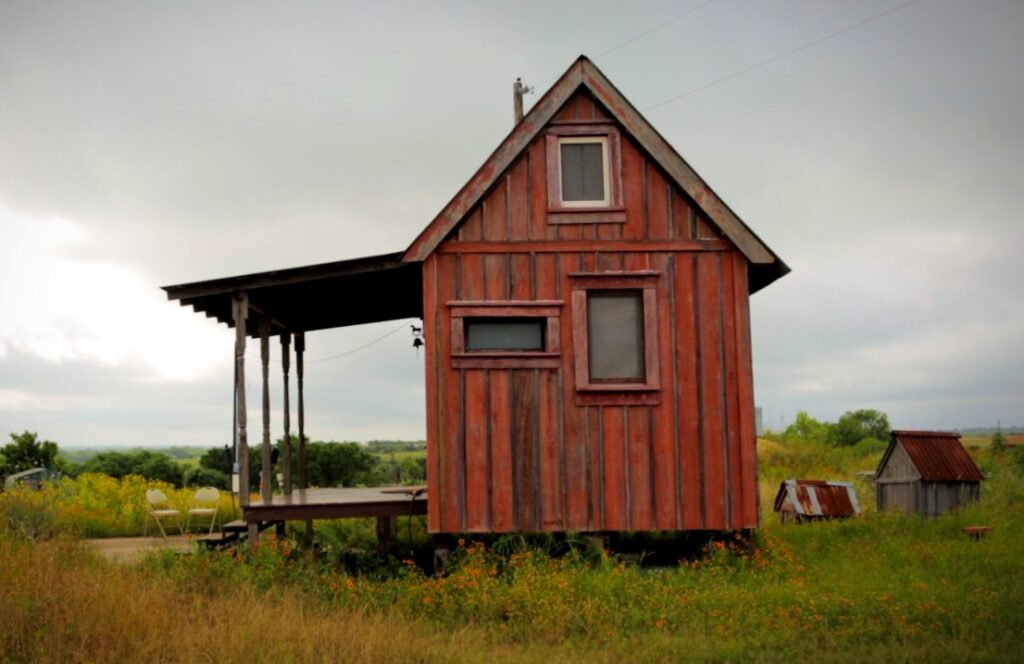 You might recognize The Mascot from the well-known Llyod Kahn classic,
Tiny Homes: Simple Shelter.
As the name implies, this was the Tiny Texas Houses team's first tiny house back in 2008. At 10-feet by 16-feet, it's a delightfully simple design that conjures visions of the
Little House on the Prairie. 
Vicky Won
Vicky Won is a 10'x17′ open floor plan Victorian-styled cottage. Of the tiny houses built with salvaged materials in the model village, this one is most suited as a standalone, full-time livable home with both a kitchen and bathroom. The majority of the other homes require the use of the community bathhouse, which is part of a communal vision of living.
Blue Moon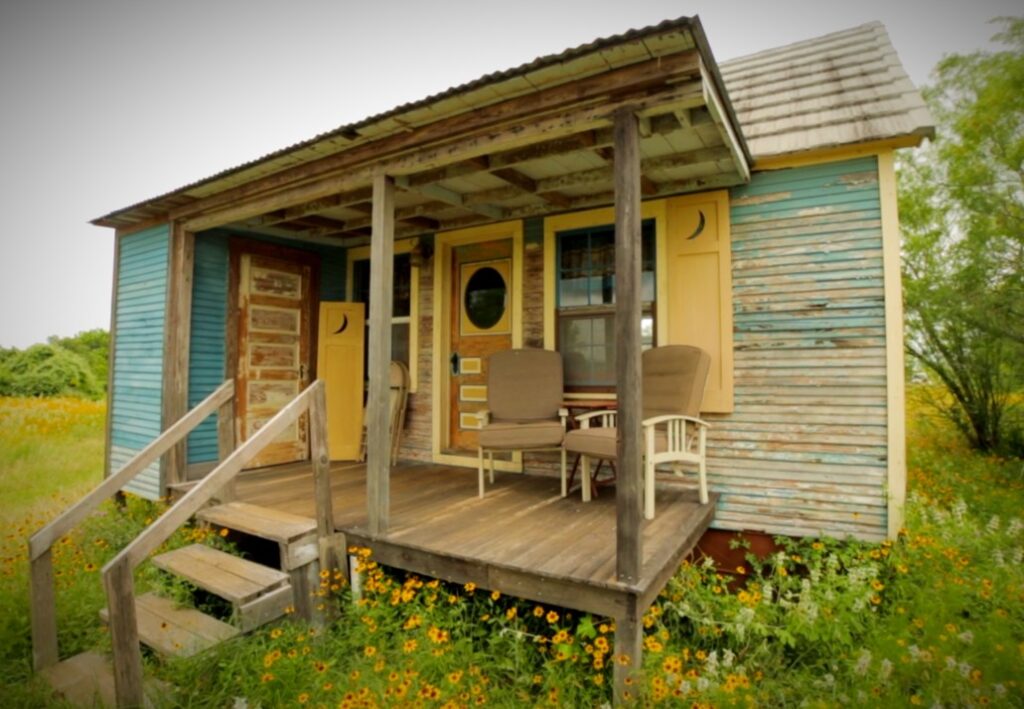 At 12'x20', the
Blue Moon
is the largest tiny house in the Salvage, Texas, model village. It's a cottage style with a gable roof and loft but it is the charming front porch that really takes its charm up to the next level.
Gingered Swan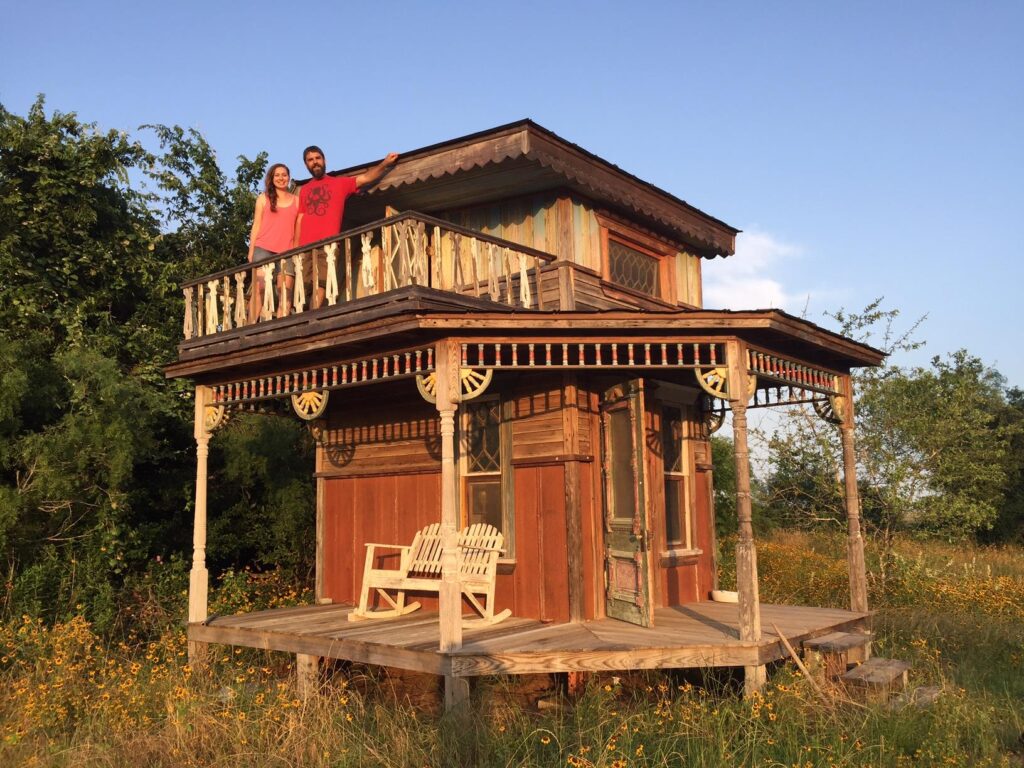 The
Gingered Swan
is a piece of art, pure and simple. With just an 80 square feet footprint downstairs, the upstairs and additional 70 square feet of living space with access to the second story deck.
Do you want to visit Salvage, Texas?
Learn more about this model tiny house village and how to visit it here.
Exclusive Content
Monthly LIVE tiny living discussions with extended Q&A, plus BONUS content, like behind-the-scenes filmmaking and tiny home life insights.
Early Access
See new videos first, get first dibs on new online courses and more!
Exclusive Giveaways & Discounts
Win tiny living festivals passes, and more!
Join today!