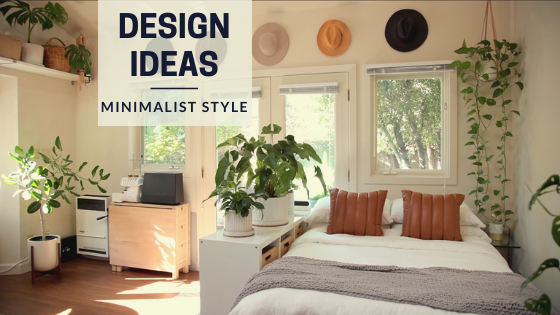 Create A Minimalist-themed Tiny Home: 7 Doable Ways
Minimalist-themed tiny home ideas because simple is sophisticated and feels good.
When you are single, living a life on your own terms, owning a house, and personalizing it according to your taste symbolizes independence and attainment. It doesn't matter how big it is—a tiny house can be ideal. Owning one can make you feel in control as you slowly customize it, making it look sophisticated, clean, and beautiful.
A sophisticated house does not have to be grandeur-looking, but rather it should be lovely enough and have a peaceful atmosphere. A minimalist type of sophistication, that's what it ought to be for good vibes and low stress.
If you want to transform your tiny home, or any size home, the minimalist way, you may consider following these doable tips:
Make A House Floor Plan
Consider preparing a house floor plan and design to make your house transformation more effortless and more manageable. Of course, having a tiny house calls for extra effort since it has considerably smaller floor areas than the average home. A house floor plan is an illustration of the layout of your house from the overhead view. It shows the locations of your doors, walls, windows, cabinetry, appliances, and other fixtures.
Having a house floor plan before proceeding to renovation allows you to see and know the dimensions of your house, giving you an excellent opportunity to consider the optimal placements of your belongings and house features.
When making a house floor plan, you can use programs like Sketchup or hire an architectural designer near your area is a great option for a high-quality and more accurate final product. For instance, if you're living near NSW, then you can consider professionals who offer the best apartment design Newcastle has to offer.
Clear Your Walls, Floors, And Surfaces
If you aim to change your house's whole setup to make your house plan into reality, it is essential to clear all your walls, floors, and surfaces one room at a time. Clearing walls of excessive trinkets and other knick-knacks is a must for any tiny house resident.
You may start in your bedroom and remove all the frames, paintings, or decors hanging on your walls. Removing them would make it easier and more efficient for you to clean and repaint your room—a fresh coat of paint instantly brightens a room for a fresh sense of sophistication!
From there, you can still hang such decorations but keep them to a curated minimum.
Use Subtle Colors
The goal of having a minimalist-themed house is to have a home free from stress and distraction. And since colors have psychological effects and meaning, you must be careful and selective when choosing a color scheme for your rooms. When repainting your tiny house, it is recommended that you use subtle or predominantly light colors, such as pale blue, light pink, white, light green, soft grey, etc. Though, if you desire a bold accent color, keep the rest of the colors more muted.
Declutter, Of Course
Compulsive shopping and collecting habits are hard to break, even after downsizing into a tiny home. Remember how many things you didn't use in the past and how they took up a lot of space or became forgotten or just dust traps. Also, centering yourself around intentional shopping behavior can help prevent this while providing a more fulfilling experience when you need or want something.
As obvious as it might seem, the secret to a spacious and comfortable tiny house is decluttering. Just getting out the things you don't need can do a lot in clearing up spaces for your house.
It is not easy to throw away or let go of things, but if you want to have a minimalist house, you must practice the art of decluttering. Decluttering involves removing unnecessary stuff and items in your place to improve your well-being and your home space. Even after the initial downsize into a tiny home, you find yourself all too easily collecting clutter again.
When decluttering, for the first time or after a few years of tiny living, you have to categorize your things according to their usage first. Decide which items are essential and valuable and which are not. You may opt to donate those things that you no longer need, or you may also choose to throw them away. It would be best to have two boxes on your sides when decluttering. Label the boxes with "essentials" and "for donation."
Make Use Of Your Storage
To keep your minimalist house looking neat all the time, you must make use of all your storage and cabinets. Organize all your essentials accordingly and place them in your chosen storage. Don't be fooled; you can sneak more storage into your tiny house even though it doesn't look like it or can better optimize what you already have.
All your things should have a permanent and logical place. What's for the kitchen stays in the kitchen and what's for the living room stays in the living room. Avoid mixing things up as it will only make your house cluttered.
Most importantly, designate a home for everything you own and always return items there once you're down using them. This is your key to maintaining a tidy, minimalist environment that can help you breathe easier.
Choose Your Furniture Wisely
For personal comfort, you must have a set of furniture in your home where you can freely sit, lie down, or rest. But since you have limited space and aim for minimalist living, you must choose your furniture set wisely. By selecting the right furniture for your place, you can avoid having a cramped space.
Avoid overpowering or unnecessary pieces. It would be best if you only keep those types of furniture that are useful and needed in your daily life and size appropriate. Consider tailored to fit built-in items, like a custom fold-up table with hidden storage beneath to fits your space perfectly while stowing away necessary but ugly unruly items like home office stuff.
On the other hand, ready-made items intended for small spaces, like sofas, can also look more proportionally appropriate. You may be able to fit a larger couch in your living area, but if it eats up most of the floor space, it'll end up creating a cluttered look and feel.
Also, the right furniture style can help create the illusion of roomier floor space. For example, a sofa with legs means there's a little open space underneath. This allows light to filter under it, making the room appear airier.
Use Simple Artwork And Decors
You don't want to reside in an empty and boring room. So, to add colors to your place, you may put up one to two simple artworks or decors or home decor items like throw pillows. Again avoid overdoing it. For instance, don't fill up your walls with too many frames as it will create visual clutter, despite the beauty of the individual items, and can cause you stress.
Takeaway
Clutter affects health; check out this study on the topic.
Basically, the less clutter, the better you feel, and the better your home looks.
The key to having a minimalist-themed tiny home, or a larger house, is to be as simple as possible. Thus, when planning to renovate your tiny home, you must always keep in mind the available space and essential features you need. This understanding is square one for how to optimize and streamline it.
The tips mentioned above can also help you perfect your layout and interior design in a sophisticated way.
A minimalist-themed tiny home, sophisticated and inviting
Want to live in a tiny home? Want to enjoy more experiences?
Start planning today! Learn how drastically downsizing can lead you to a life of fulfillment and adventure. We share the tools you'll need to kickstart your BIG downsizing journey to upgrade your life. YOUR guide to downsizing, budgeting, build or buy decision making.
Leave the course with an action plan for creating the tiny house life of your dreams. Register here.