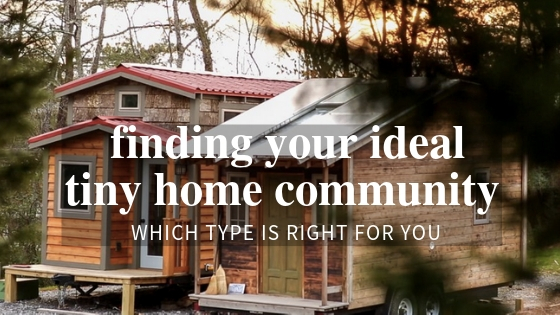 Finding Your Ideal Tiny Home Community
With more and more people going tiny, the need for parking is at an all-time high. The desire for tiny house community parking is on the rise too.
As the tiny house movement gains momentum, states and cities are updating their codes to make it easier to build—and live in—tiny homes. Across the nation, more than a dozen cities have become officially tiny-friendly, and communities of tiny houses are cropping up, of varying legal status—everything from intimate backyard co-ops and eco-villages to resort style developments. Communities typically provide hassle-free tiny house parking with like-minded neighbors.
Tiny house communities come in several different types, each catering to a diverse crowd and addressing a different need. Some attract retirees looking to trade in square footage for free time. Others are experiments in how to solve the affordable housing crunch. During our tiny house travels, we have visited many distinct tiny home community models. You can choose from a broad variety of approaches, and models. Maybe you prefer a neighborhood feel or cohousing environment with shared resources—a kind of intentional community.
Which type of tiny home community is right for you?
RV and mobile home parks are the original tiny home community. Welcoming tiny houses on wheels is a no-brainer for most, especially for those that offer long-term parking. Many parks are formally reinventing themselves as hybrid RV/Tiny House communities. This model is the most available and legally acceptable option for tiny house RV parking and features all the necessary amenities for a comfortable on-grid parking experience, with available power, water, and sewer hook-ups. Depending on the RV park location, the allowed length of stay varies, from 30 days to year-round parking. Another thing to love about this kind of community model is access to outdoor recreational activities and fun points of interest.
Do you want to be located in a rural, suburban or urban setting? In any locale you prefer, you can find an RV park. We have stayed in dozens of parks across the country, and have only been turned away once. Be aware: not all RV parks allow tiny houses. If our tiny house was RV certified, we could have appealed the rejection.
In the Fall, we stayed at Animas Valley Village, a new Tiny House/RV park. It is located just over the Colorado state-line into New Mexico, situated between two great towns, Durango, Colorado, and Aztec, New Mexico. The village has eleven total spaces, with availability for short or long-term stays. The park also features two unique tiny house short-term rentals. Currently, one tiny house RV is parked there full-time, the Tiny Cottage Caravan. A family of five were our wonderful neighbors for the week. You could be their neighbor, starting today! Full-time spots are now available.
Tiny House/RV Parks across the US (there are many, many more THOW friendly parks!):
Possible Amenities: WiFi, laundromat, vending machines, picnic areas, clubhouse, fire pits, on-site manager, grounds maintenance and lawn care
The most common tiny house parking is in an informal backyard community with a traditional house and one or more tiny homes. These are sites are typically under the radar, so it is hard to know how many exist. There could be one in your neighborhood!  In a few cases, these backyard arrangements can be a more formal village set-up, like Going Places. It is a tiny cohousing community in a Portland. Did you know a cohousing community is semi-communal mini-neighborhood of private homes clustered around a shared community space? Residents share ownership, maintenance, and resources, like tools and the laundry room. If you are seeking an intimate, supportive environment, then this kind of tiny house parking is for you.
Whether you want to establish a collective community vision or want just a few simple rules, a backyard is the perhaps the most accessible community model out there. The drawback is that zoning laws don't often accept these types of communities.
Formal Tiny House Backyard Communities:
Tiny Houses on Wheels Officially Allowed as Accessory Dwelling Units (ADUs), aka Backyard Cottages:
Fresno, CA
San Luis Obispo, CA
Lyons, CO
El Paso County, CO (**pending approval as of February 20th, 2019)
Nantucket, MA
Possible Amenities: shared facilities like garden, laundry room, shed or garage
Who says everyday life can't feel like a vacation getaway?  Resort style communities cater to those seeking a quaint setting with luxurious amenities. Park model communities have been around for years and are popular among retirees. In the last few years, you can now find similar tiny house communities with a mix of short-term rentals, vacation homes, and long-term parking spots for your tiny home on wheels.
These settings offer rental tiny house experiences, providing a sneak peek into the tiny house village lifestyle. It is a great way to try out a community before committing to a six-month or year-long lot lease. For more tiny house hotels and rentals, see our Travel page.
Are you looking to plan for your financial future? Some resorts allow you to rent out a tiny house, managed by them.
Tiny House Resort Communities:
Possible Amenities: WiFi, clubhouse with regular activities like game night, fitness center, pool and hot tub, fishing pond, walking trails, community fire pits, dog park, golf, shuttle service, grounds maintenance, and lawn care
Are you looking for a more rooted community experience? The kind of place where you can work with the neighbors to cultivate a sustainable environment, within a private, peaceful village setting. Think a full-blown intentional community or a cooperative neighborhood. There is much cross-over with many tiny house resort communities, like Acony Bell, where the emphasis is on developing a long-term, engaged village. Are you ready to get planting in the community garden? If yes, then this is your kind of tiny house community.
Tiny House Villages:
Possible Amenities: community garden and individual garden lots, wifi, communal shared gathering spaces, laundromat, dog park, horse area, pond, on-site storage
Not everyone can be a digital nomad. That's why proximity to jobs is still necessary for many tiny house dwellers. Rural tiny house communities or those located in hybrid RV parks aren't everyone's cup of tea. That's where a pocket neighborhood comes in. There are only a few planned THOW neighborhoods in existence offering a desirable opportunity for those looking for more urban living experience. A pocket neighborhood is a kind of planned community. It consists of a grouping of smaller structures, around a common green space within to create a "neighborhood," and it's designed to promote a close-knit sense of community feel.
A few months back, we visited Durango, an outdoor enthusiast's paradise. Located in southwestern Colorado where the high desert meets the mountains. The newly approved Escalante Village plans to open this Spring. It will be a tiny house on wheels community within the city limits, directly off the Animas River Trail that goes through the heart of downtown. In addition to long-term parking spots, the village will also offer long-term tiny house rentals. The village is currently full! Though, you can add your name to the waiting list.
Pocket Neighborhoods:
Possible Amenities: WiFi, community garden, on-site storage, trash service, proximity to shopping, etc.
See our Resource Directory for Community & Parking Listings!
Our Tiny Home Communities YouTube playlist features an up close look at those we've visitied:
-Alexis Stephens, co-founder of Tiny House Expedition