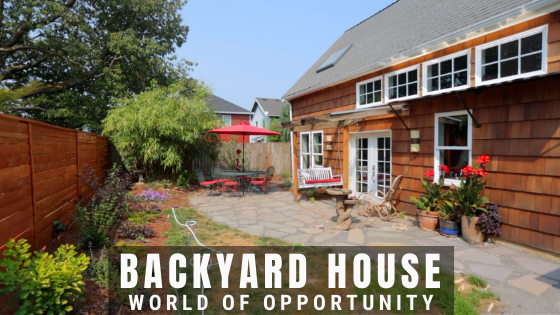 Granny Flats Not Just for Your Gran! Advantages of ADUs
Make the Most of Your Backyard
You might be familiar with the term granny flats or mother-in-law suites. Did you know that's a kind ADU? It is also known as an accessory dwelling unit, often a foundation-based tiny home. However, a tiny house on wheels (THOWs) can be one.
Nowadays, eco-friendly housing solutions are on the rise, and living in a minimalist way is one. Believe it or not, many people are now switching to a tiny house lifestyle just so that they can minimize the clutter & simplify, lessen their carbon footprint, and most of all, lower their everyday costs. Not only that, but you can also make the most of your backyard if you're a property owner to have one of your own. And how can you do that, you may ask?
There are many techniques to do it, but one sure way is by building an ADU such as a granny flat in the backyard. Of course, it requires enough space on your residential property. Installing a pad for a THOW is a more space-efficient way to do it. But only possible if there's proper access to the yard via a wide gate.
With a granny flat in your backyard, there are just so many things you can do that you never even imagined before.
Lucky for you, this article details some of the benefits of having an ADU. Read on to learn more!
Keeping the Family Close with Granny Flats
One advantage of having a granny flat is keeping your loved ones close by. Even though the name suggests that it is built for a mother-in-law or a grandmother, it's often used for other loved ones, too. In some cases, a granny flat is built as an extra space for the property owner's adult child who can't afford to buy their own property yet. While other times, an ADU can be a home for a retired parent who needs extra help or just wants to be closer to the grandkids.
Also, it could be great for teenagers looking to try out independent living. That's especially nice if they're learning to play an instrument!
It is always exciting to have your relatives and friends come over to visit. Thanks to a granny flat ADU, you don't have to think about how to fit them in your personal space. Instead, you can offer them their own private guest house in the backyard.
When not in use by visitors, it can be used as a vacation rental. Just block the dates the next time a family visit is planned!
Earn Extra Income
They say that building a granny flat is a wise investment because you can earn an income all from the comfort of your own home. Well, whoever is saying these, they are right. Since a granny flat is an extension to your home, you can put it up for rent, especially for those people who might just need an affordable dwelling. Earning a rental income can help you with your own housing expenses, like the mortgage or property taxes.
Of course, it's best to have a customized granny flat built according to your needs and your property's orientation—a passive solar ADU is a smart choice for energy efficiency. The good thing is that numerous companies now offer such services and ready-made models, but choosing which one is the best may be confusing. In this case, you might want to start with local companies and look for the most reliable & well-reviewed granny flat builders Sydney or wherever you live has to offer.
Another option is to rent out your yard to a tiny house on wheels owner. You'll need a flat space for a pad, utility connections, and permit—only available in select cities. Otherwise, it's an under-the-radar situation. That can work if your neighbors are on-board. Of note, code enforcement is typically on a complaint basis. Visit the Tiny Home Industry Association's Resource Map to find out if movable tiny homes (THOWs) are allowed in your area.
Simple Living that Pays for Itself
Ready to downsize? You can live in a granny flat in your own backyard while renting out the main house!
That's just what empty nesters, Traci and Matt, did. They were looking for opportunities to simplify their lives after the kids left home. So, they decided to build a tiny house on wheels in their backyard. Now they rent out their primary residence, relieving them of a costly monthly expense. No more mortgage!
Do you live in Oakland, California, or Portland, Oregon?
You can now add legal, permitted infrastructure so you can live in your tiny house on wheels or RV on your own residential property or someone else's land. Learn how here.
Home Office
Are you working from home nowadays? Or maybe you have a full-time online job. You can use your granny flat as a private workspace. No matter how comfortable your house is, sometimes you can't just shake the feeling that it can get loud and distracting, especially if you need to get many things done. That's why having a home office in your backyard is such a welcomed luxury. Admit it or not, being in a new environment can make you more productive most of the time. It can also help maintain boundaries between work time and after-hours family life.
Man-Cave/She-Shed
You might also want to utilize your granny flat for personal rest & relaxation purposes such as mediation, crafting, or gaming. It can be ideal for storing all your obnoxious entertainment devices, like virtual reality set-up. Admittedly, this arrangement is on the luxury side, but it can also be dual purpose by serving as a guest house.
Add to your Property's Value
Aside from the things mentioned above, one primary reason many people opt to have a granny flat extension on their property is that it is one way to increase a home's value effectively. When you sell a house, buyers usually consider all the benefits they can get when purchasing it. It will definitely be valuable to your potential buyer if you have an additional structure or tiny house parking pad.
Granny Flats, More than an In-Law Suite
Clearly, you can do so many things to make the most of your property with granny flats and other ADUs. Not only can you keep your loved ones close to you or have an additional income, but it is also one way for you to get your creativity working, especially on how to maximize your property to create a mini-community. Additionally, a granny flat can surely help increase your home's value.
Have you ordered our book yet?
Learn the history of the modern movement, get a breakdown of tiny home styles, and meet the passionate tiny community. The Beginner's Guide to Tiny Houses also discusses the pros and cons of micro-living―is a tiny house right for you, right now?
What people are saying:
"Most books about tiny homes are really just about the fantasy, with beautiful pictures in far-off places, but they don't tell you how to get from point A to point B. That's where this book comes in and fills in all the gaps!"