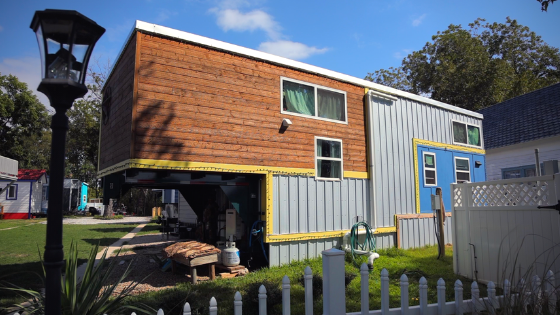 Groundbreaking Urban Tiny House Community
A legal triumph for tiny houses on wheels
Welcome to Lake Dallas Tiny Home Village, the first of its kind urban tiny house community. It's located in a quaint small town downtown in the northern Dallas/Fort Worth metroplex. Importantly, LDTHV is groundbreaking because it uses the International Residential Code (IRC) Appendix Q for tiny houses on wheels. That means that these homes are inspected and permitted as residential dwellings.
Even though Appendix Q is intended for foundation-based tiny houses, the city of Lake Dallas utilized it for tiny houses on wheels, aka movable tiny houses, from the trailer up. Then they created the legal guidelines around the placement of those in the LDTHV pocket neighborhood, zoned as a PUD (planned unit development). For example, the homes must be tied down, skirted, and inspected by a third-party inspector or certification company.
Benefits & realities of an urban tiny house community:
"The Lake Dallas Tiny Home Village is what I consider an urban village. So it's inside the city, and we're inside the downtown area. Main Street is two blocks away. We can walk there in three minutes. There are good things about that because you can walk to everything that you need. As opposed to a village that's further out.

Now a village further out is going to have bigger lots, more space. We're tight in here; the homes are within probably 12-15 feet of each other. Some people don't particularly care for that. But when you're in a downtown area, you're an urban area; you have to have some density. We still have open areas, so it doesn't feel cramped."

-Terry Lantrip, long-time Lake Dallas resident, Urban Retro CEO & LDTV developer
Inside this Welcoming Urban Tiny House Community
Lake Dallas Tiny Home Village is a truly wonderful place to call home. That's undoubtedly how the diverse mix of residents feel, from families to singles and couples. It's the kind of place where kids can roam free under the caring and watchful eye of all the tiny house neighbors.
They enjoy a playground across the street, in addition to the community's backyard and courtyard space. Of course, the grown-ups appreciate those spaces too. This includes impromptu social gatherings and additional work from home space on the many picnic tables and the communal laundry building.
LDTHV Amenities:
Trash & recycling
Storage units
Landscaping
Firepit and picnic tables
Community garden
Washateria with 4 NON-coin operated washers & dryers, a utility sink, shared tools, and a large multipurpose table
Shared green space in the backyard and courtyard (a grassy area that doubles as a fire lane via Grasscrete)
Walking distance to the lake, coffee shops, restaurants, library, business center & more
Watch the tour to see more of this groundbreaking urban tiny house community!
Thanks to our video sponsor Kamikoto! Save extra $50 OFF with code: Tiny 
Lake Dallas Tiny Home Village Residents' Houses
Have you ordered our book yet?
Learn the history of the modern movement, get a breakdown of tiny home styles, and meet the passionate tiny community. The Beginner's Guide to Tiny Houses also discusses the pros and cons of micro-living―is a tiny house right for you, right now?
What people are saying:
"Most books about tiny homes are really just about the fantasy, with beautiful pictures in far-off places, but they don't tell you how to get from point A to point B. That's where this book comes in and fills in all the gaps!"