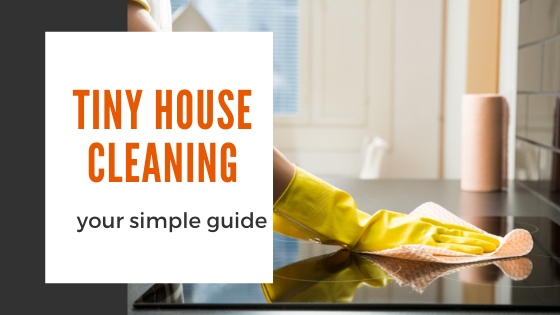 Basic Cleaning for Tiny Homes: The Only Guide You Need
When it comes to cleaning tiny homes, there are certain things you need to do to maintain a tidy, clutter-free home. Check out our basic cleaning guide below.
If you live in a tiny home it should be a small task to clean it, right? In reality, it takes much less time and effort than larger spaces, but tiny homes come with their own cleaning challenges.
There are certain things you should keep in mind when cleaning your tiny home.
Read our tiny home basic cleaning guide to learn more.
Also, the CDC provides cleaning and disinfecting guidance here, to prevent the spread of COVID-19.
Basic Cleaning for Your Tiny Home
Since tiny homes do not come with a mudroom, your home is probably more prone to dirt, grass, or leaves being tracked inside. A 100 to 400-square foot space can get dirty really fast!
This happens in our 130-square foot tiny home in a blink of an eye. To combat this, we put a rug just outside and inside our front door to catch reduce the transfer of dirt.
Also, tiny homes tend to utilize every bit of space; clutter can quickly build up. This happens in a regular-sized home too, but it is more noticeable in a small space.
Because of this, if not quickly taken care of, it can lead to a claustrophobic feeling (speaking from personal experience).
With a little bit of tweaking to your cleaning routine, you can easily maintain a tidy tiny house.
Get the Right Supplies
First, it's important to start with the right cleaning equipment and tiny house-friendly supplies. Tiny homes can have different surface types, like butcherblock counters, and tight spaces and require particular cleaning tools than you may have used in a larger home.
Look into getting a smaller stick type vacuum and mop that can easily navigate in your tiny space, as well as stow-away easily. Investing in a quality option will make them last longer.
Deep Cleaning Checklist
Overall: the smaller your space, the less surface area to clean. Period. But that doesn't mean an occasional, or even monthly, deep clean isn't needed.
An easy way to keep your tiny home sparkling clean is to split up all the rooms/areas and write down what needs to be done in each room for excellent whole-house cleaning.
Take a cue from professional house cleaners and create a checklist, so you don't miss anything, like behind the composting toilet or on a hard to reach the shelf.
It still takes much less time to clean a tiny house than a regular-sized one.
For us, it generally takes thirty minutes to clean our tiny home from top to bottom. Half of that time is used to wipe down the stovetop and scrub down the shower thoroughly.
Decluttering Your Tiny Home
One of the basic cleaning steps that is crucial in a tiny home is decluttering. It's easy to collect stuff, even after your initial downsizing, which can lead to a messy looking house.
About once a year, in our tiny home, we do a downsizing sweep. We look for anything we don't use or excess clothes.
If you come across any large items, hire a same-day rubbish removal service to take them away. You can also drop off a donation at a local thrift store.
Regularly, minimize any cluttered feel by quickly managing messiness—so no leaving a stack a mail on the counter.
The best way to keep a tiny space clean, tidy, and clutter-free: create a place for everything and put everything in its place when done using it.
And always be on the lookout for different ways that you can store the items you want to keep.
Use cabinets, shelves, drawers to put things away to appear less cluttered. Install hooks on the wall or a pegboard in the kitchen for kitchen utensils and pots and pans.
Over the door organizers can hold shoes or rolled up tee shirts in your closet or perhaps bathroom. You can also utilize vacuum storage bags for storing bulky clothing or linens.
In our tiny home, we store off-season clothing in compartments in our sofa.
Nobody's Perfect
Clutter and mess happen.
Don't strive for perfection when cleaning your tiny home. Instead, work to create a simple daily, weekly, and monthly routine that's easy to keep up with.
Tiny Home Cleaning Is Much Easier With a Plan 
These essential cleaning tips for your tiny home can also work for small apartments or any small space. Make sure you have the right tools for the job and make a room a cleaning checklist. Declutter your home, but remember, no one is perfect!
If you liked this post, share it with a friend and read more on our blog.
Digital Magazine Dedicated to Micro, Tiny & Small Home Living
Do you have more time at home? Enjoy some inspirational reading from Tiny House Magazine!
Discover different types of tiny houses from liveaboard boats to Alaskan yurts, converted school buses to high wall tents.
Try recipes from a tiny house kitchen. Each month we feature a recipe from the Tiny House Foodie. Learn to make it work and still cook like a pro.
Hear from those living with kids in a tiny house. What happens when you build for two but end up with four? Can it really be done?
Read excerpts from books on tiny houses, downsizing, and a host of other related topics.
Each month brings new topics and new, exciting articles!