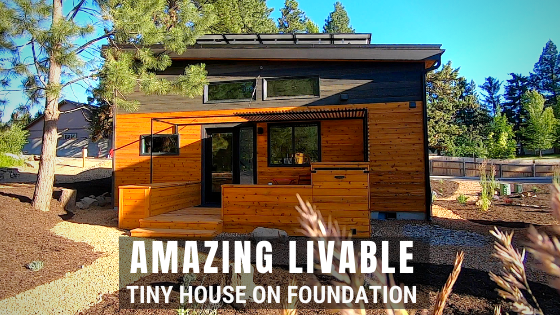 Is this the Most Ideal Tiny House Size? In a Permanent Pocket Neighborhood
Tiny House and Pocket Neighborhood Tour
The Hiatus is an amazing livable tiny house on foundation inside a one-of-kind cottage-style community located in Bend, Oregon.
The 16'x 25' tiny home footprint is 400 square feet, and with two lofts, it comes to 598 square feet. Interestingly, it was built to IRC Appendix Q standards.
The tiny house is located inside a pocket neighborhood, by the same name, inspired by Ross Chapin's work. Parking is on the exterior of the tiny home community, and the clustered cottages face inward to open shared community spaces.
Residents enjoy winding paths, trickling ponds, garden boxes, bocce court, and cozy fire pits. Feels like a sanctuary! Each of the 22 tiny homes is built with the highest quality fixtures and surfaces, with a focus on livable design.
Learn more and get news on future cottage communities: http://hiatushomes.com
Some of the reasons behind the $249,000 starting cost of The Hiatus:
Labor - all professionally built homes cost at least 30% more than DIY builds
High-quality materials used (requires more materials because of larger size than many other tiny homes)
Foundation system comes extra costs and permitting requirements, but is accepted in local zoning and building codes
Land cost - Bend, OR is an expensive real estate area, but this house is still far below median house price
Development work comes with many expenses, including local system development fees not scaled for size of the house. The developer and others are advocating for proportional fees to be fairer.
Our cities need diverse housing options, and this development helps do that and create much needed additional stock here. While it's clearly not the affordable housing answer, it does help grow awareness of small home benefits and acceptance.
More About Tiny Home Regulation in Oregon
Exclusive Content
Monthly LIVE tiny living discussions with extended Q&A, plus BONUS content, like behind-the-scenes filmmaking and tiny home life insights.
Early Access
See new videos first, get first dibs on new online courses and more!
Exclusive Giveaways & Discounts
Win tiny living festivals passes, and more!
Join today!