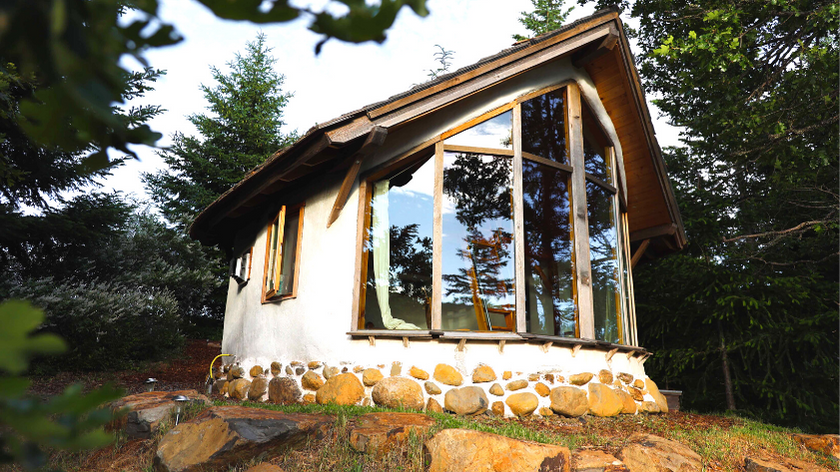 Magical Straw Bale Cottage & A-Frame Rentals
We partnered with Airbnb to share the amazing stories of hosts behind unique small space listings, like Superhost Talia and her husband. They began hosting to help save their small mountainside organic farm and also as a creative outlet. All part of their "Jean Marie's Garden" in the Columbia Gorge area—truly a slice of heaven! They built a magical straw bale cottage and two tiny A-Frames that beautifully integrate into the secluded natural landscape. 
"We started a small farm from scratch. I don't think our small farm would still be in existence if we didn't have Airbnb. Honestly, we were just hemorrhaging money and needed an income stream now...it allowed us to keep building our farm up..."
Rent Talia's enchanting straw bale cottage, tiny A-frames, or the entire place here! One percent of all proceeds go to a local nonprofit.
Tiny A-Frames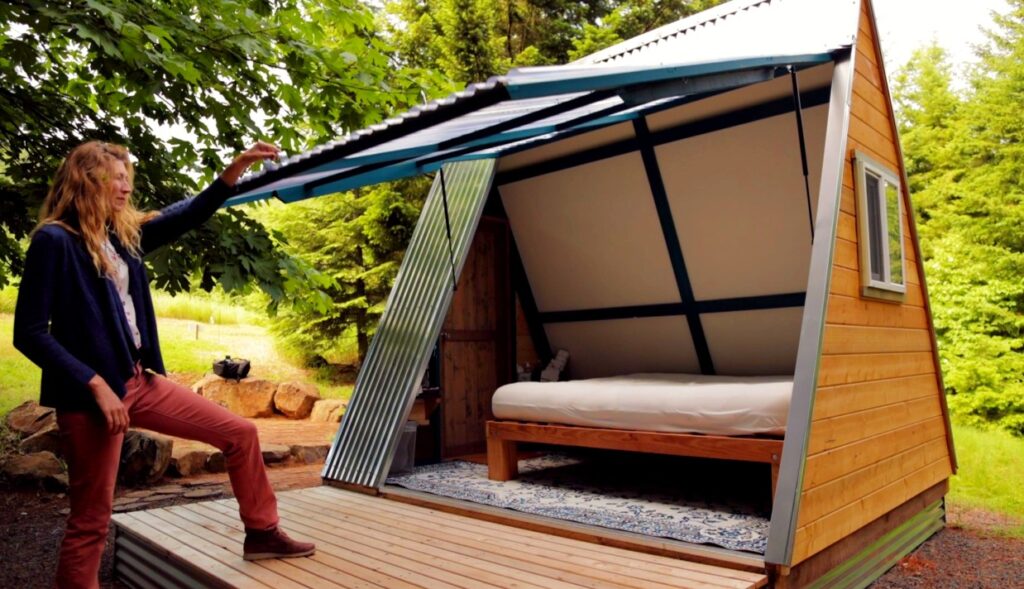 Talia hosts two transforming tiny A-frames, essentially simple glamping accommodations. In each, enjoy a comfy bed with charming indoor/outdoor living capability. Simply lift the semi-transparent sidewall to open up the space and enjoy lots of fresh air! Additionally, there's a patio and hammock for relaxing under the stars or trees.
Do you recognize the design? These were built from Deek Diedricksen's Transforming A-Frame Getaway Cabin plans.
The Straw Bale Cottage
Have you ever stayed in a work of art? That's what it feels like to stay in Talia's straw bale cottage. It was completely hand-crafted from the reclaimed lumber framing, hand-thrown tiles to the hand-made windows and bed-frame. Importantly, the D-shaped cottage was designed to feel grounding and peaceful while intimately connecting you to the outdoors. Your eye is constantly drawn to the epic wall of windows and surrounding mountain views. That's why the interior uses muted earth tones, so the outdoor greenery really pops.
"This hand-built cottage is made of strawbale wall with lime plaster, sheep's wool insulation in the cedar shake roof. This is a true experience! Views of Mill Creek Valley and Mt Hood in both the cottage and private patio. The cottage does not have a kitchen or bathroom INSIDE, however, there is a covered pavilion with (almost) full kitchen, hot shower, and composting toilet 100-yard walk away."
Straw bale construction is fairly easy to learn (think stacking giant lego blocks), cost-effective, and environmentally pretty much as friendly as it gets. However, like any natural building, it is especially hands-on labor-intensive. Talia points out that it took much longer to complete than expected. Even so, she and her husband, Dave, completed the cottage in about 10 months of part-time building.
Straw Bale Home Construction Fun Facts:
Three times more efficient than a conventionally framed wall
Three times more fire-resistant
Uses a 'waste' material that is typically burned in the fields, creating an environmentally friendly solution
Tried and true construction technology (there are straw bale homes well over 100 years old)
Building code compliant in nearly all locales
Easy to learn (think stacking giant lego blocks)
Electrical wiring runs through the straw bale walls safely
Plumbing is designed to stay out of the bales by building isolations within the walls
Do you want to build a straw bale tiny house? Check out these plans!

Considering hosting an Airbnb tiny house? Learn about the benefits here.  Disclosure: We earn a small fee when we refer people to start hosting.
You can also connect with an Airbnb Ambassador to learn how to create a successful listing by signing up for a webinar.