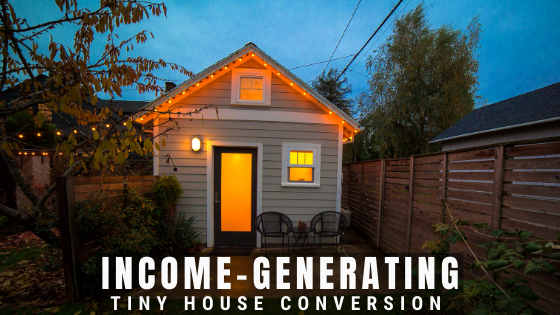 Airbnb Tiny House Conversion with a Fascinating Backstory
Experience simple living in Portland with this Airbnb tiny house with a surprising backstory.
Five years ago, couple Genevieve and Duston decided to convert their detached garage into a tiny home. The idea initially came about as a way to accommodate visiting family comfortably.
Additionally, they recognized the income-generating potential. And thus, Genevieve and Duston embarked on a fulfilling Airbnb tiny house project. It beautifully combined their passions for hands-on making and interior design.

They made a fascinating discovery along the way. What they thought was just an old garage was originally a WWII-era accessory dwelling unit (ADU).
In the early 1940s, population growth exploded in Portland due to new wartime manufacturing operations. This resulted in a housing shortage. Consequently, the city relaxed building code requirements to address the issue quickly. Further, the city encouraged residents to open their homes by renting rooms or creating simple ADUs.
As you might imagine, not all these newly created dwellings lasted into the modern-day.
Genevieve and Duston's 216 square foot structure took on different forms and uses over the years. When they purchased their small home, it had become a dusty, run-down garage. Their tiny house conversion has beautifully transformed it back into a cozy, livable space.
A few Airbnb tiny house conversion highlights:
Removed storage loft to create vaulted ceilings throughout the house. Now salvaged exposed beams serve as an accent piece. LED strips were added to them, creating a romantic glow.
Installed an L-shaped kitchen counter to accommodate counter seating for two. It resulted in a separation between the different tiny house "rooms."
Added huge sliding windows in the bedroom to bring in lots of light. Importantly, these face a voluminous garden space. This acts as a green privacy screen between the main house and ADU.
Utilized a high-wall electric heater to maximize available floor space.
Incorporated an open closet for easy access storage.
As Airbnb tiny house hosts, they've enjoyed much success. Enough income has consequently been generated to allow Genevieve to quit her job to become a stay-at-home mom. She has found this financial benefit especially valuable during the pandemic.
Over the years, hosting a tiny house enables them to expand their community. Genevieve and Duston have made long-lasting friends with multiple guests. It's also been incredibly satisfying to hear from numerous guests how the tiny house experience enlightened them on how gratifying simple living can be.
Commenting on how right it small space living feels with just the things you need, plus a few creature comforts. Inspiring guests to say goodbye to excess and hello to being more present.
It also offers a lifestyle experience that encourages connection to your ​surroundings​, from neighbors, the natural world to city life around you. And this urban Airbnb tiny house is an ideal example of that. Enjoy soaking it all in from the darling patio with a chicken coop just across the yard—offering entertainment and daily fresh eggs!
Book your stay at the Portland Tiny House.
Considering hosting an Airbnb tiny house?
Learn about the benefits here.

Disclosure: We earn a small fee when we refer people to start hosting. You can also connect with an Airbnb Ambassador and learn how to create a successful listing by signing up for a webinar.
Exclusive Content
Monthly LIVE tiny living discussions with extended Q&A, plus BONUS content, like behind-the-scenes filmmaking and tiny home life insights.
Early Access
See new videos first, get first dibs on new online courses and more!
Exclusive Giveaways & Discounts
Win tiny living festivals passes, and more!
Join today!