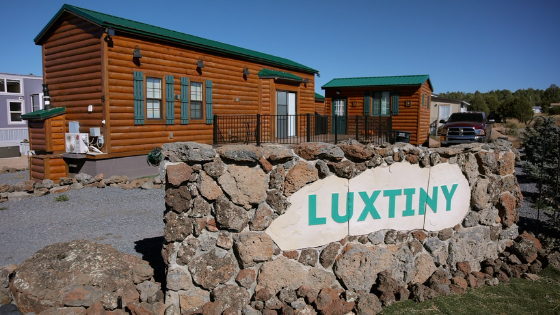 Relaxed Life at LuxTiny Tiny Home Community
Welcome to LuxTiny, a tiny home community in northern Arizona. Currently, it features 41 lots for full-time living and a few rentals. During our visit, what stood out to us was how much like a neighborhood it feels versus an RV park vibe. The multiple rows of unique-looking homes all have mailboxes, driveways, and individual yards.
We learned that residents have few rules and free reign over their landscaping choices. Additionally, they can add a shed and a small studio space that can be used as an office, guest suite, or short-term rental. Average lot size is 3500 square feet much larger than many tiny home communities and RV parks.
With so much freedom to do what you like, it creates a very laid-back atmosphere. However, there are no shared green spaces or buildings, so there are fewer opportunities to mingle with the neighbors. All this adds up to that traditional neighborhood feel, for better and perhaps worse. The developer does want to add amenities like a walking path and community garden at some point. Maybe he'll get to it as part of Phase 3 that will create more lots.
At LuxTiny, you can bring your own tiny home or commission one from LuxTiny Manufacturing, a custom tiny house and park model manufacturer. Their models begin in the mid $60,000s to over $100,000. You can commission a 399 square foot home with a 144 square foot studio. Renting that extra space could cover your loan payment—an exciting opportunity to pay off your much more quickly.
Inside LuxTiny and Extra Wide Tiny House Rental
During our LuxTiny visit, we stayed in the Mountain Mini rental, a 12-foot wide park model tiny house. A casita guest suite is across a shared deck but with no direct view into the main home. You can rent one or both.
We stayed in the primary tiny home and marveled at its spaciousness. All the open living space is perfect for things like yoga, and the expansive kitchen island doubles well for dining or working from home. A downstairs bedroom with an attached bathroom is an excellent option for those not wanting to climb out of a loft at night.
The Mountain Mini is available on a nightly or monthly basis. Book it here.
What we enjoyed most about our stay at LuxTiny was how peaceful it was with lovely wooded views and, of course, the dog-friendly aspects too. We also had a wonderful dinner with the retired neighbors. They shared how much they enjoyed living there, from quiet, nature access, and the ability to landscape their lot to their hearts' content.
Watch the LuxTiny tour to see and learn more!
Thanks to our sponsor, Allform! Visit https://www.allform.com/tinyhouse for 20% OFF the sofa of your choice!
Our NEW Tiny House Book!
"Alexis and Christian are great people and when they write a book about tiny houses, you can have confidence that it will be jam-packed with valuable information. This book delivers all the info you could possibly be looking for regarding tiny house living. Target for this book is someone that is feeling a bit overwhelmed and isn't sure what they need to consider as they embark on their tiny house journey. This book will provide the info they need and should help anyone in this position. Well done. Well written. 5 Stars."