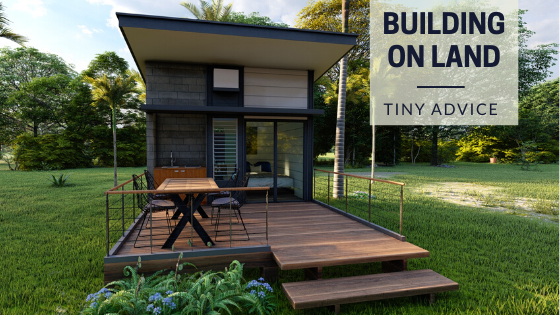 Can I Build a Tiny House On My Property in 2022?
Want to Build a Tiny House on Your Property? It's Possible but...
Can I build a tiny house on my property? This is a significant concern for many wanting to live legally in their tiny home. The answer, in a nutshell, is it depends. Fortunately, more and more places now allow tiny houses. In addition, counties with unrestricted land already do, as long as basic sanitation requirements are met.
The Tiny Home Industry Association (THIA) works with governments and towns to help them recognize foundation-based and movable tiny houses as permissible and permanent housing. They work tirelessly for people around the United States (and assist other countries too) to amend the legislation when necessary and provide individuals with greater access to this economical type of housing.
How can you ensure that your small residence complies with the law? You'll need to meet any applicable building code and land use requirements.
Let's dig into the essential question, "can I build a tiny house on my property?" And let's not forget the companion query, "can I place a tiny house on my property?"
Basic Regulations of Tiny Houses
Before you begin your tiny house construction project, you should get acquainted with the laws and regulations that govern tiny homes. What's allowed varies from place to place and differs based on the type of small dwelling you want to build.
Movable tiny homes (MTHs) typically need to meet DMV requirements and national RV building standards for basic health and safety. Acquiring a certification through a third party is recommended. In jurisdictions that have formally adopted MTHs, they mandate additional rules for things like skirting, allowed types of siding, and insulation needs.
You should also consider building your MTH to comply with the International Residential Code (IRC) with Appendix Q standards for foundation-based tiny homes for maximum placement options. This vastly improves your house's overall safety, durability, and energy efficiency. In places like Lake Dallas, Texas, Appendix Q has been officially accepted & required for MTH construction (from the trailer up).
Appendix Q adapts some key standard residential requirements for small space considerations, like:
Lower ceiling heights in lofts, bathrooms, and kitchens
Loft access via ships ladders or alternating tread devices
Emergency escape allowed via egress roof access windows in sleeping lofts
Another tiny house construction route is through factory-built housing standards, like modular homes. Interestingly, many professional builders can certify their tiny homes to comply with multiple standards or building codes, allowing their customers greater flexibility in the placement, financing, and insurance.
All the above-listed construction requirements and available building standards are only half the equation.
You need to research local land-use rules to learn if you can legally place or build a tiny house on your property. For instance, zoning ordinances will dictate what you can build where. These also include requirements for minimum square footage & setbacks, etc. Many rural areas feature unrestricted land, free of zoning and building codes. However, basic sanitation rules exist like septic system installation.
Long story short, contact local land use and building departments to find out what's allowed. Kickstart your research of places now allowing movable tiny houses on THIA's Resource Map. This excludes unrestricted areas.
Did you know that you can only build a tiny home as an accessory dwelling unit in numerous urban and suburban locations? Let's explore what that means below.
Accessory Dwelling vs. Primary Residence
Can I build a tiny house on my property as a primary residence or accessory dwelling unit (ADU)?
A primary residence refers to a home built on a property by itself. In contrast, an accessory dwelling unit (ADU) is a house erected on a property that already has a primary/main dwelling on it.
Approved tiny house legislation is most kind to those who want to construct, or place, one as an ADU. Unfortunately, if you seek to do this as the only dwelling on the property, you may have difficulty with the authorities. Rural areas are much more friendly, generally speaking.
While there are no satisfying explanations for this, it could be that local government officials dislike small dwellings as primary residences since they will only receive minimal tax. In most situations, bigger homes bring in more money. But it probably has more to do with limited land availability, where dense housing provides the best use for what is available.
Using a tiny home as an ADU presents these options:
Pro: Buy or build a larger home on your land, in addition to a tiny house. Then you can rent out one or the other. Con: You need much higher funds and loans. However, instead of building a costly ADU, you can rent out the space for an MTH.
Con: Ditch your land ownership plans for now. In the meantime, build an MTH that you can use as an ADU on someone else's property. Pro: you'll enjoy many benefits of tiny living, like saving money that can later be used towards land.  Additionally, you can have location flexibility to relocate to new places to try out life there to find an ideal homestead locale.
Suppose you construct your tiny house as your primary dwelling. In that case, you may also have problems with your neighbors who may feel threatened, particularly because many assume that having a smaller home would reduce the value of other homes in the region. This has been disproven numerous times. Ultimately, if you're allowed to build one, it doesn't matter what they think.
When you want to place an unpermitted tiny home on land, your neighbors' opinions matter much more. One call to code enforcement can lead to eviction and fees.
You may be wondering, "what kind of tiny home is most easily accepted on my own land in the maximum locations across the USA?"
The answer: it's constructing a tiny house on a foundation. This is true whether it's a primary or accessory dwelling.
Foundation-based tiny homes can be permitted in a vastly greater number of municipalities than MTHs.
Building a tiny house on your property means it's subject to real estate value fluctuations. Over time, that means the resale value rises as other local property values rise. It will also cause the overall property tax rate to rise. Keep informed on this topic to help make it easier to sell a house in the future.
Traci & Matt built an ADU tiny house behind their primary home:
Can I Build a Tiny House on My Property in 2022 Wrap-up
Since the tiny house industry is still in its early stages, the laws and regulations that govern it are both more restricted and less stringent than those that govern traditional homes. There are also several gray areas to be aware of and evolving laws.
Before buying land or building a tiny, it's a good idea to consult with the appropriate authorities. Also, join the Tiny Home Industry Association to gain access to higher educational webinars on the many aspects of this world.
Do you want to learn more about finding & developing vacant land for a tiny house? Read this article!
Jen's container tiny house on her property in Gilpin County, CO:
Have you ordered our book yet?
Learn the history of the modern movement, get a breakdown of tiny home styles, and meet the passionate tiny community. Also, The Beginner's Guide to Tiny Houses discusses the pros and cons of micro-living―is a tiny house right for you, right now?
What people are saying:
"Most books about tiny homes are really just about the fantasy, with beautiful pictures in far-off places, but they don't tell you how to get from point A to point B. That's where this book comes in and fills in all the gaps!"