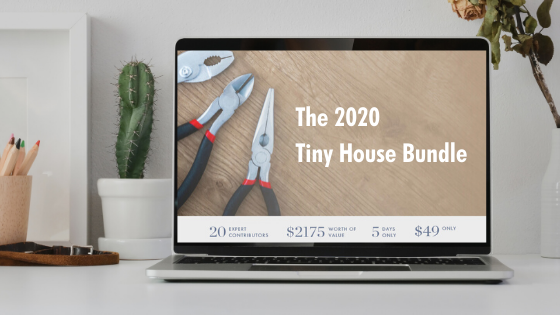 The World's Best Bundle for Planning, Building, and Living Tiny is Now Available
Do you dream of living the tiny house lifestyle? Want to build a tiny, reduce your monthly expenses, and finally own your own home?
eWith all the craziness happening in the world today, you may be feeling even more motivated to pursue your tiny living goals. You need the 2020 Tiny House Bundle - a bundle of 30+ products designed to help you achieve your debt-free and simple living dreams.
It's a collection of 33 Tiny House Plans, eBooks, and Courses worth $2175, available for the next five days for just $49.
With the 2020 Tiny House Bundle, you get an unbelievable discount on a ton of great tiny house products, but it lasts 5 days total, no exceptions. To be exact, the tiny house bundle ends on April 18, 2020, at noon EDT. No exceptions.
Let's dig into what you get, including a brand-new e-Course from us!
What's included this year's Tiny House Bundle Sale? Get ready, it's the biggest one to date:
Courses:
Tiny House, Rich Lifestyle Planning Workshop by Alexis and Christian of Tiny House Expedition
DIY Tiny House Build Digital Workshop by Andrew Morrison
Downsizing31 - The Online DIWY Course to Create Your Clutter-Free Home Oasis by Brenda Mason
Practically Tiny: Capsule Kitchen, Capsule Wardrobe, Capsule Self Care by Carmen Schenk
Sketchup Course + Project File by Jake and Kiva of Tiny Nest Project
Remote Work for Nomads - by Kristin Hanes
Full-Time RV Travel eCourse by Macy Miller
Money From The Road: A Basic 101 of Money On The Road - Rob Schanepp of Contented Nomads
Plans:
Sweet Pea Plans by Williams
The Dart Plans by Derek "Deek" Diedricksen
Alexis A-Frame Plans by Joshua Woodsman
Tropical Tiny House Plans by Malissa Tack
Sommerhus Tiny House ADU by Shawn Dehner
Cider Box Plans by Shelterwise
Sol Pod Plans by Vina Lustado
eBooks:
12 issues Tiny House Magazine by Kent Griswold
Tiny House B.I.G. Book by Abigail Ross
Your Message Here + Your Message Here TOO by Andrew Odom
Simple Living, Right Now: Ending Life's Chaos and Reclaiming Joy by Brynn Burger
Living the Sustainable Tiny Life Book and Workbook by Vera Struck
All together, that's over $2175 worth of tiny house courses, ebooks, and plans… and you get them all for only $49!
But this all goes away in just a few days. Get your 2020 Tiny House Bundle here!