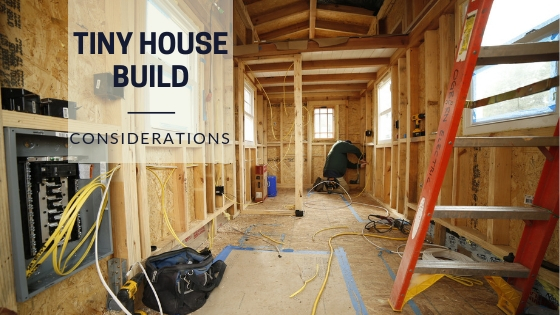 Things to Consider When Building a Tiny House from Scratch
Custom home building is a massive undertaking that isn't for the faint of heart. Remember these things to consider when building a tiny house from scratch.
Your dream tiny home is just around the corner: you've found the design, the location, and have the capital to build exactly the house you want.
Before you get started, however, there are some important things to consider when building a house, no matter the size.
Have you budgeted for absolutely everything? Do you have contractors on hand for difficult aspects of the build? What about your building permits, especially if its a site-built tiny house, on some kind of foundation.
Even if you're planning a movable tiny home build rather, practically the same questions apply. Building standards still matter. Your very best bet is to either certify it as an RV, through a third-party like Pacific West Tiny Homes, and build to International Residential Code Appendix Q standards.
Don't worry: building your own home is an exciting and fulfilling project. You just need to think about a few things before you get started.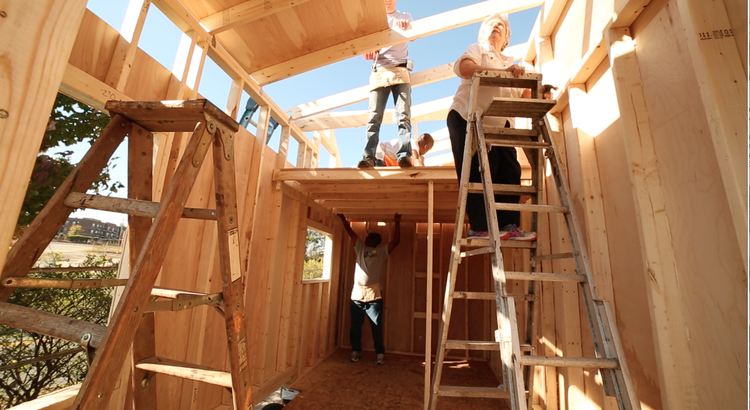 Your First Step: Your Plans
Even if you plan to conduct a DIY build all by yourself, choose your plans wisely. Tiny House Plans is an extensive database of blueprints of all sizes and styles.
Or you can spend a little cash to speak to an architect first and draw up custom blueprints.
Their expertise will make sure you're not building a structurally impossible vision, or violating any building regulations. They can also advise you on the best contractors to use when you need them, and suggest alternative ways to plan your building layout for maximum efficiency.
When you've got your blueprints, it's time to start planning your build.
5 Big Things to Consider When Building a Tiny House
There are, of course, about a million and one things to think about when planning your tiny house build. These questions will help you consider the bigger picture to plan the smaller details for total success.
How Will the Living Space Flow?
Are there enough windows to create a spacious feel? Can you move easily between rooms?
Think about how you'll move around the tiny house during your daily routines and whether the layout feels natural. For instance, what spaces do you use the most? If you don't cook much, then maybe you downsize your kitchen space to give you more space for something else, like a counter with stools or home office space.
Also, be honest about how comfortable you are with various kinds of loft access, like a ladder. Maybe traditional stairs or even a downstairs bedroom is more practical for your needs.
Who Will Install the Difficult Things?
Doing a build yourself doesn't mean going it alone entirely. You might need to hire contractors to help out for some things, so make sure you have them booked and ready to build when you need them.
Electrics, gas, and plumbing installations are the most common reasons you'll need a contractor. However, any major structural work may require an engineer to make the house safe, too.
Another great option is to purchase a tiny house shell. These typically already have the most challenging aspects completed, like framing. Further, RV-certified shells are available, with completed plumbing and electrical.
Does Every Space Fit a Purpose?
You want to make your financial - and time - investment worthwhile so every square foot should be useful. If you have an area on the blueprint that you're unlikely to use or seems underutilized, consider how to repurpose the space.
For example, if you plan on stairs, make sure they're being maximized for storage, or consider adding a creative function, like a home office space.
Have You Planned Enough Storage Space?
Storage space is the number one thing that can be easily overlooked when building a home. It's easy to get carried away with the layout and features - but you need to make the space comfortable to live in, too. For example, where will the dirty laundry basket go that doesn't get in the way of your daily living space?
Also, think about where you can add interesting storage even in tiny spaces to maximize the usefulness of your home.
What Will You Do If the Build Takes Longer Than Expected?
Almost every tiny house build will be delayed at some point. What if a supplier suddenly takes three weeks longer to deliver your custom order? Or if bad weather stops construction?
Make sure you have a contingency plan for delays. This includes a financial buffer of at least 10% of the overall build budget. You should also plan where you'll live if the build date overruns, and you've got to leave your existing accommodation.
Savvy Space-Saving Ideas to Maximize Your Home Build Budget
It doesn't matter what size your finished home will be: the way you use the space available impacts how useful and enjoyable the house feels.
Check out our blog for tons of space-saving ideas that'll help you plan the most efficient living you've ever experienced!