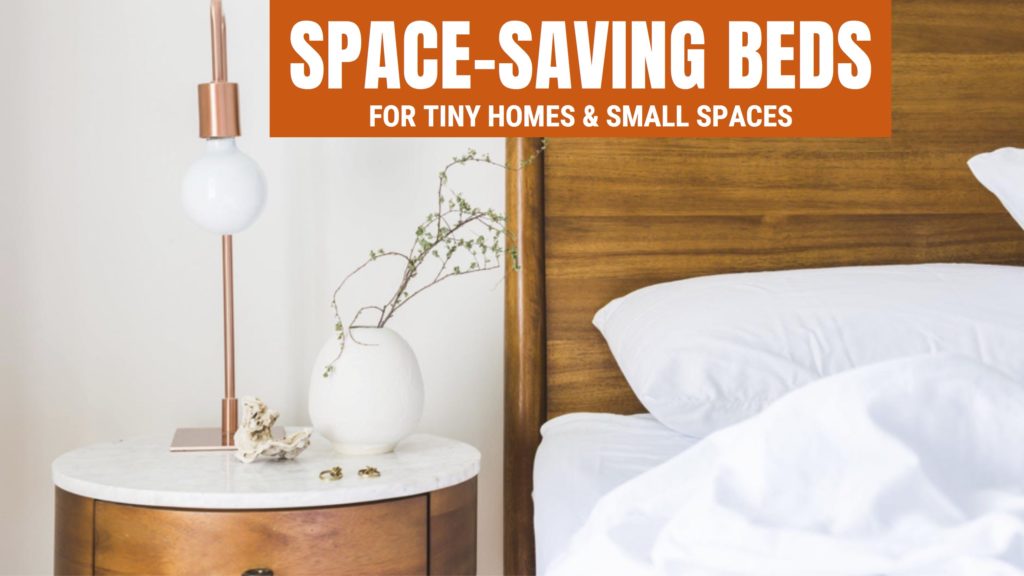 Tiny House Living: Best Space-Saving Beds
Guest Post: space-saving beds for tiny houses and small spaces.
The tiny house trend utilizes a minimalist mindset and smart design to contain or hold everything you need into a small area that is much more compact compared to traditional homes. Tiny houses typically come in at 500 square feet of space and less.
One of the most challenging problems for people residing in tiny homes is getting a comfortable, adequately sized bed to match the space. With plenty of people moving into tiny houses or apartments, the need for well-designed furniture has increased as well.
Fortunately, there are many space-saving bed options available today to help establish a healthy sleep environment in a small living space.
For a little help, here are some of the bed solutions for your tiny home. Read on!
Adult Bunk Bed
This option requires you to lift your bed off the floor in a bunk bed approach. However, leave the bottom open for a study area or work desk. It is an excellent idea to take advantage of and leverage the vertical space to make a tiny room seem bigger than it actually is.
Nook and Bed
This fantastic and space-saving design discovered on Pinterest is pretty and practical to look at. All you need to do is to place or situate the bed in a fixed, permanent wall space, leaving the living area open. Moreover, you can use the drawers as dressers. Plus, there's extra storage above, which is great for keeping your books.
Pull-out Beds
Limited space can be the main problem for tiny house residents. However, don't worry. If you do not have much space, you can, for the most part, build or create an additional floor and keep your bed under it. This design works for both adults and children. Also, you can opt for a king-sized or queen-sized bed.
Folding Bunk Beds
Folding bunk beds is yet another excellent design for children and kids. This space-saving bed folds up. Thus, children can engage in activities during the day. And during the night, you can fold it down with an uncomplicated access ladder.
Slide-out Bed
Put your bed out of sight behind a sliding bookshelf and take it out when you want to rest. You can include drawers under it for extra storage. Additionally, you can incorporate striking, bold colors to make your tiny room pop.
Bed in a Closet
This design leave room for activities and playing. Plus, it has shelves and drawers. And it is a great hiding place for the kids when playing hide-and-seek.
Hanging Bunk Beds
Do you have at least three kids? Do you like the idea of them sharing one room? Well, no problem. Hanging bunk beds can be made using different materials, able to be modified to suit your tiny home.
A Pivoting Murphy Bed
A bookshelf during the day and a comfortable, welcoming bed during the night. This rotating Murphy bed rotates and pulls out, conserving lots of space when you are not sleeping.
The All-in-One
For tiny spaces, it is important to take advantage of all the possible options to save more space. So, when living in a tiny room, having a dresser, closet, entertainment center, and bed may sound like an impossible dream. However, the all-in-one design combines and merges all of these things into one, occupying a small amount of space.
Elevated Bed
Although no magic will expand the living space in your home, an elevated bed with storage will do the trick. With this design, you can put your bed in an elevated base. The base can double as storage alternatives as well.
Hanging Bed
To keep your room open, you can opt to hang or mount your bed from the ceiling. When it is in use, it can lower up and down.
Simple Folding Bed
In the past decades, Murphy beds have progressed and advanced into a major upgrade. All you need to do is to mount the folding bed's frame to the wall. So, whenever you need to use the bed, just pull it down.
Getting A Bed
Logistically speaking, it can, for the most part, a difficult task to get a bed through a tiny house's door. Because of this, a lot of small or tiny houses are made with an already installed bed space, whether it is a convertible bed, loft bed, or trundle bed. In this way, you only need to get a mattress through your door.
Takeaway
Although the outlined space-saving beds in this article are great options for a tiny, small house, they are not suitable for everyone. As such, it is important to keep in mind that there are still other alternatives for small-spaced bedrooms. Above all, where we sleep during the night must be a comfortable retreat. It must be a cozy bed that you'd look forward to laying down into. Moreover, if you have trouble with snoring, get a zyppah, anti-snoring device, to end the cause of your snoring.
Author's Bio:
Analisse Weathers is a blogger and writer. She mainly writes about home improvement, home renovation, home repairs, and just about anything related to home-related subjects. Analisse loves to write these topics as she aspires to become an interior designer someday. In her spare time, she spends time with her family and friends