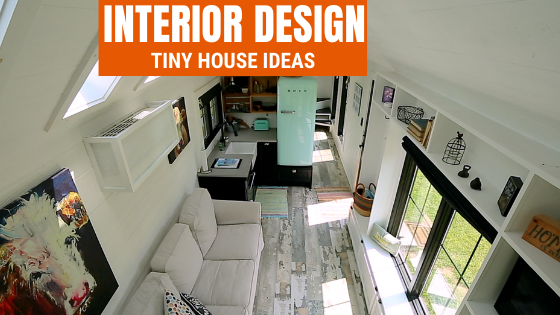 Tiny House Interior Design Ideas You'll Fall In Love With
It doesn't seem like there'd be much room for interior design in a tiny home. You'd be wrong! Here are our favorite tiny house interior design ideas.
It's official; the tiny house movement is hot. While the American Dream may mean that we're supposed to seek out material success and luxury homes, many people are eschewing that notion and opting for a life of minimalism. With the cost of housing on the rise, moving into a tiny house can be the difference between living comfortably and living paycheck-to-paycheck.
But living in a tiny house doesn't mean you have to give up great interior design and comfy furniture. In fact, you can make your tiny house as cozy and stylish as a normal-sized house. You just have to get creative.
Read on for some great tiny house interior design ideas! And watch the tour of this impeccably designed tiny house on wheels.
Opt for an Accent Wall
At the heart of any home with great interior design is an anchor. Anchors can be anything from a statement piece of furniture to an accent wall. One way you can anchor the design of your tiny home is with an exposed brick wall.
We know what you're thinking — tiny houses are a new thing, and they don't have interior brick walls. As it turns out, you can easily fake exposed brick walls. With thin brick tiles and some grout, you can give your tiny home a facelift.
You don't have to opt for expensive contractors, either. It's super easy to learn how to install brick tiles and add them to your wall.
Shrink Your Furniture
We don't mean give your furniture the Alice in Wonderland treatment (though that would be a super cool idea for furniture in a tiny home). We mean that you should make sure that you only put what you need in your home. So instead of purchasing a full-size dining set, opt for a compact, transforming table, like this, or a folding version. If your dimensions are especially limited, a custom built-in might be your best bet.
And forget the old adage that says your dining set has to match. Mix and match different pieces for an eclectic feel and to save even more space. For instance, mix a cushy kitchen chair with a barstool, or even two different barstools!
Keep in mind that the more space you save in one area, the more room you'll have to indulge in super luxurious and comfy items like a deep, cushy couch!
Go Light and Bright
As tempting as it is to decorate your home in deep colors, keep in mind that excessive dark colors can make a space feel smaller. That doesn't mean that you have to give up your desired color scheme in your tiny home.
If you want to decorate with navy colors, opt for a single navy accent wall in your home. Make the rest of your walls a lighter shade, like pale blue or cream. Incorporate more of the navy color in your home by adding things like an oversized rug and throw pillows.
Don't forget that a well-placed mirror can make your space look significantly larger!
Always Think About Storage
It doesn't matter how minimal a lifestyle you live; you're always going to need storage. Keep that in mind when you're selecting or building furniture for your tiny home. So what are some creative ideas for storage?
First, if you want a TV in your living space, mount it on the wall and use what would have been the television stand as a space for storing magazines or books. Add some mismatched knick-knacks for more style.
We created a custom fold-up dining/office table with our TV stored inside. It's mounted on slides. When we're ready to watch a show, we remove the part of the tabletop and pull-up the TV, then put the table piece back in place.
If you have space for a bed frame, raise it high enough to store a few plastic tubs, like in the Fly Fishing Tiny House. You can put out of season clothes or even holiday decorations in them.
Be creative! There's always room for more storage.
Make the Most of Vertical Space
Do you love the idea of having a home library, but don't know how to make it work in a tiny house? It doesn't have to be a pipe dream! You can have a stylish tiny house and a library, too.
When you only have a small amount of space to work with, you have to make the most of all the space. That means you need to use all the wall space from the floor to the ceiling. Creating floor to ceiling bookshelves not only allows you to expand your library, but it gives your home a unique aesthetic. Or add stacked open shelving, like in this tiny house using feng-shui interior design concepts.
Pocket Doors Are Your Friend
In theory, a door doesn't take up a tremendous amount of space in your home. But when you start to think more about function, you realize that a door requires a wide berth. You either need to sacrifice space by keeping the area clear, or you have to sacrifice privacy and keep the door open.
That's where pocket doors come in. Pocket doors slide directly into the wall, leaving you significantly more functional space in your home. On top of that, you get to enjoy more privacy in your tiny home, too, especially when it comes to the bathroom.
Let Your Furniture Do Double Duty
When you think about setting up a home, you probably think about the furniture you'll need. A couch in the living room, a table in the kitchen, a bed in the bed space, and a small desk for getting work done. If you can squeeze all these things into your tiny home, more power to you.
But if you don't want to downsize all of your furniture altogether, you should have your furniture serve more than one purpose. Buy a futon or daybed to double as a couch, or create drawers beneath your couch.
Get your work done at the kitchen table instead of a desk. Also, a staircase offers a world of storage opportunities for cabinets, closet space, and an extra seat.
Be creative and selective, and you will have the tiny house of your dreams!
Did You Love These Tiny House Interior Design Ideas?
The key to making your tiny house feel like a home is to use clever tiny house interior design principles. Make storage space functional living space, build up as far as you can go, and don't be afraid to opt for large rugs or statement pieces. Welcome home!
Want to learn more about life as a tiny house owner? You've come to the right place! Check out the rest of our blog for everything you need to know!