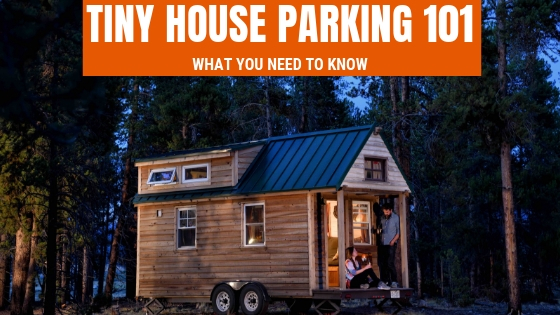 What do you need be aware of when looking for tiny house parking? Start here.
For anyone looking to leap into going tiny, the age-old question is always, "where can I park?" The uncertainty, even anxiety, around this topic keeps a multitude of tiny enthusiasts from pursuing the idea any further.
The truth is there are more options available than most realize. Much legwork is often required to find your ideal spot.
We should know. After building our 130-square-foot tiny home on wheels in 2015, Christian and I hit the road on an epic road trip to work on our documentary and community-education project about the tiny home movement.
One of the most frequently asked questions is where do you park?
As a nomadic tiny house, we have more parking flexibility than most full-timers.
During our travels, we stayed in a wide array of locales, from rural to urban, and in backyards, campgrounds, or at RV-friendly businesses for overnight stays. We often stay in tiny home communities or form our own temporary "micro-hood" with other tiny dwellers. Watch our travel vlog series to see many of our past parking spots.
Keep scrolling for essential tiny house parking considerations.
Did you know full-time tiny house parking is not allowed in most cities?
While long-term RV park lots can be more readily available, they can have stay restrictions. Additionally, they don't meet everyone's needs, like close proximity to town.
That's one big reason that backyards are appealing to so many. In fact, it's the most common parking spot—read all about it in this post.
From the making of Living Tiny Legally, we have learned that zoning changes are slow, from the many advocates trying to push for more legal parking options in their communities. But it is happening.
Most importantly, legal acceptance is critical for giving more people the option to live tiny, without fear of eviction, and with greater financing opportunities. Read the latest tiny house advocacy news here.
Are you looking for parking now? Start your search by reviewing these essential tiny house lifestyle questions:
1) What are your tiny home parking needs?
Before you can search for parking, you need to get to know the ins and outs of your tiny house. Your utility needs will dictate the kind of parking spot that will be a good fit for your tiny house. For most tiny dwellers, their homes are a mix of on and off-grid utilities, with RV electrical hook-ups, composting toilets and onboard freshwater tanks that hold enough for several days of use. Though, some tiny houses are entirely on-grid with traditional flush toilets, have no holding tanks, and have more robust power needs. If you opt for a traditional toilet, it will require a septic system or sewer hook-ups.
If you have solar power and a freshwater tank, you may be able to park in more remote areas.
Keep in mind: if you are far from a water source, you will need an extensive collection of freshwater hoses, rainwater catchment system, a mobile water tank or have water delivered. The size of your tank will determine how often you need to refill.
Importantly, your tiny house power needs will determine what your electrical needs are, like 30 or 50-amp hookups.
If your power usage is minimal, you might be able to plug into a standard household 15-amp outlet, as our tiny house can.
Calculate your total tiny house amp usage by figuring out how much electricity each of your appliances uses. Use a watt-meter to make this process easier. Then add it all up to get the total electrical usage.
This calculation will help let you know if 15-amps will sufficiently power your tiny house. If you ever trip a breaker while plugged into to 15, 30 or 50-amp outlet, you are probably pulling too much power. When in doubt, consult an electrician.
2) What makes a functional tiny house parking spot?
Almost any open lot can work as a parking spot, if large enough. Though, ground firmness is everything. If it is even partially mushy, you run the risk of getting your tiny house stuck when trying to park, or it unevenly sinking over time, creating leveling challenges.
Sleeping in a crooked house will slowly drive you crazy, or even prevent your bathroom door from properly closing. We experienced this problem exactly when we parked in this Boulder, CO, driveway.
A well-suited tiny house parking spot is firm level ground, ideally on a cement or gravel pad. Another critical consideration is access and the overall lot size.
Check the dimensions of the road or driveway that leads to the parking area. You will need to determine if your tiny house can fit, and then if your tow vehicle can maneuver it into and out of the spot. In some cases, you may need to use Trailer Valet to move your tiny house into a tight spot.
Keep in mind obstacles, like tight corners and low hanging branches. It is always worth your while to trim any branches that could hit your tiny house. It's happened to us, and it is not pretty—dented our previously pristine metal roof.
3) What is your ideal parking arrangement?
Describe your ideal tiny house parking spot. Does it include neighbors or complete privacy? If you work from home or enjoy streaming, reliable internet access may be a top priority. How far is too far to commute to work or access to shopping?
Identifying what's important to you will help when evaluating if a parking opportunity will make you happy and suit your need.
We suggest making a list of musts, nice-to-haves, and deal-breakers. Things like you 'must' be within 15 minutes of a grocery store, or 'it would be nice' to have an on-site laundromat.
Put your list to good use when evaluating parking spots, from backyards, farms to a large variety of tiny home communities. If you're unsure, schedule a visit with the landowners or book a night's stay in an on-site rental, if available.
4) What are your willing to pay?
Unless you own the land, most tiny house parking spots are available on a lot lease basis. Meaning, you will make monthly payments to park your tiny house on the property, whether it be in a tiny home community or backyard. Lot lease can include or exclude utilities. Work/trade arrangements are negotiated, in some instances. For example, a tiny home dweller may offer their manual labor or professional services, like graphic design or tax preparation, in exchange for reduced rent.
At our latest parking spot, we pay $300/month, including wifi, electric, and water— right on budget for us.
In the past, we have paid more and less than this or nothing based by offering snow shoveling, pet care, gardening, basic home security. On the other hand, sometimes it is just easier to pay.
Backyard parking is often between $250-700/month. The price depends on the area, amenities included, and landowners' preference.
Though, monthly RV lots can range anywhere between $300-$1200/month. No matter the kind of tiny home parking spot, be sure to get a written contract to ensure clarity and expectations from each party.
5) Searching for parking—where to look?
It's getting easier all the time to search for tiny house parking. There are now multiple sites dedicated to short or long-term parking listings, like Search Tiny House Villages.
It is a growing directory of over 200 villages with comprehensive search functionality, featuring over 30 filterable fields, such as location, amenities, cultural factors, including informal backyard communities.
The site is free to use. Anyone is welcome to add villages and tiny house friendly places.
Tiny house dweller and site creator, Jill Kanto describes the intention behind her site as a way to connect fellow tiny house dwellers and play "parking matchmaker," as a sort of mix of eHarmony and Zillow.
To find parking on someone's property (backyard, farm, ranch, etc.), create a flyer introducing yourself and your tiny home on wheels.
Be sure to include your parking needs, and what you are willing to offer in exchange for parking (rent, trade, etc.).
Finally post your flyer on community boards around town and online, including:
Facebook Marketplace
Facebook groups, including Tiny House Hosting, local tiny house enthusiast groups and neighborhood groups
Tiny house parking on your own lot can get complicated and expensive. To learn more, read this post.
Follow our blog to explore the world of tiny house parking, from the legalities you need to be aware of to the unconventional options, and everything in between.